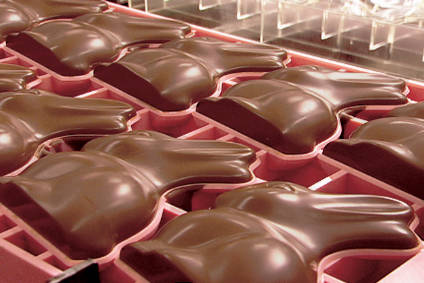 Swiss chocolate group Lindt & Sprüngli has been on something of a roll in recent years. The company has consistently grown its sales ahead of the wider chocolate market. It should come as little surprise then that in announcing chief executive Ernst Tanner is stepping down, the Lindor maker stressed "continuity" in naming financial chief Dr Dieter Weisskopf his successor.
Lindt & Sprüngli will have a new CEO by the end of the year. Chief executive Ernst Tanner is to be replaced at the helm by chief financial officer Dr Dieter Weisskopf.
Announcing the news, Lindt said Tanner intends to focus on the role of executive chairman, a position that will see him concentrating on the long-term strategic direction of the company. Lindt said the transition underlined its "commitment to continuity of further growth" and Tanner himself stressed he would continue to play a supporting role in trying to secure the company's future growth.
"Thanks to our strong culture we have built a great foundation to further strengthen our position as the worldwide leading premium chocolate company. I am very pleased that I can hand over the CEO responsibilities to Dr Dieter Weisskopf, who will together with the group management and my support continue our success story," Tanner said.
Given Lindt's recent track record, it is obvious why the company was keen to stress the handover would not negatively impact its performance. The Swiss chocolate giant has been on something of a roll in recent years, outperforming its markets and gaining share through a combination of both organic growth and the contribution of acquisitions.
Indeed, the group's top line performance for its most recent full-year, 2015, was impressive. Sales rose 7.9% to CHF3.65bn (US$3.63bn). Stripping out the negative impact of currency exchange, the company's sales were up 13.5% in the period.
During 2015, Lindt said it "strengthened" its market position in "all strategically important markets". The group saw organic sales growth of 7.1%. Lindt has targeted strategic long-term sales growth in the region of 6-8%. The company was also boosted by its 2014 acquisition of Russell Stover in the US, the integration of which it says is "on-track".
At a time when many FMCG companies are battling tough trading conditions, Lindt has remained on a true course. The company stressed market-beating growth was achieved despite a number of headwinds, including the strength of the Swiss franc, "extensive" restructuring at major customers, and the negative impact of deflation and unemployment on consumer sentiment
Lindt has concentrated its efforts on growing sales volumes for its core lines, launching products and expanding brands into new markets. Innovation has been key. Product launches in recent years have included the launch of the Hello lifestyle chocolate brand and the extension of that product into the important US market, as well as the launch of Lindt Sensation Fruit – its first fruit-centred range – in France. The company also launched Lindor bars in the UK and Tanner believes the firm can hit bar sales of CHF100-200m within five years, mainly in the UK and US.
Elsewhere, the firm has focused on growing its retail business. In March, the group revealed it is increasing its investment in its retail network, with the aim of becoming the "world's leading retailer of premium chocolate" by 2020.
Lindt uses retail stores in order to enter new markets where the chocolate category is often still under-developed and where the company needs to build up its brand equity. In more developed markets, retail outlets enable the company to strengthen its premium credentials and grow brand awareness, boosting profitability and growing sales.
The group operates six different retail concepts: Chocolate Cafés, Chocolate Boutiques, Chocolate Outlets, Factory Stores, Ghirardelli Chocolate & Ice Creme Shops and Russell Stover. While the typical location and product range differs by fascia, all retail outlets incorporate a uniform shop design. The strategy has served Lindt well and the general feeling is Lindt will continue to develop along these lines under Dr Weisskopf.
Lindt's current CFO joined the business in 1995 as head of finance, administration, and ­purchasing. Since 2004, he has also been responsible for manufacturing.
Despite his long tenure in Lindt's management ranks, Vontobel analyst Jean-Philippe Bertschy says the selection of Dr Weisskopf "came as a surprise" for two reasons.
Bertschy says: "We were expecting CEO Tanner to give up his mandate in 2017/18 at the earliest. The choice of CFO Dieter Weisskopf is likewise surprising as the market was rather expecting Uwe Sommer [head of marketing and sales] or Andreas Pfluger [president & CEO at Lindt & Sprungli USA]".
At Kepler Cheuvreux, analyst Jon Cox notes Dr Weisskopf "doesn't come from the sales [and] marketing part of the organisation", which is "typically where CEOs come from". Nevertheless, Cox describes Dr Weisskopf as a "clever solution", believing he is "well respected by the investment community and has been with the company over 20 years".
Meanwhile, MainFirst analyst Alain Oberhuber suggests there are three main positives coming out of the announcement. "One, corporate governance improves: conflict of interest will gradually vanish and reputational risk will be reduced. Two, [the appointment represents] successorship with management and not with a family member. And, three, [the] continuation of ownership with no takeover risk."
The long-mooted possibility Lindt could be a takeover target for its larger Swiss peer Nestle (itself making a push into premium chocolate with the Cailler brand) is no more likely under Dr Weisskopf than it was under Tanner, analysts at Societe Generale concur.
"We don't think this change makes it any more likely that Lindt is a takeover target. We have long felt the fit with Nestle would be exceptional but the expensive rating and the 20% stake held by the Lindt pension fund are impediments. There is also a poison pill whereby the board of directors may refuse full shareholder status to a buyer of registered shares if the number of shares held by that buyer exceeds 4% of the total of registered shares (or 10% maximum if more than a single party). These restrictions could be revoked only if at least three quarters of shareholders vote for it at the general meeting," the analysts note.
In many respects then, the new leadership regime at Lindt is unlikely to usher in any significant changes. The company – and its shareholders – will be hoping that by sticking to its premium strategy the firm will continue to deliver market-beating results.
This is, however, less certain. The faster growth premium sector is attracting growing interest and is therefore likely to become a more competitive space. Nestle is not the only player now vying for a share of premium chocolate sales. Privately-held Ferrero – which has long maintained a focus on premium – is also expanding and last year the group acquired UK chocolate maker and retailer Thorntons. That deal sparked speculation Ferrero is itself eyeing the premium retail sector.
As Cox notes: "I certainly don't see any major change in strategy with the focus on the premium segment. However, I expect it to become more competitive given it is the fastest growing part of the market. Given Lindt's size, it may become more difficult to grow at 6-8% in the future."
In a note issued today, MainFirst's Oberhuber pointed to one possible challenge for Dr Weisskopf. Oberhuber suggested sales figures in the US are pointing to Lindt's business in the market coming under pressure. "Recent US market data, as well as company releases of Lindt's peers, hint at a challenging market for Lindt & Sprüngli," Oberhuber said.
Lindt is set to publish its half-year results next month and Oberhuber argued the company's results in North America as a whole could suffer from lapping a strong first half of 2015 – but, notably, a struggling Russell Stover unit.
"There is a high base in H1 2016 for the North American business, as it grew by 14% last year and the group organic growth rate was 9.8%. Second, for Russell Stover we expected an organic growth rate of around 5%, but currently, based on recent Nielsen market data, growth has become negative," Oberhuber said. MainFirst has forecast Lindt's namesake and Ghirardelli brands will both see their sales grow by 9% in North America in 2016. However, MainFirst predicts Russell Stover sales will lag in comparison, estimating sales from that brand will grow 3%, as Lindt "adjusts" the brand's range. "Each of the three brands — Russell Stover, Lindt and Ghirardelli — generates revenues of around CHF550m," Oberhuber notes.
The growth Lindt is expected to see from its eponymous and Ghirardelli brands in North America indicate a continuing solid performance from much of the company's business in the region but Tanner, in his last six months as CEO, and Dr Weisskopf when he takes the helm next year, will have some work to do on Russell Stover.