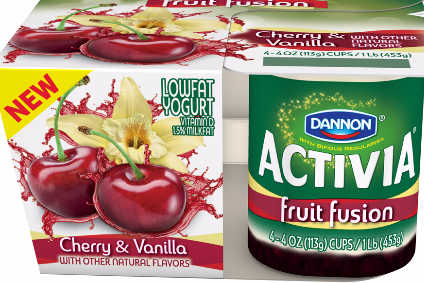 Danone insisted this morning (19 April) it is winning "key battles" in its bid to raise its sales and earnings trajectories by 2020. The French food maker flagged higher sales from its US dairy business in the first quarter of this year and predicted ongoing improvements from its European dairy operations. Danone also insisted the fundamentals of its Chinese infant nutrition business are solid despite recent challenges. Katy Askew reports.
Danone reported better-than-expected organic sales today when it booked growth of 3.5%, beating consensus expectations of 3.2%. Gains were supported with an increased price/mix contribution, which added 2.7 points to the top line. Volumes remained relatively subdued, up 0.8% on a group-wide basis but down at the fresh dairy unit that Danone has been struggling to turnaround.
As Kepler Cheuvreux analyst Jon Cox noted: "Strong pricing/mix helped the dairy beat but volumes declined, which we attribute to a mix of SKU phase-outs in Europe and Russia and potential volume pressure in emerging markets."
Speaking to analysts during a conference call, Danone CFO Cécile Cabanis said the price/mix gains were primarily driven by sales of higher-value items, with pricing actions having a negligible impact. "It was very mostly mix, improving the mix in Russia and Europe," she noted.
Alongside rationalisation of dairy SKUs in Europe, soft volumes were the result of volatility in international markets, notably Brazil, where macroeconomic factors have hit consumer spending. "Brazil was highly negative and it has weighted on volume," the finance chief explained. However, this was somewhat offset by a better than expected performance in Russia. "Some situations that were better than expected", Cabanis noted, with Russia continuing "to display a very strong resilience" in "a complex environment".
While Danone is managing macroeconomic challenges on the one hand, on the other the group continues to make progress on its Strategy 2020 drive. Cabanis insisted Danone was winning "key battles" in this agenda, which aims to lift its sales trajectory to 5%-plus over the next four years.
Of these gains, Cabanis said Danone had seen "strong" growth from its US dairy business in the first quarter. "Our initiatives keep on delivering strong results," she observed, suggesting the result "confirms a solid re-acceleration of growth" which started in the fourth quarter of last year.
"Our plan [in the US] includes strong end discipline of resources to invest behind the right brands for growth. In the store, [we have fostered a] very close dialogue with retailers, where, in a growing category, we continue to expand our share of the shelf. And very strong innovations." As part of its efforts to revitalise its US business, Danone has successfully rolled out new products including Oikos Triple Zero and Activia Fruit Fusions, she continued.
Danone has grown its market share in the US. "Our aim was to support the development of the category and investment behind brands. This has brought very strong results. We continue to improve market share, with a leading position of more than 35% market share at the end of March. As a result, we can say that we have very successfully re-accelerated growth to the mid single-digits and this trend should continue in the quarters to come. We are very focused on continuing to grow this market because it is a market where we can see a big potential for the future."
Andrew Wood, an analyst with Sanford Bernstein, echoed the conclusion that investments in the US are paying off. "Within fresh dairy, growth was driven by a further improvement in the US due to sustained investment and successful innovations," he wrote in a note to investors. "In Europe, Danone confirmed that it is making good progress with its transformation program and reiterated that it intends to stabilise sales by the end of 2016," he added.
While progress at Danone's European dairy unit has been slower to materialise than in the US, the company said it expects the regional performance to improve as the year progresses. Danone has rationalised SKUs in the region to improve its sales mix and simplify operations and – with a number of big brand relaunches planned for the remainder of the year – Cabanis said dairy in the region "continues to move positively on its agenda" and suggested the benefits of Danone's strategic investment in the market should begin to show in the coming quarter.
"2016's key focus is the relaunch of our global brands [in Europe]. The Actimel relaunch has started, it is in progress… the campaign is starting well, we have good feedback but it is an early stage. We are currently preparing the relaunch of Activia which will come at the end of the year. Today is also an important day for Danonino because we are relaunching the brand around the campaign 'say yes'," Cabanis said.
"In terms of performance we have some good signs of progress. The trends are moving in the right direction in terms of the global brands and we are moving with the plan. 2016 will be a year of investment behind our global brands. We think we have what it takes to complete the [turnaround] of dairy in Europe and stabilise sales by the end of 2016."
Another important problem area for Danone is its Chinese infant formula business, which has been hit by changing consumer habits. Consumers are switching where they shop and, increasingly, are buying European-made formula online. Danone's Chinese unit has also had to grapple with the far-reaching impact of the 2013 recall issued on some of its brands after Danone was supplied by New Zealand dairy Fonterra with whey that was thought to be contaminated with a botulism-causing bacteria.
Cabanis said Danone has made progress in the two main growth channels in Chinese infant formula: mother-and-baby stores and online. Mother-and-baby stores account for around 50% of sales in the market and continue to grow sales apace, Danone suggested. Cabanis added: "Mom-and-baby stores, which are 50% of the category, are still dynamic and represent a key driver of growth for our international brands. We have continued to develop our position in this segment where we are accelerating sales growth."
On e-commerce, which accounts for 30% of the infant formula market in China, Danone's management insisted it is unconcerned by recent regulatory changes such as the increase in tax and changes to e-commerce customs rules implemented by Beijing. "This news on regulation confirms the Chinese government is moving towards more control consistently with their key priority around food safety and fair competition. It is both a positive and an expected move for us and our interests are fully aligned. It will support the rationalisation of the market and protect the consumer…. There will be other measures, this is not yet the end-game, it is still a work in progress. What is important for Danone is that we continue to adapt and design the relevant distribution and supply chain models in order to chain efficiently and profitably our international brands," Cabanis said.
An important issue for Danone is supporting Chinese consumers to switch from a consumer-to-consumer e-commerce sales model to one that sees consumers engaging directly with the brands they are purchasing online. Cabanis said progress is being made on this front. "E-commerce … is still predominantly consumer-to-consumer but business-to-consumer is getting traction."
MainFirst analyst Alain Oberhuber said Danone's efforts in China are proving effective. "Danone continues to build a sustainable growth model by reinforcing its international brands – Aptamil and Nutrilon – and to improve its distribution with developing its presence in specialised stores and managing the conversion of indirect online sales into direct sales. China consumer dynamic remains unchanged," he noted.