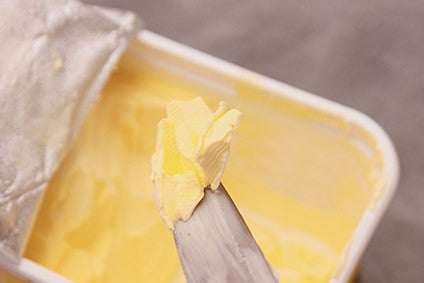 Butter has grabbed the headlines in Europe in 2017. Falling milk production, a poor yield in 2016 and demand from emerging markets has led to a decline in the butter supply in Europe and a spike in prices. Anne Lefranc, the European marketing director at IRI International, reviews the latest sales and pricing data for butter across six key European markets.
The price of butter has made the mainstream news across Europe this year – and for good reason.
The recent downward pressure in global milk production, as well as other factors including poor weather in countries like New Zealand, have led to butter prices across Europe reaching a record high this year.
As well as a shortage in milk supply, the price rises seen across Europe, an exporter of butter, are driven by increased demand from other countries.
Countries in Asia and Latin America are consuming more dairy products than before, while the perceived health credentials that has driven butter at the expense of margarine in Europe and North America in recent years is now fuelling demand in emerging markets.
We analysed the retail price of butter in six European countries – France, Germany, Greece, Italy Spain and the UK. We observed that, on average, the price increased of butter increased by 15% in the second quarter 2017 versus a year ago.
The situation is slightly skewed by Germany, which accounts for 57% of the volume consumed in these countries. In Germany, the price of butter has exploded, rising 49% to reach EUR5.90 per kilo in the second quarter.
However, the price rises are a substantial increase in real terms on what is in most markets a staple food. For example, the 6% price rise seen in France in the second quarter means customers are paying an extra EUR0.30 on a 250 gram pack.
Although butter is a low price-elasticity product, the steep increases in price have accelerated the decline in butter consumption seen in three of the markets we analysed – Germany, France and Italy. In the UK, the price hikes prompted a fall in consumption, while consumption in Spain and Greece remains on the rise. Volumes were down 11.8% across the six countries analysed, or by 5% excluding Germany.
The rises are having an effect not only on the price of blocks of butter but also for the supply of products in which butter is a key ingredient, such as croissants, which are now in short supply in France.
The number of people swapping from margarine in this period were very low or non-existent. Health concerns about margarine has meant the category has been in difficulty for many years across the six markets studied. Despite the sharp increase in the price of butter, over the last year, margarine still suffered a decline of 7.7% in volume. In Spain and Greece, the trend of consumers transferring from margarine to butter led to an increase in volume sales of butter in the second quarter by 14.7% and 3.2%, respectively, despite the price rise.
However, if the shortage of butter (and higher prices) continue for much longer, consumers might have no choice but to consider alternative products like oil, olive oil and maybe even switch back to margarine. In some supermarkets in France, for example, butter shelves have been empty.
The key issue is the supply of milk, which has shown signs of picking up in recent months. Wholesale figures published by the European Commission last week suggest weekly butter prices, while still way up on last year, may be easing. If this continues, it seems likely butter prices will stabilise again.
However, currently, there is talk that food producers and retailers are going to start to pass on the costs to consumers of not only block butter but also products that use it as an ingredient. So far in countries like France (where retailers and manufacturers negotiate price levels annually) and the UK (where grocery competition is particularly intense) this has been avoided for all but the smaller retailers.
The challenge remains for manufacturers of butter-rich food products like cakes, brioche and biscuits. As the indulgent Christmas period approaches, manufacturers will have to decide either to change their product formula and maybe go back to vegetable fats like palm oil that consumers generally try to avoid) or to increase the price with the risk of losing some shoppers. More than ever, analytics must be applied to identify the right price point for the consumer and determine which is the best strategy to employ.