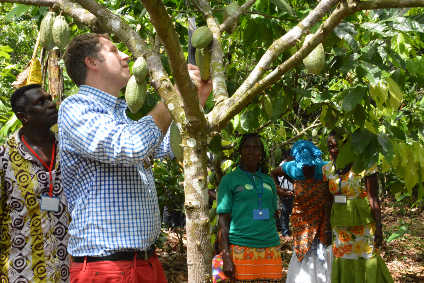 Sustainability concerns pervade every aspect of a food company's operations so opportunities and approaches to engage employees in sustainability are immensely varied. Here, just-food looks at the different ways six global food manufacturers seek to engage their workforce in their sustainability aims.
Nestle
Nestle divides its drive for employee engagement in sustainability into three categories: training; communication and engagement campaigns; and corporate volunteering initiatives.
"We are convinced that increased employee awareness and engagement in sustainability help develop further the company's sustainability commitments," says a Nestle spokesperson, adding: "We have a lot of evidence that employee engagement initiatives related to sustainability have a great impact on people's motivation to work, their pride and performance. As they see they can make a positive difference, they fully commit to our company's goals and values, endorse them and become our best ambassadors."
The company measures motivation and staff engagement regularly via a global internal employee survey called "Nestle & I".
Among the engagement programmes the company cites are monthly interactive lunchtime conferences at its headquarters in Vevey in Switzerland on various topics related to its "Creating Shared Value" agenda and sustainability issues. "Attendance is full and employees get a chance to better understand Nestle's action in different areas, including sensitive topics," the spokesperson says.
Sustainability training during the past year saw more than 4,000 employees undertake the "environmental sustainability at Nestle" e-learning course, aimed at expanding knowledge and teaching employees how to apply environmentally sustainable business practices. Also during 2015, Nestle delivered 16 sessions of its "environmental sustainability leadership" workshop.
Notable themes for employee engagement activities include World Water Day, tree planting in Ecuador, watershed education and river clean-ups in the US and food waste initiatives in Switzerland.
Unilever
Among the initiatives Unilever runs to share information and insights on sustainability within the company is an online knowledge hub called the "sustainable living lab", which provides tools to help managers apply sustainability insights and also includes a collaboration space to share ideas and seek advice from experts.
Meanwhile, "Bright Future" is an employee engagement programme aimed at giving staff "the information, motivation and confidence" to build sustainable living into every aspect of their daily lives.
Tracking employee engagement in sustainability – to find out whether staff understand the Unilever mission and the role they have to play in realising it – is also considered critical. An annual survey alternates between polling all employees worldwide and sample surveys exploring specific business questions.
The company's "small actions, big difference fund" receives hundreds of ideas from employees every year. In 2015, the company reports it invested some EUR16.5m in 186 of the best energy and emissions reduction projects, which are forecast to reduce overall CO2 emissions by 4.6% within one year.
Unilever emphasises how its "sustainable living plan" helps attract and retain talent. According to the company, some 76% of its 170,000 employees feel their role at work enables them to contribute to delivering the sustainability agenda, while around 50% of graduate recruits cite the company's sustainability agenda as the main reason for choosing to join the company.
Kellogg
"Ultimately, Kellogg is more than a business," says chief sustainability officer Diane Holdorf. "We are a company with heart and soul."
Holdorf explains how employee engagement helps Kellogg to "live our values". She says: "At many of our facilities in the US and around the world we have grass-roots employee engagement teams, often called "GoGreen teams", which work to engage and educate employees in the areas of both social responsibility and sustainability."
Employee ideas and suggestions continue to be a source of projects on energy, water and waste reduction, Holdorf continues. "We invested in our local employee-led GoGreen committees, providing them with additional tools for organisation and success in helping inform and activate our employees on sustainability."
Mars
Lara McCauley, senior director for global internal communications and community engagement at Mars Inc, says it is the company's employees who are "laying the groundwork" to make its "sustainable in a generation" goal – to eliminate fossil fuels and greenhouse gas emissions from its operations by 2040 – a reality. "We know that we can't achieve our Sustainable in a Generation goals without the active support of our sssociates," McCauley says.
For example, the company challenged 126 sites to send zero waste to landfill by the end of 2015. "We were blown away by the innovative and creative solutions that our Associates came up with," says McCauley. "In Poland, waste became biodiesel, in Australia it went into garden compost, and in India it became cement bricks."
General Mills
General Mills offers two very contrasting examples of employee engagement in sustainability. At its Minnesota HQ, employees have created a habitat for butterflies, bees and other pollinators.
The area provides "education and motivation to all of our employees about what they can do to help pollinators and butterflies", Tom Rabaey, principal scientist in crop biosciences at General Mills, says in a company blog. Conservation group Xerces Society, which has worked with General Mills on various supply chain products, partnered with General Mills in establishing the habitat.
Meanwhile, to support its commitment, announced last year, to reduce its greenhouse gas emissions by 28% by 2025, the General Mills sustainability team has created an interactive training scheme for employees to learn more about how to reduce the company's greenhouse gas emissions. General Mills describes the initiative as "a simple way to engage more of our co-workers in this big challenge".
Mondelez International
Mondelez International stresses employee engagement is intrinsic to its "call for well-being" sustainability programme, which the Cadbury owner describes as "a call-to-action to work together with our colleagues, suppliers and partners to create innovative solutions that will drive growth and make a meaningful impact on our world".
"Our growth is directly linked to enhancing the well-being of the people who make and enjoy our products, the communities we serve, and the planet as a whole," says Mondelez International sustainability director Jonathan Horrell. "Employees are vital to help us meet our sustainability goals in many ways."
Notable among its employee initiatives is Mondelez International's "Joy Ambassadors" programme through which 14 employees from ten different countries travelled to Ghana in October 2015 to learn about the challenges and opportunities in creating a sustainable cocoa supply. They also shared their business skills, ranging from agronomy and research and development to operations, procurement, marketing and law, with farming communities participating in the company's Cocoa Life programme.
The company's Global Volunteer Month also aims to engage employees in "call for well-being" themes, such as sustainability, community and safety. In October 2015, some 12,000 employees volunteered, resulting in 40,000 hours of service. Employees also volunteer their time throughout the year to make a positive impact in their local communities, the company states. For example, 1,025 Mondelez International employees in India volunteered by creating kitchen gardens and hosting nutrition education workshops and sports development sessions.