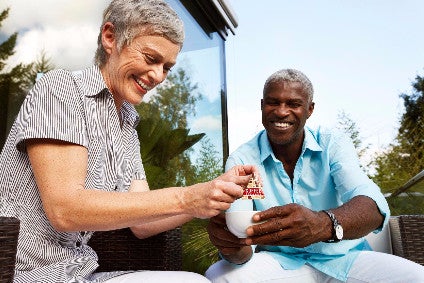 The food industry has been somewhat ponderous in responding to the ageing global population. Ben Cooper looks at how food companies can most effectively meet the needs of the growing ranks of older consumers and maximise the commercial rewards on offer.
Millennials have been the fascination of marketers and media alike for some years (with Gen Z also now the subject of much discussion) but demographic trends suggest consumer goods companies might do well to look further along the age spectrum for growth opportunities.
According to UN statistics, the number of people over 60 will increase to 1.4bn by 2030, from 962m in 2017, and will have more than doubled to 2.1bn by 2050. By the end of the century, the 60+ population will reach 3.1bn.
For food manufacturers, these numbers have significance beyond the growth potential they could offer. Supporting good health at all life stages is core to their sustainability missions and the vital role they can play in improving nutrition among older consumers to support healthy ageing will become more significant as the 60+ population grows.
By definition, population trends concerning people aged over 60 do not crop up overnight, and food companies stand accused of being slow to recognise and respond to this opportunity. "There's an over-fixation on Millennials within food," says Hamish Renton, managing director of UK food and drink consultancy HRA Global. "The older demographic is under-served. Segmenting by life stage is quite sensible and I don't think it's something the food industry does terribly well."
The degree to which the food sector may have dragged its feet might be considered moot. Looking ahead is what matters and the industry seems to have woken up and smelt the decaffeinated coffee. However, past mistakes are relevant if symptomatic of continuing misconceptions about the mindset and motivations of older consumers – and this may very well be the case.
Understanding the "young old"
The 60+ market comprises two cohorts, Baby Boomers (born between 1946 and 1964) and the Silent Generation (born between 1925 and 1945).
There are inherent differences in behaviour and outlook between people in early and later old age but recognising the "young old" as a distinct category is particularly important today, as the substantive distinctions between Baby Boomers and the preceding generation are so marked.
With regard to food choices, the Silent Generation is "relatively unadventurous", Renton says, whereas Baby Boomers have a bigger repertoire. "Exoticism, interest and repertoire" increase with each successive generation, he continues. "Each cohort is more adventurous."
Jeanine Bassett, head of global consumer insights at US food group General Mills, goes further. Bassett says the perception among some marketers that the brand choices of Baby Boomers are fixed is "just not true". Rather, Bassett says Baby Boomers should be viewed "as people of ambition on a journey of rediscovery".
"Baby Boomers in particular are redefining what ageing looks like"
For Bassett, starkly differing perceptions of what constitutes old age are at the heart of a disconnect between marketers and older consumers that must be reconciled. "Three-quarters of consumers aged 50 and older feel younger than their age and therein lies the tension," Bassett explains. "Marketers and society see 60+ as older than they are; they see themselves as younger than they are. You can kind of see how they've missed each other in the food space, particularly in advertising and innovation. So, in order to succeed with this target, companies have to abandon really dated perceptions of this generation, because Boomers in particular are redefining what ageing looks like."
Tamara Barnett, vice president of strategic insights at US market research firm Hartman Group, says older consumers may be changing "more rapidly than the food landscape" though she adds this means there is "real opportunity" for product development catering to their needs. Barnett also believes the large Baby Boomer cohort itself is "bifurcating". Younger Boomers are still working, relatively established in their careers, and pursuing a very active lifestyle, while older boomers may be retired and have more specific age-related health needs. However, Barnett stresses, even the older Boomers do not want to be positioned as "old people".
Seniors with the young old mindset are of particular interest to marketers because they not only have the greater levels of disposable income associated with older consumers in so many countries, but a strong desire and the capacity to spend it. "In the 60 to 75 bracket, people have time, they have cash, they're able to get about and they're still able to pursue a lifestyle," Renton says. For this group, he adds, the "key elements" driving food choices are health and indulgence.
Getting the health message right
While it is welcome news people are living longer, the epidemiology of age-related ill-health presents a less rosy picture. "Ageing in good health is not keeping pace with increasing longevity so although we are becoming older we have longer periods of not so good health," says Patrick Kamphuis, global senior medical director, adult care, at Nutricia, the specialised medical nutrition company owned by French food group Danone.
Market research bears out the importance of health and wellness to the 60+ generation but also suggests nutrition is an area where older consumers, even Baby Boomers, are more resistant to new thinking.
According to the Hartman Group's Health & Wellness 2019 report, 60% of Baby Boomers believe their diets to be healthy, above the 57% average across the survey which also included Gen Z, Millennials and Gen X. Meanwhile, 74% of Boomers believe they are knowledgeable about diet and nutrition, against an average of 68%. However, only 45% of Boomers claim to read books and articles about health and wellness, compared with 50% of Millennials. These are relatively small differences, and the gulf was wider with the Silent Generation which was included in the 2017 report. Nevertheless, they suggest Baby Boomers may not be as open to more innovative functional foods as younger adults are.
General Mills' Barnett says an "over-medicalised" message on food may deter Boomers who may prefer to make choices on the basis of the functionality inherent naturally in different foods and food groups.
Both General Mills and the Hartman Group research indicate Baby Boomers are more attuned to taking vitamins and supplements to complement their diet, which may present another challenge in marketing specially-developed functional food products at the mature market.
"Three-quarters of Boomers have used supplements in the past year," Bassett tells just-food. "What this means is that they're not necessarily looking to food to shoulder the load in managing their health conditions. Supplements are playing a strong supporting role that really helps them head off more drastic changes in diet which they're not really up for."
According to the 2018 Q3 Global Consumer Survey conducted by data and analytics company GlobalData, 57% of Boomers globally say a food product's impact on health and wellbeing always or often influences their choice, compared with an average across all ages of 62%.
Vicky Davies, marketing director for active nutrition and performance nutrition at Netherlands-based dairy group FrieslandCampina, says it is not surprising to find Baby Boomers under-index in terms of health and wellbeing influencing their food choices, as Millennials have taken dietary health awareness onto another level. "I'm not surprised. However, it's still a very high percentage that are aware and are taking an interest." Davies says this also shows the potential for health to become a more important driver in the 60+ market going forward. "I think there is still the opportunity for further education and awareness-driving, not only through the industry but also through governments and healthcare facilities at a local level."
That said, if this is an older generation that doesn't want to be characterised as old, it is also likely to be alienated by messages focusing on ill health. Interestingly, food marketers and public health agencies have reached similar conclusions in how best to communicate the benefits of healthy nutrition to ageing consumers and that is to place the emphasis not on the avoidance of illness but on the retention of an active lifestyle.
Emphasis on active and healthy life
"What people value most is living independently and that is the key focus, to help older people to remain independent as long as possible." Danone's Kamphuis points out this is how the World Health Organization (WHO) frames its communication around fostering healthy ageing, and the messaging is common to food companies with vastly differing profiles.
One of the General Mills products Bassett believes has been most successful at marketing to older consumers in the US is cereal brand Cheerios. "When you look at Cheerios, this is a brand that has been engineered to lower consumers' cholesterol. We have a dedicated message to this target about the cholesterol-lowering benefits of Cheerios and the way we do that is to celebrate the fact that it helps with active life. So, it is not to stave off the end of life. It is to liberate you to do more of what you love."
Bassett says "there's a lot of chatter" about social media platforms but explains this generation "still predominantly receive their marketing through television so that's what we do", although she adds Facebook is an important channel in marketing the brand. So, assumptions one way or another about the degree to which 60+ consumers are conversant with digital media are probably dangerous. After all, Bill Gates and Tim Berners-Lee are Baby Boomers.
Thailand-based seafood group Thai Union is among a number of food companies recently to have identified older consumers as a key growth market. Announcing Thai Union's revised 2025 business plan late last year, CEO Thiraphong Chansiri pointed both to the higher levels of disposable income in the 60+ age bracket and also the need to tailor products to meet the specific requirements of different age groups.
Speaking to just-food, Darian McBain, Thai Union's global director of corporate affairs and sustainability, says the company has begun the process of developing products tailored to the functional health requirements of older consumers. The message will focus on helping older consumers to "stay active and healthy", McBain says, adding this form of messaging is particularly important when trying to reach "people who don't feel old".
Key product criteria
Aiding an active lifestyle may be the predominant marketing message but, in their product development activities, companies seeking to capitalise on the growth in the 60+ population will be looking at specific health issues affecting seniors that hold nutritional solutions. Nutrition is such a significant aspect of healthy ageing that there is no shortage of potential avenues.
Some of these, such as the impact reduced calcium levels and vitamin D deficiency have in exacerbating problems with bone density, are widely known. It is a key reason why dairy companies are well placed to capitalise on the growth in the 60+ market and demand for nutritional solutions to support healthier ageing.
A developing area of research is the positive impact of a protein-rich diet on sarcopenia, muscle loss in old age. This presents significant opportunities for protein companies, suggesting Thai Union's move may soon be mirrored by others. Plant-based protein specialists also stand to gain, while protein enrichment is among the areas FrieslandCampina is focusing on as it steps up its activities targeted at healthy ageing.
Another area where food companies can make a positive impact is in helping to address the issue of declining senses of taste and smell among older consumers. Flavour is arguably the stock in trade of food manufacturers and they should be able to bring expertise to bear that can help older people retain the enjoyment of food in spite of losing taste sensitivity, which in turn will help address unplanned weight loss.
The 60+ market could become a key growth area for the burgeoning healthy snacking category. Healthy snacking may appear another preserve of the Millennial generation, but in its Power of Snacking report on the UK snacks market, published last year, Nielsen revealed Baby Boomers outscored Millennials on healthy snacking by some margin, indexing at 108 compared with 99 for Millennials and 94 for Gen X.
There are also practical considerations to bear in mind, such as the readability of food labels for those with poor eyesight and making packaging easy to open. The need for appropriate packaging and pack sizes underlines that convenience does not decline as consumers reach old age but what convenience means to consumers changes.
When considering convenience, Bassett says, food companies must not only think about the "what" and the "how" but also the "where". General Mills identified that its older consumers shop for food frequently in drugstores, and makes sure foods targeted at them are available in that channel.
There is one particular advantage McBain found Thai Union's leadership team could leverage when addressing the 60+ market. "As with many leadership teams, people are getting older," McBain says. "So there was definitely a little bit of self-reflection but nobody felt they were getting older, and yet we are and tastes and needs and preferences will change as a population ages."
While it may be a challenge to immerse themselves in the Millennial or Gen Z worlds, when it comes to the 60+ market, food company executives may find they have an abundance of empathy.