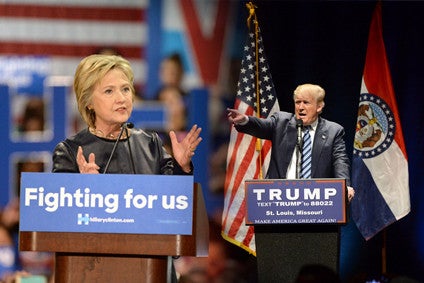 Food policy may not have been much discussed in the campaigns of either of The White House hopefuls so far, but when Hillary Clinton or Donald Trump takes office many of the new President's policy decisions will, either directly or indirectly, impact on the food sector. Ben Cooper casts an eye ahead to the coming four years.
Precisely because food policy is perceived as a lower priority and less important to US voters than issues such as the economy and employment, divining how either Presidential candidate might approach food policy once in office is far from straightforward. It is simply not sufficiently discussed.
Moreover, a number of major stakeholders are reticent to speak about how food policy under Clinton or Trump could evolve, with both industry body, the Grocery Manufacturers Association and usually vocal consumer campaign group the Center for Science in the Public Interest, both declining to comment when approached for comment by just-food.
Claire Benjamin DiMattina, executive director of Food Policy Action, one of the organisations behind the Plate of the Union campaign, which is aiming to raise the importance of food policy in the Presidential race, says it had been in touch with all of the prospective candidates for the major party nominations, including Hillary Clinton and Donald Trump, but has chosen to keep the details of those discussions confidential.
"We've had many good conversations with campaigns and campaign staff about food system reform but it has been our decision not to disclose the specifics of those conversations. But they have been really productive and we have had several of them with frontrunners," she tells just-food.
Food activists may bemoan the low profile given to food in the current campaign but they cannot accuse the outgoing US President of ignoring food issues. Indeed, making the battle against childhood obesity a priority was a defining feature of the Obama presidency, while reform to nutritional labelling and the recent introduction of nationwide GMO labelling legislation reflects the high priority given to food policy during President Obama's two terms in office.
While praising the Obama administration, DiMattina points to a risk that that work may not be continued and taken further. "At the very, very least we don't want to see undoing of those policies. We don't see us moving backwards," she says. "There's no question in my mind that food policy has been discussed more in this administration than any other before but we still are not seeing the dots being connected." DiMattina suggests efforts to combat obesity are compromised by policies that effectively subsidise less healthy foods.
DiMattina also suggests still more could be done to join up policy. "While food policy in these individual silos has been discussed and President Obama should be praised for the work he and Michelle Obama have done absolutely, we continue to not see the conversation be around food system reform."
One area that is attracting particular speculation is how the new incumbent will approach the battle against childhood obesity. In particular, it is not yet clear whether Michelle Obama will continue in some form of leadership role where she has proved so effective, and what might happen to the Let's Move campaign she founded. When approached by just-food, a spokesperson for the Hillary Clinton campaign alluded to remarks she had made about continuing the fight against childhood obesity and the possibility of a continuing role for Michelle Obama.
The spokesperson said Mrs. Clinton "wanted to work with Michelle Obama on her work encouraging Americans to eat healthier". The spokesperson also cited an interview Mrs. Clinton gave to the WPEG radio station in Charlotte, North Carolina in March, where she paid tribute to Michelle Obama. "I really support Michelle Obama's work," Mrs. Clinton said. "She has been a champion of clean, nutritious food and helping kids eat better. So I want to work with her when she's no longer in the White House."
In addition to asking both campaigns about the precise future of the Let's Move campaign, just-food also contacted the executive director of the campaign, Debra Eschmeyer, but no response was forthcoming.
It seems likely a Clinton presidency would continue to prioritise work on childhood obesity, given that this has also been a focus issue for the Clinton Foundation, the charitable foundation set up by former US President Bill Clinton. However, the Clinton Foundation has been a target of criticism from Donald Trump's campaign, which has alleged donors to the Foundation sought to gain political influence during Mrs. Clinton's time as Secretary of State under Obama.
While the Clinton campaign spokesperson reiterated Hillary Clinton's resolve to defend the Foundation from "any of the innuendo and accusation coming from Donald Trump,", the controversy may deter Clinton from making the work of the Clinton Foundation, including what it has done on childhood obesity, a major focus on the campaign trail.
The Trump campaign was also contacted by just-food but gave no details of his plans on food policy. While there has been little indication of Trump's views on food policy, his own dietary preferences have reached the public domain. In particular, his fondness for fast food has been much discussed, and the candidate himself is quite prepared to post images of him enjoying food from McDonald's and KFC on social media. That could be seen as the kind of light relief and lifestyle context that accompanies any election but a candidate aiming to prioritise issues around diet and health would probably take care not to be photographed quite so often with a hamburger or fried chicken leg, even if these remained guilty secrets.
Underlining how food policy connects with other policy areas, arguably the most important "food policy" of the Trump campaign is his approach to immigration. Comparisons between the tenor and thrust of the Trump campaign and the pro-Brexit campaign in the UK's EU referendum have been frequently drawn, and here the parallels are striking. Just as in the UK, agriculture, horticulture and food processing in the US are hugely reliant on immigrant labour, and moves to restrict immigration and lower immigrant numbers, as advocated strongly by Trump, would have a massive impact on the food system.
The GMA, which represents US food manufacturers, declined to or give any indication of its policy expectations from either candidate. "We prefer not to speculate on this sort of thing or evaluate different candidates and their positions," a spokesperson said.
Latterly, Trump has begun to speak more about agriculture, which his advisors have told him could be a vote winner in some key battleground states. Ten days ago he told an audience in Iowa, which is viewed as a swing state but has favoured the Democrat candidate in five out of the last six Presidential races, he planned to cut taxes on family farms, referring to these as the "backbone" of the country.
Clinton, meanwhile, has pledged to boost funding for farmers serving local food markets and regional food networks, and aims to provide a "safety net to help family farms get through challenging times".
One food issue which might appeal to both candidates is the problem of "food deserts", extended areas where consumers simply have nowhere to buy fresh food and healthier food products. DiMattina says the Plate of the Union has not spoken about food deserts specifically but says it wants to see leadership from the President on these types of issues. It is notable "access" to healthy food is a pivotal facet of the campaign. "We simply want to see leadership on these issues and much of this is about access to healthy, affordable food," DiMattina says.
Clinton referred to the food deserts issue specifically in a CNN interview last month, while the issue often afflicts communities in the depressed, former industrial heartlands that have been drawn to the Trump message.
Solving the food desert issue clearly requires a "joined up" approach to policy, linking between different departments, between local and national entities, and involving industry. In other words, it is precisely the type of issue where the convening and rallying capabilities of the President could play a telling role. Food companies could, like Campbell Soup Co. has done, engage on this issue. Indeed, a public-private push on food deserts led from the White House would be following the successful model established by the Let's Move campaign on childhood obesity.
Looking back over the previous eight years, while the Obama administration was active in food policy, the outgoing President was frequently criticised by his opponents for attempting to over-extend his executive powers. President Obama's attempts to introduce mandatory controls on children's food advertising provided one of the clearest examples. While his attempts to do so were eventually stalled by Congressional resistance, the threat of regulation did prompt the introduction of tighter voluntary guidelines by industry, again underlining the championing role the President can take even when no policy outcome as such is achieved.
President Obama arguably set a new precedent in terms of prioritising food policy while in the White House. However, with food still remaining a less discussed topic on the campaign trail, it is extremely difficult to judge whether this example will be followed and that work further progressed, or whether the incoming President will see the next four years as a period of relative consolidation.