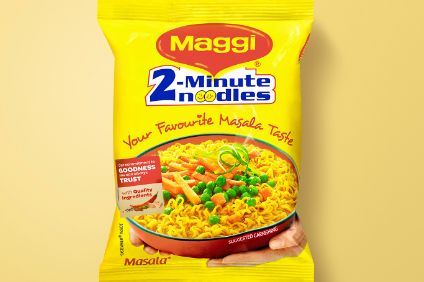 Instant noodles – a product born in Japan – have reached into south-east Asia and are spreading further across the continent, with India now a major market. Per capita consumption in India is lower than the likes of Indonesia and Vietnam but Raghavendra Verma looks at how instant noodles have found a place in the diets of a growing number of Indians.
Instant noodles have become a popular ready-to-eat snack, meal accompaniment or light alternative to a meal in India.
With annual sales of US$640m in 2017, the category is smaller than in markets in south-east Asia, but it is growing at 13.4% annually, according to data from UK-based market analysis company Euromonitor International.
Another researcher, India-based Mordor Intelligence, outlines the factors it believes are driving demand. "Growth can be attributed to the increasing youth population, increasing disposable income, higher brand consciousness, and changing consumer preferences," it said in a report published in May.
According to the World Instant Noodles Association, India is the fourth-largest noodles market, accounting for an annual demand of 5.4bn servings in 2017, out of 100bn globally.
"Noodles are no longer only being consumed by a specific segment but by consumers across all segments," Maarten Geraets, the general manager for Nestlé's food business in India, says.
Nestlé launched its Maggi brand of instant noodles in India in 1983 and has since defined – and essentially dominated – the category. According to Nestlé, it holds a 60% share of the market – even after the products were banned for five months over 2015 over safety concerns.
"Over the years, the light meal segment has seen a boost owing to the change in consumers' preferences and eating habits, especially the trend of frequently consuming smaller meals," Geraets says, suggesting the affordability and convenience of noodles have been key to the market's growth.
According to Euromonitor, in terms of sales, Nestlé's Maggi is followed by ITC's Sunfeast Yippee, Chaudhary Group's Wai Wai, Nissin Foods Holdings' Top Ramen and Hindustan Unilever's Knorr Soupy Noodles brands. Other notable brands present in the Indian market for instant noodles include Ching's Secret, GSK's Horlicks Foodles, Festers, Tasty Treat and Smart Choice.
Nestle: "Noodles are consumed by consumers across all segments"
At Nestlé, Geraets says India's growing consumer base (its population is now 1.3bn and growing at 1.1% annually according to the World Bank) has provided an opportunity for the company to innovate to cater to the country's diverse and evolving tastes. Recent Nestlé launches include Maggi Nutri-Licious noodles in August last year and Maggi Special Masala noodles this August.
However, a growing consideration of Nestlé and its Indian noodle rivals has been the need to demonstrate the products are healthy for consumers – or at least not unhealthy.
"Indians, especially urban consumers are increasingly focusing on healthier foods," Suman Dabas, associate director for food and agriculture at market research firm Technopak says. "Healthy variants sell at twice the price of basic counterparts."
As Indian consumers' tastes and habits have evolved, some have begun to be concerned about the use of maida – bran-free wheat flour – as an ingredient in noodles, which they perceived as unhealthy, Himanshu Manglik, president of Gurgaon-based consultancy firm Walnutcap, suggests.
Nestlé pioneered atta noodles and multi-grain noodles as options, followed by other companies including GSK's multigrain Foodles and Hindustan Unilever marketing 'Knorr' Soupy noodles as healthier alternatives, Manglik says.
Walnutcap: "With fast-paced lifestyles emerging, the culture of sit-down family meals is no longer what it used to be"
Patanjali Ayurved, the traditional Hindu consumer goods and food company, has made the same move with the positioning of its noodles. "We have broken a myth that fast food is dangerous and unhealthy," S.K. Tijarawala, a spokesperson for Patanjali Ayurved, which launched its own atta noodles in 2015, claims. "Our noodles are consumed as proper food and are enriched with peas, cabbage, carrots and other vegetables", added in and cooked by consumers themselves.
Patanjali's noodles were launched when Maggi noodles were banned nationwide by the Food Safety and Standards Authority of India (FSSAI) from June to October 2015 amid allegations of elevated levels of monosodium glutamate (MSG) and lead in the products.
However, during that period, sales in the whole segment went down by 39%, according to the World Instant Noodles Association.
Furthermore, according to Technopak, the average annual sales growth for instant noodles in the three years following the ban has been only 7%, compared to the average 8.5% registered during 2010 to 2015.
Health in its broadest sense remains important to the innovation strategies of noodle manufacturers operating in India. Nestlé claims to have brought down sodium levels in Maggi by 32.7% between 2007 and 2017. "We are committed to further bringing it down by 10% by 2020," it says.
Sales of supposedly healthier lines of noodles, with additional nutrients such as fibre, protein, vitamins and minerals, have grown by more than 20% on average annually during last five years, Technopak's Dabas says.
Even new entrants to the noodle business have plans to fortify their products. "Demand for added enrichments and nutrients will make the noodle market grow," Patanjali Ayurved's Tijarawala forecasts.
Overall, according to Dr Girish Gupta, the CEO of the Foodees Group of Consultants, all new noodle brands have made their market in specific regions. Even the Nepalese Wai Wai, by the Lalitpur, near Kathmandu-based Chaudhary Group, is quite popular in India, Gupta says.
The Chaudhary Group has six factories in India producing Wai Wai noodles. Its operations are "expanding day-by-day as noodles consumption is increasing in all parts of India with people liking it more than the traditional foods," a spokesperson for the company says.
According to Dabas, for Indian consumers, the primary attraction to noodles is a specific taste and based on that, they have a preferred noodle brand. They then add their own ingredients to suit their different moods, she says.
Furthermore, as Indians usually prefer to handle the final preparation of any dish by themselves, ready-to-cook items are more popular than ready-to-eat products, Dabas points out. "Whether it is adding spices or other ingredients, Indian consumer wants to say: 'I made it, I am the nourisher of the family,'" she said.
Perhaps to assist this zeal for self-cooking, in August 2017, ITC launched Mood Masala – a noodles variant comprising of two separate sachets of mixed spices providing the consumers an extra option for varying taste. According to ITC's 2018 annual report, Yippee Noodles "sustained its robust growth momentum during the year [April 2017- March 2018] despite increasing competitive intensity including from several regional discount players".
For the time being, instant noodles remain unchallenged as a ready-to-cook item in India and pasta is only a distant competitor, Gupta says. However, at Technopak, Dabas adds: "Oats are catching up [with noodles] as competitors in metros and mini metros."
But demand for foods that can be cooked quickly is likely to continue growing. Young consumers have swung from being conservative and looking for cost savings to a more liberal aspirational attitude that encourages experimentation, Walnutcap's Manglik argues. "With fast-paced lifestyles emerging, the culture of sit-down family meals is no longer what it used to be.
"Instant noodles are somewhere in the light meals arena, best consumed as part of a balanced diet. They do not substitute the traditional home-cooked meals. However, for certain segments of urban consumers grappling with fast-paced lifestyles they often serve as happy snappy meals that keep them going and provide brands the opportunity to innovate and add value."