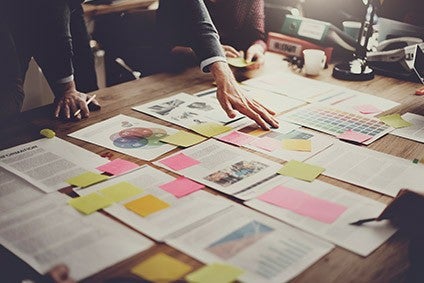 As the food majors of North America and Europe broadly struggle to rejuvenate sales in the face of changing consumer habits, company strategists are looking at a range of ways to kick-start their sales. Some have turned to accelerators and incubators to, one, support fledgling businesses and, two, try to tap into the new trends shaping the industry – and how to innovate to meet them. Simon Creasey reports.
The stakes are high and the pressure to innovate to try to drive top-line growth has never been more intense.
However, bringing innovative products to market is one of the biggest challenges global food groups face. It is a costly process and there are no guarantees the innovation will pass muster with consumers, which is why many food manufacturers merely end up launching variants of existing products.
A report published by UK-based retail and manufacturing consultancy Newton earlier this year underlined the scale of the problem. It claimed retailers and manufacturers are "wasting more than GBP2.7bn a year developing new products that either fail to take off with shoppers or that end up costing more to produce, wiping out any potential profit". However, the report found 62% of consumers like products to evolve "offering developments like different flavours and new packaging".
The cost of failure is why, in recent years, food groups have launched accelerator and incubator programmes targeted at food and drink start-ups. The established food manufacturers want to tap into the zeitgeist of new product development, build relationships with challenger brands and potentially even acquire the companies behind these products.
So who is doing what in the food incubator/accelerator space at the moment, how do these different models work and how successful have these food incubators and accelerators been to-date?
Accelerators and incubators are not the exact same thing. There are some subtle differences. Although both offer support and guidance to start-ups, accelerators are typically targeted at existing companies that have an idea and a business model already in place but which need help to propel their business forward. Incubators are typically targeted at companies at a very early stage. The founder(s) might have an idea for a product but they do not know how to deliver it to market.
Land O' Lakes, the US agri-food group, introduced a "dairy accelerator" in May 2017. The company is a cooperative and when Mike Rakes, its marketing manager for innovation and new business development, sets out the reasons for the development of the accelerator, there is a sense the co-op wanted to see collective benefits from its establishment. Rakes says Land O'Lakes set up the accelerator to "grow the overall category" and "create an eco-system of knowledge sharing and learning, as well as a community of unique and forward thinking dairy companies".
He likens the accelerator programme to a "miniature MBA programme that covers all of the necessary elements to successfully grow a food company and equips them to take their company to the next level". Participants receive an "equity-free" stipend of US$25,000 to cover the cost of travel to participate in the programme. "Land O'Lakes takes no equity stake in any of the participants," Rakes clarifies.
Rakes says Land O'Lakes intends to host another accelerator in 2018 with the application process kicking off this spring.
In Europe, Ebro Foods is another food major launching an accelerator programme this year. As part of Ebro's corporate social responsibility (CSR) action plan, the Spain-based manufacturer is sponsoring the 2018 food accelerator programme run by Food Evolutions – an accelerator hub for the Spanish food tech sector.
The programme is free for start-ups and no equity is requested in return for joining the accelerator, according to Pedro Alvárez, CEO of Ivoro and managing partner of food evolutions.
"Ebro is on board purely as [part of] a CSR strategy," says Alvárez. "No investment has been done [by Ebro] whatsoever in any of the start-ups. Maybe after the acceleration they will consider investing in some of them."
For the time being, however, investment is not the intention of Ebro's support of the hub, according to a spokesperson for the rice-to-pasta giant. The spokesperson asserts Ebro's CSR programme focuses on the wellbeing and socio-economic development of the local communities directly related to its business activities.
"In this regard, Ebro Foods works in different areas: the donation of food, sustainable agriculture, welfare programmes in food and nutrition and education and entrepreneurship," the spokesperson explains. "This area [entrepreneurship] comprises four activities: scholarships, research projects, educational programmes and entrepreneurships and job promotion initiatives. We decided to be the sponsor of the acceleration programme as part of this commitment to entrepreneurship."
Similar factors were behind Nestle's decision to enter into a partnership with Rabobank and US technology campus RocketSpace as part of the Terra Food + Agtech Accelerator programme.
On announcing the news in June, Rui Barbas, the chief strategy officer of Nestle's US arm, explained: "We're experiencing a seismic shift in the food industry, and our partnership with Terra by Rabobank and RocketSpace is just one way in which Nestle can play a leading role in meeting quickly evolving consumer expectations and explore new disruptive technologies and business models."
According to a Nestle spokesperson contacted for this article, Terra "immerses participants in the innovation process, helps guide their products' evolution and provides real-time feedback throughout pilot testing".
As for why Nestle opted for an accelerator over an incubator, the spokesperson says the company looked at which opportunities made the most strategic sense "agnostic of model".
"Terra enabled us to work with start-ups at various stages of maturity and provided us the ability to custom design the engagement and pilots with the start-ups that meet both the needs for Nestle USA and the start-up," explains the spokesperson. "This model was very appealing as it isn't a one-size-fits all approach as every start-up has its own unique opportunities."
Nestle declined to divulge the size of its investment in the accelerator programme although the spokesperson confirmed the company "does not retain an ownership position or equity stake" in any of the start-ups involved in the accelerator.
"We see this as an opportunity to work together with these start-ups, and get to know the founders on a deeper level," adds the spokesperson. "We're looking for teams and companies that have shared values and a commitment to nutrition, health and wellness. We see a lot of benefit in 'dating' before getting married. In all seriousness, this approach facilitates relationship building, and allows us to work together. We see benefit in evaluating proof of concept, and a test-and-learn approach."
The accelerator programme, which lasts for six months, is working with the second cohort of start-ups and it will begin looking for a third cohort of food start-ups in March.
According to Manuel Gonzalez, the global head of food and agriculture innovation at Rabobank, the programme has already been a success. "Terra is an 'accscalerator' not an accelerator," Gonzalez insists. "It's all about scaling."
He says before launching an accelerator programme Terra talks to corporate partners like Nestle about their business strategy so it can bring start-ups into the programme that meet a business' individual needs.
"The outcome of the [Terra accelerator] pilot [from the corporate's [perspective] is completely flexible," explains Gonzalez. "The only thing you're committing to is to having the pilot. The outcome might lead to an acquisition, it might lead to an investment, it might lead to a supply contract or it might lead to some other kind of partnership." Nestle told just-food in June it would be "open" to acquiring stakes in start-ups that join the accelerator programme.
PepsiCo, meanwhile, has chosen the food incubator model. The snacks behemoth launched its Nutrition Greenhouse in Europe in April 2017, inviting businesses with sales of less than EUR2m to apply to join the programme.
From these applications, the company selected seven food businesses and one drinks group, all focused on "health and wellness" and who all received a EUR25,000 grant, as well as entry into the six-month incubator programme, which saw PepsiCo executives provide advice on how the individual businesses could address specific market challenges.
"Consumer demand for more nutritious foods and beverages continues to rise and this is an exciting space for our industry," says Juan Ignacio Amat, vice-president for nutrition for PepsiCo in western Europe and sub-Saharan Africa, who leads the programme. "We recognised that we had a tremendous opportunity to use our global scale and resources to influence positive change and help nurture some of the best and brightest entrepreneurs in the food and beverage sector."
Amat says all of the companies that joined the programme have enjoyed strong growth, with retail sales across the eight start-ups increasing by EUR10.7m. One of the businesses in the food incubator was UK firm Erbology, which creates nutrient-rich, plant-based products such as oils, shots, crackers and energy balls. During the six-month programme, Erbology achieved growth of 400%, according to Amat, which is why PepsiCo gave the company an additional EUR100,000 grant to help the fledgling business grow its retail and e-commerce offer.
The deal means PepsiCo could end up investing in the firm. "In accepting the EUR100,000 grant, Erbology agreed to grant PepsiCo exclusive rights for a period of six months to make an equity investment on mutually agreed terms," says Amat.
Erbology co-founder Irina Turcan says she saw the Nutrition Greenhouse as an opportunity to learn from PepsiCo about sales and marketing new products.
"Each company had a mentor assigned and it was up to us how we wanted to build that relationship," says Turcan. "We caught up with our mentor on a weekly basis. She is incredibly creative and has got a lot of experience in product launch strategy. And besides providing guidance and giving insight, she also connected us to other people at PepsiCo in areas such as digital marketing and PR."
Another company that says it benefited from the programme was Fit Kitchen, a UK firm making low-calorie, high-protein ready meals. Phil Pinnell, Fit Kitchen co-founder, says the company was already going through a "big listing process and scaling up manufacturing" when it heard about the incubator.
"I thought it would help us with our expansion," says Pinnell. "As a small business there can sometimes be some fear about getting involved with a big brand like PepsiCo, but the idea of tapping into the support network of a big multinational is what attracted me to the programme."
Pinnell says Fit Kitchen used PepsiCo's EUR25,000 grant to fund an NPD project and he expects his business will start "to see the financial benefits of taking part [in the incubator] within 12 months of the end of the scheme". He sees food incubators as a win-win for all parties.
"Later-stage M&A can be really expensive and in certain categories we're seeing increasingly fragmented consumer choices, but doing fairly low-cost, highly-responsive product development isn't what those [large food] businesses have historically done," says Pinnell. "Call me naive, but I think the reason they [PepsiCo] did this is a genuine desire to create more value in the supply chain by working together."
Another food company to set up an incubator is US-based yogurt maker Chobani, which, although only itself set up in 2005, is, due to its rapid growth and success, ranked among the largest players in the country's dairy sector.
The company launched the 'Chobani Incubator' in 2016, a programme created to support food entrepreneurs "aiming to challenge the food industry, improve broken systems and bring better food to more people," explains its director Jackie Miller.
Although it is an incubator in name, Miller says technically speaking the programme also features some aspects more closely associated with accelerators.
"While incubators are typically for the earlier stage startups, we're pretty broad in our definition of early stage," Miller says. "Some of the companies we work with already have significant traction – distribution in hundreds or even over a thousand doors and hundreds of thousands or $1m+ in annual revenue run-rate. The programme is not for ideation stage companies since we look for start-ups who can immediately put Chobani's advice into action – i.e. are already manufacturing and selling."
Chobani's incubator operates what Miller describes as an "equity-free model". Participants receive grants of $25,000 with "no strings attached" and they also receive a dedicated space in Chobani's New York offices with all travel and hotel expenses covered.
"The incubator aims to help them [the start-ups] reach more people by tapping into the lessons that Chobani has gleaned during our ten years in business," says Miller. "The programme gives growing food and beverage companies access to Chobani's network and expertise in order to scale up their operations and achieve significant growth."
To date, the incubator has been attracted start-ups. In the first year, 450 companies applied for six places and last year the number of applicants for the food incubator rose to 550 – the deadline for applications for the 2018 programme closed last week [30 January]. Miller adds the results of the food incubator have been impressive to-date, with the inaugural 'class' of businesses more than doubling their revenue. In addition, their distribution levels grew by 280%.
"The incubator is going to begin having two cohorts per calendar year and focus on expanding and adding value through the alumni network, as well as increasing exposure around the programme as a gathering place for those who want to transform the food system," says Miller.
After decades of solid, consistent growth, over the last few years a growing number of food groups in North America and Europe have struggled to grow their top lines, thanks to a combination of different factors, such as changing consumer eating habits.
But by building relationships with entrepreneurs and the food start-ups of the future, the established market leaders are hoping they can identify emerging product trends and potentially fast track innovation without splashing out millions of pounds on new product development that fails to take off.