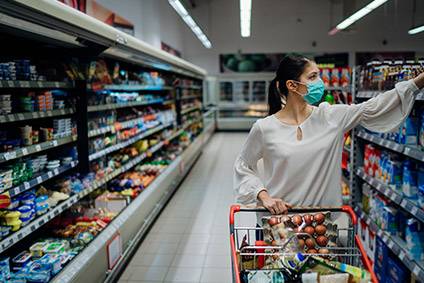 With a global health crisis set to be joined by a financial one, Lucy Britner assesses what increased interest in diet and functionality, coupled with pressure on disposable income, will mean for the macro trend of health and wellness.
The early signals from the behaviour of China's consumers as the country eased its lockdown measures point to some lifestyle changes that could be echoed elsewhere.
According to McKinsey's Chinese consumer behaviour post-Covid-19 survey, the crisis has impacted consumer attitudes to product safety, the environment and healthy lifestyles. In fact, 70% of consumers say they will work to boost their own physical immunity by exercising more and eating healthily.
And as part of a 'Lessons to be learned from China' webinar earlier this month, foodservice giant Bidcorp said that during the crisis, healthy and organic food enjoyed growth in the country. "Asians with disposable income will continue to spend on healthy eating habits, including less meat, vegan diets and lighter dishes," Johnny Kang, the CEO of Bidcorp's business in Asia, said.
There is no doubt the global health crisis caused by Covid-19 is driving increased attention being given to the links between diet and health, interest that was already growing before the novel coronavirus hit. For example, as more consumers cook for themselves, there are signs more are becoming more interested in ingredients and food functionality.
According to Tastewise, an AI-powered insights company based in Israel, interest in immune-system supportive ingredients rose 66% in the month to mid-March. "While the last year has seen consumers increasingly turn to food and beverage for functional benefits, we're seeing staggering growth in the trend while consumer routines are upended by coronavirus," Tastewise reports. "We expect the trend to continue to rise. Immunity, stress relief, medicinal benefits and more are all skyrocketing."
During the recent publication of first-quarter financial results, a number of major food manufacturers and CEOs signalled either the impact of the interest in health on the performance of their business and/or predicted growing interest as Covid-19 shapes consumer habits.
Nestlé said its Garden of Life and Pure Encapsulations saw "strong momentum" during the quarter with increased demand for supplements that support overall health and the immune system.
Unilever CEO Alan Jope told analysts the company is "pretty confident that anything that's in the space of wellness – health and well-being – is going to enjoy sustained strength".
And at Danone, Emmanuel Faber, the company's chairman and CEO, outlined the importance of several trends on which Activia and Alpro owner has focused in recent years, saying: "We are very, very clear on the fact that regenerative agriculture, biodiversity… natural and planetary diets are… going to be fundamental of how people are going to be concerned about their health through food."
Wake-up call
Cyrille Filott, global strategist for consumer goods at Netherlands-based banking group Rabobank, tells just-food more consumers may be waking up to their general health and wellbeing. He makes the point that obesity has been linked to deaths from Covid-19 infection.
"There could be a better understanding that you need to be healthier – mentally and physically – to avoid getting ill or to improve your chances of making it through," he says, though he also points to "staggering" numbers of consumers buying alcohol for at-home consumption.
Therefore, Filott believes consumers are not always able to make healthier moves by themselves, adding that "what could happen is governments are going to step in" to increase taxes on items such as sugar, meat or alcohol. In this context, one market to watch will be the UK, where Prime Minister Boris Johnson, who has pinned his stay in intensive care after contracting Covid-19 on obesity, is said to be ready to lead a drive on improving the country's public health.
Filott says the food industry also has a role to play and he mentions Nestlé and Danone's push for a pan-European adoption of Nutri-Score, a colour-coded system that classifies food and drinks according to their nutritional profile. It gives a score ranging from A (healthier choices) to E (less healthy choices). He says that although Nutri-Score was on the agenda anyway, "it may accelerate from here".
The pandemic could also accelerate the need for companies to prove a product has some kind of health-and-wellness benefit, rather than just benefiting from the health-and-wellness halo amid rising consumer interest.
Andy Searle, managing director at the London office of US-based consultancy firm Alix Partners, outlines some hurdles when it comes to launching products. He points to some "great marketing and PR" during the pandemic but warns that "if you're seen to be trying to ride on the back of it, that may well have an impact". He adds: "It's about how do you come up with that messaging around your product that doesn't look like a snap reaction to the Covid crisis – or exploiting the Covid crisis."
Mondelez International is one member of Big Food that enjoyed bumper first-quarter sales as shoppers loaded pantries amid concerns over contracting Covid-19. The US-based giant, the world's largest snacks business, benefited from the rising appetite for snacks among consumers locked down.
Stefania Gvillo, Mondelez's global head of insights and analytics, says the Cadbury maker's NPD will "pay closer attention to immunity and understanding that – and ingredients – a little bit more". Indeed, the company has recently outlined to just-food how Covid-19 is expected to reinforce what was already rising interest in what it calls "wellbeing snacks".
However, Gvillo is also clear Mondelez is "not going to walk away from the needs of consumers wanting balance throughout the days". She says that although there has been an increase in searches for vegetables and ingredients with immunity, there has also been an increase in searches for products within Mondelez's core categories, such as biscuits and chocolate. "It wasn't that one increased and the other decreased," she says. "I think food is also serving the purpose of relieving stress and providing those feelings of nostalgia, a little bit of a treat and bringing a bit of normalcy to our day."
"The need for comfort will not go away. Having a balanced portfolio is paramount"
Indeed, the move by consumers to known and trusted brands has been well documented. Companies from Nestle and Unilever to Birds Eye owner Nomad Foods have spoken about that trend in recent weeks.
"There is certainly going to be more awareness towards functional properties, ingredients of foods, wanting it to be more natural and more functional," says Mondelez's Gvillo. "However, the need for comfort will not go away – consumers will require and demand that. Having a balanced portfolio is paramount."
Health versus value
In another sense, a balanced portfolio also means a range of price points. This is not just a health crisis, it is also a financial one. Health-and-wellness products are at the pricey end many packaged-food categories and Rabobank's Filott, along with many of the big CEOs, sees a divide in consumer habits on the cards.
"The question in my mind is how the recession will change the [health-and-wellness] trend. Nutritional or functional food products tend to be more expensive," says Filott. "Are consumers able to afford it?"
Alix Partners' Searle believes the crisis is also going to drive further inequality in income. He says this will mean "a bigger spread between people who have got incremental money they can spend on products that are healthier and people that have got to go to the value end, which at the moment isn't particularly healthy".
Danone's Faber concurs. "There is likely to be a polarisation of the market," he told analysts last month. "Everyone that has disposable income will be looking at safer, healthier food… The other polarisation is going to be on value for money, which doesn't mean junk food, but it means certainly [a] trade down."
Overall, the health and wellness trend is facing a complex future. While more consumers have started to pay closer attention to their overall wellbeing and immune system – and how what they eat can be a factor – others are facing financial hardship, driving their spending down the value chain and into parts of the basket that may not always be the healthiest.
At the same time, big-brand treats are providing some comfort at a time of great uncertainty – an uncertainty that does not appear to be going away any time soon.