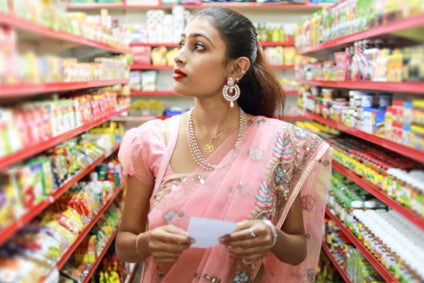 The emergence of the millennial generation – those born between 1980 and the early 2000s – is set to drive how food consumption takes place in India. Within this demographic, there is, for example, a growing awareness of healthy eating. Mini Pant Zachariah looks at how food makers are responding.
The millennial generation is oft cited as the consumer market of the future. In reality, millennials are increasingly the consumer market of today. This is particularly true across many developing economies, where younger populations mean significant purchasing power lies with those aged approximately 16-36.
Millennials are the largest generational grouping of adults in India, with greater numbers than either 'baby boomers', born roughly between 1946 and 1964, or the so-called Generation X, born from 1960 to 1980. This is a fact industry executives at the India Food Forum, held in Mumbai last month, were keenly aware of.
With India's sizeable millennial population exerting increasing spending power, the country's food industry is seeking out new ways to increase their appeal to this consumer group.
Sumit Saran, head of international food business at Indian conglomerate Future Group, told the conference 65-70% of India's 1.2bn population is under 35. Importantly, young adults have disposable income levels the country has never been seen before. That, he said, is a potent combination. "They are diverse but are united by their aspiration – for better health, nutrition, a better tomorrow," he said.
Mohit Khattar, CEO of gourmet retailer Godrej Nature's Basket, added this aspirational generation has the benefit of higher spending power than its predecessors. "Incomes have grown much faster in India in the last couple of years than they have in the past. Spending has migrated from staple to discretionary."
The rise in discretionary spending power offers food makers the opportunity to offer increasing numbers of Indian consumers more premium products. To achieve this, they must deliver differentiated high-quality products that meet the concerns of today's consumers in India. One of the most important growth areas is an increased awareness of healthy eating. Or, as Future Group's Saran put it: "Consumers will buy if they see the good-for-you value in the product."
Damodar Mall, CEO of the grocery retail branch of Reliance Retail, highlighted similar trends. "In India today, we are dealing with a very confident consumer [that is] open to new ideas," he noted. "If they find an appeal quotient in your product, they will pay five-star prices." This "appeal quotient" can come in a variety of forms and encompass attributes including nostalgic flavours, natural products and – again – healthier eating, Mall added.
Millennials share common attributes, with growing concerns over health and wellness being placed front-and-centre, Sumanta Datta, vice president at The Coca Cola Co.'s India division, suggested. "This segment of millennia is hyper-connected, see themselves as global citizens, have less allegiance to the geographies [they] was born in, and is acting, behaving and thinking very differently. They are all entering the consuming age are looking for, fun-loving, exciting, transparent, wellness-focused products."
Datta stressed interest in health and wellness has increased among Indian consumers as millennials have come of age. "India is going the Japan and China way. We may just leapfrog traditional models and get to something like whole foods, etc. in a short time," he predicted.
Responding to this trend, the fizzy drink maker is experimenting with better-for-you options in the Indian market, including its latest foray into the dairy drinks category.
Growing demand for healthy eating is feeding into an increased emphasis on reliability and quality. Vishak Kumar, chief executive officer of Aditya Birla Retail, said a more health-aware consumer demanded greater transparency and reliability from suppliers, with an expectation that due diligence in the supply chain had been undertaken. "Customer loyalty is the manifestation of that trust," he said.
The new Indian consumer is confident of what he or she wants – and frequently these preferences also reflect traditional or nostalgic flavours. "If the customer likes his masala tea [a spice-infused tea popular in India], he wants it his way," said Reliance Retail's Mall. Hence, for example, Typhoo Tea offers traditional flavours, such as Tulsi and Masala tea bags, in India.
The need for customised products for the highly-demanding Indian consumer is prompting what Mall called the "most interesting brand story happening in India" – the emergence of regional brands.
With India's supply chains and distribution networks still complex and hard to penetrate, multinational corporations and other large companies have "a problem" because "they can only address a thin segment of customers", Mall continued. "So regional gems come up, and these smaller companies are able to crack [the market] faster."
The need to tap diversity in the Indian market is recognised across the food sector said foodservice executive Riyaaz Amlani, owner of the successful Mocha café brand. Millennial consumers have a need for convenience and "do not want to waste time," he said. Wealthier millennial consumers also have a desire to indulge themselves with higher-end branded food products, he continued.
A desire for convenience – coupled with increased internet penetration and the proliferation of smartphone usage – has also seen millennial consumers in India move their grocery shopping online. According to recent research from Technavio, the e-grocery market in India is expected to grow at a "tremendous rate" of around 26% through to 2019.
But, while new consumption drivers are emerging, as consumers migrate online, branded food retailers in India need to recognise that enticing consumers with innovation can be a challenge. Ankit Jain, co-founder and owner of AskMeGrocery.com, an online grocery marketplace operating in India's major urban centres, said that while "consumers are not averse to change…in the online space, we are finding more direct searches than category searches. People know what they want and are trying out new things, but 80-90% of consumption stays the same."
This is the second part in our series taking an in-depth look at the Indian food sector. To view part one, which examines the potential and pitfalls of India as an export destination, click here.