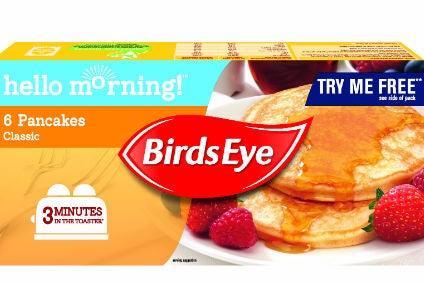 Nomad Foods was set up two years ago by Martin Franklin and Noam Gottesman as a vehicle to make acquisitions. Its first two deals have been in Europe's frozen food sector – snapping up Iglo Group last April and, four months later, the bulk of Findus Group's operations. However, the now US-listed business – Nomad moved its listing from London to New York last month – has not found it plain sailing and its CEO and CFO last week took to the stage at the Consumer Analyst Group of New York investment conference and set out how the company hopes to kick-start its growth and improve profitability. Dean Best reports.
Nomad Foods has a challenge on its hands – but the company believes it can prevail.
The company, formed in 2014, made two acquisitions last year to make it one of the largest players in Europe's frozen food sector. The EUR2.6bn (US$2.86bn) purchase of Iglo Group, the owner of the Birds Eye brand in Europe, was swiftly followed by a GBP500m (US$705.5m) cash-and-shares deal for Findus Group assets in continental Europe.
When the Iglo deal was announced in April, Nomad co-founder Noam Gottesman talked up the new asset's "strong brands" as "clear market leaders", insisting they, combined with the group's "innovative and customer-centric approach", would drive organic growth.
Four months later, in a joint statement, Gottesman and fellow Nomad founder Martin Franklin said taking on the bulk of Findus's operations was "transformative" to the business "as it augments our product offering, customer reach, and geographic footprint, further solidifying our leadership position in Europe's fragmented frozen foods sector".
So far, Nomad has faced some choppy waters. In November, the company reported an 11% fall in its like-for-like net revenue in the third quarter of the year, contributing to a year-to-date decline of almost 7%. The third quarter also saw pressure on gross margins, which were down 3.3% as Nomad invested more in promotions.
At the time of writing, Nomad's shares are down over 40% since they started in trading in the US. It was in this context that CEO Stéfan Descheemaeker – who joined the business last summer – and CFO Paul Kenyon presented at the Consumer Analyst Group of New York investment conference in Florida last week and told investors how the company plans to increase sales and profitability.
Despite M&A being the reason Nomad was initially set up, the company's focus, in the short term, will be on bedding in the Findus assets (and enjoying savings from doing so) and improving the performance of its two businesses. "Our key priority in the short term is to stabilise the top line of the existing business and return the core of that business to growth. At the same time, effectively and efficiently the Findus business into Nomad and deliver the projected synergies," Kenyon told CAGNY.
Nomad's strategy to get growth going at Iglo and Findus centres around a focus on and investment in the companies' core categories, more effective trade spending and cost savings.
Nomad Foods' focus on fewer segments
Descheemaeker said Nomad would focus on what he called the company's "must-win battles", a batch of core businesses that would then get the bulk of the group's investment in areas such as innovation and marketing in a bid to strengthen the company's brands to compete better with own label.
"The concept is very simple," he told the audience in Florida. "In each country, it is defining four to five key priorities, key categories – based on market share, gross margin growth potential – and most of R&D, advertising, promotion money will go to these categories. Around 75% of the sales of each country will be represented by these must-win battles. We then have a second category which is halfway – around 10-20% of sales per country – which will receive some innovation money, some promotion money but basically very little if no advertising money. The rest will be managed for cash, with very clear consequences. Some categories will decline faster and, at the same time, we don't think they don't have a very good future for us, we'll put all our money behind the key categories, which is by choice at the end of the day."
Descheemaeker indicated Nomad the company was diverting too many resources from its core products to new lines, some of which did not work. "When I saw where we were in June, July, I could see there was something wrong in the time and resource allocation in our pipeline – way too much to NPD. I knew from the start there was something wrong on the allocation on NPD. I asked my top 60 people: 'What are the three things you think we should change?' Overwhelmingly came the answer: 'We need to move back to core.' The pipeline is starting to change but meaningful change will start to impact in the second half of 2016."
That is not to say Nomad is not innovating; in the UK, for example, the company is adding breakfast-focused lines to its Birds Eye range, with the launch of its Hello Morning! sub-brand. But the message was clear: Nomad needed to put more of its attention on its core lines.
Another company to look at trade spend
In a similar vein to other companies presenting at CAGNY, Descheemaeker indicated how revenue management would be a key strategy for Nomad as it sought to improve its margins. Focuising on trade spending, was, he insisted, "a no-brainer". Nomad, he claimed, had "very low visibility" on how it was allocating its spending and there had, he said, been some "not very efficient promotions".
"When I started in June, I was really struck when I saw the difference between gross sales and net sales. Gross sales is EUR2.4bn and net sales is EUR1.4bn," Descheemaeker said. The company's management has set out "very clear action points for 2016", Descheemaeker insisted. "Some are very inter-related with the must-win battle concept: we're moving away from promotion slots allocated to NPD. We're going back to the real sellers. We have a lot of very inefficient promotions. It's also bad by the way for the retailers."
Descheemaeker did, however, face a question on the revenue management part of Nomad's strategy, with one analyst suggesting that, even if there could be an opportunity in the medium term, the company may have to increase promotional spending in some categories where it was facing stiff competition from private label.
The Nomad boss insisted the company could, through work on its brands and on trade terms with its retail customers, rely less on promotions. "If you are a good brand, you have to make sure you have enough features – which could be awareness, innovation – that is going to make a difference in terms of a premium positioning. What we've lost over the last two years is this part – the difference with private label," Descheemaeker said. "What you have to do is work in parallel. You have to make sure you are going to rejuvenate and reinforce your brand, your products, so they deserve a premium. The good retailers understand the virtue of a good brand. The understand the quality of the margin they can generate with us. We command very high margin, quite frankly above what the normal retailer would deserve, which is in the region in Europe around 25%. We believe between trade terms, reinforcement of our brands, we can reduce this dependence on promotions and it's going to be a win-win for both. That's what we want to do and there is no reason we cannot do it."
Cost control central to Nomad Foods strategy
Alongside the publication of its third-quarter results in November, Nomad also said it expected to be able to generate more savings from its recent acquisition of much of Findus Group's operations in Europe than it had initially anticipated. The business forecast it would eke out synergies of EUR35-40m over a three-year period ending in 2018. At the time the deal was announced, Nomad predicted savings of EUR25-30m.
At CAGNY, Descheemaeker said Nomad had already moved in areas like procurement to extract synergies from the Findus purchase but he indicated the company's work on costs would go beyond the savings it hoped to enjoy from the deal. "We should never lose sight of organic [costs]," he said. "We still have costs to cut. I am making the difference between working costs and non-working costs. Working costs are all the costs that impact the costs to consumers. We shouldn't touch them. All the others are up for grabs. It's going to help us in the future re-invest in the business." Descheemaeker's comments should not come as a surprise. He did, after all, once work at brewing giant Anheuser-Busch InBev and is still on the board of the cost-conscious beer behemoth.
M&A still on radar
Kenyon, Nomad's finance chief, did take some time to set out what he said were "three buckets of M&A opportunity" for the company. The group will, he said, continue to look for assets in Europe's frozen food sector, pointing to the prospect of further synergies. "There are a number of opportunities that may come to the market over the near term to the medium term," he said.
Nomad's aspirations in Europe extend beyond the frozen category. "We do have an ambition to grow outside of frozen over time. In Europe, we would see if the products were relatively similar to our existing portfolio, procurement synergies, possibly manufacturing synergies, head office synergies. We would also see perhaps sales force synergies, although you are visiting a different buyer at the grocer," Kenyon said.
The company would, Kenyon continued, also look for businesses outside Europe, "which would", he noted, "include a platform in the US". However, he added: "[There is] plenty of opportunity to build-out but our primary focus in the short term is to stabilise the core and deliver the synergies projected in the Findus business case."
However, in the short term, Nomad's focus will largely be internal as it seeks to get growth going from the businesses it has already acquired.