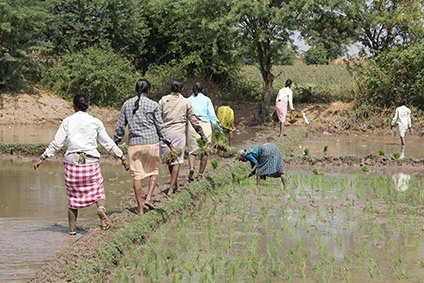 Three of the seven issues on which Oxfam's Behind the Brands campaign rates the world's ten largest food and drinks companies relate directly to wages, workers' rights and working conditions in their agricultural supply chains. Here, just-food sets out the NGO's evaluations under the three criteria – women, farmers and workers – along with the companies' reactions.
Oxfam's view of the issues
Women
Equal pay, equal rights and equal treatment are the keys to a future free from poverty for millions of women. On average, women account for around 43% of the agricultural labour force in the developing world but face a myriad of obstacles including limited power over decision-making, access to finance, land and control of resources. Although many of the Big 10 companies recognise the issues faced by women farmers, all ten need to identify and implement far-reaching solutions at the farm level with clear gender equality guidelines for their suppliers.
Farmers
One in three of us depend on food produced by small-scale farmers, but millions of these farmers are struggling just to feed themselves. The Behind the Brands Scorecard examines what the world's biggest companies say they are doing to support the world's food producers to become resilient and successful – specifically whether farmers are able to achieve a living income.
Workers
For millions of people, working in agriculture means poverty, child labour, dangerous conditions and the constant uncertainty that comes with casual work. So the Behind the Brands Scorecard examines what companies say they are doing to ensure the rights of farm workers, including tackling low pay, poor and unsafe working conditions and child exploitation.
Oxfam considers a score of 0-1 to be "very poor", 2-3 to be "poor", 4-5 is classified as "some progress", 6-7 ranked as "fair" and 8-10 is "good. Companies appear below in their order in Oxfam's overall 2016 rankings. The following list comprises the nine food companies tracked by the Behind the Brands campaign. Coca-Cola was ranked third in the 2016 scorecard.
Oxfam's ratings
Oxfam assessment:
2016 score (Feb 2013 score in brackets)
Women 6 (2)
Doing a decent job on gender but needs to better understand where women are most vulnerable in its supply chain and move suppliers to make concrete changes. Recent impact assessment in Vietnam addressing women's labour rights good step forward.
Farmers 8 (7)
Farmers likely to get a better deal with Unilever than with many other companies. Seems to understand farmers' issues but could do more to ensure farmers earn a living income and demonstrate its suppliers are treating farmers fairly.
Workers 8 (6)
Unilever's Responsible Sourcing Policy sets out new requirements for suppliers in relation to workers' rights. Could still improve on ensuring suppliers implement key labour rights, and needs to do much more to ensure workers are paid a living wage.
Unilever response:
"At Unilever, we are committed to advancing human rights across our value chain. Under the "enhancing livelihoods" pillar of the Unilever sustainable living plan, we commit to driving fairness in the workplace, advancing opportunities for women and developing inclusive business.
"We became the first company to adopt the UN Guiding Principles Reporting Framework, (the world's first comprehensive guidance for businesses to report on how they are implementing the UN Guiding Principles on Business and Human Rights) and with the launch of our human rights report in 2015, we became the first company to produce a detailed, standalone report using the framework.The report outlines our goal not only to respect human rights but to actively advance them across all areas of the business. It also describes key areas of focus for the future, which include human rights issues beyond first-tier suppliers, working conditions for migrant labour and continuing collaboration with other organisations in order to influence systemic change.
"We are proud of our achievements but know that there is more to be done. In order to drive progress, we need to continue working in our own operations, through our extended supply chain and our distribution channels. We want to see fairness in the workplace, opportunities for women and inclusive business as standard in the corporate world. We aim to work in partnership to create wider movement in our industry and beyond."
Oxfam assessment:
2016 score (Feb 2013 score in brackets)
Women 5 (4)
Nestle delivered a quality gender impact assessment in the cocoa sector and has set ambitious targets in its action plan for 2015. The company is making considerable efforts to gather stakeholder input on its gender equality targets for cocoa. We will continue monitoring to see how Nestlé fulfils those commitments.
Farmers 7 (5)
Nestle's disclosure about its involvement with small-scale farmers is one of the most advanced, and the company is working with its suppliers to tackle issues faced by small-scale farmers. It requires suppliers to support farmers' organisations, but it still doesn't ensure that farmers earn a living income.
Workers 6 (6)
Nestle scores highly on workers' rights, but the company could do much more to ensure workers in its supply chain are able to work their way out of poverty. Nestlé should start recording the wages that workers are paid so that they can be compared to living wage benchmarks. The company should also develop a strategy for raising low wages.
Nestle's response:
"We are pleased Oxfam has found Nestlé to be one of the highest performers on these criteria, which reflects the comprehensive approach we have to supporting suppliers and workers in our supply chain.
"This support is delivered through capacity building and improving quality, labour and sustainability standards in our supply chain. We provide expertise and training to our suppliers and others on how they can run sustainable, viable businesses which improve livelihoods. Nestle's non-negotiable supplier code includes a number of provisions relating to factors such as pay, employment conditions, labour rights and safety which we believe helps to protect workers in our supply chain and to enable them to improve their lives through gainful employment.
"Our Nestle supplier code states that workers' pay and benefits must be sufficient to meet basic needs and provide some discretionary income, in addition to complying with applicable laws and industry standards. To help support this, we pay competitive prices, with a premium for quality and performance for major commodities.
"Responsibility for ensuring farmers receive living incomes for their produce is a shared endeavour, and we continue to work with others, including governments, to bring about positive change. We recognise our role and influence as a major purchaser of agricultural commodities and are committed to improving livelihoods in rural communities, including through working with the 750,000 farmers from whom we purchase directly.
"Achieving improvements in rural development and farmer incomes is neither a quick nor an easy endeavour, but we believe our actions, in partnership with others, will deliver long term improvements. We take note of Oxfam's findings and look forward to engaging with them on specific ways in which we, and others, can do even more to help support workers in our supply chain as they seek to improve their own conditions and opportunities."
Oxfam assessment:
2016 score (Feb 2013 score in brackets)
Women 6 (2)
Made the most surprising jump last year to address women's empowerment with a recent gender impact assessment throughout its supply chain to determine where women are at the highest risk and in which commodities. These actions are promising.
Farmers 5 (1)
Kellogg has made progress in the past years in investigating its sourcing from small-scale farmers, has commissioned new assessments and has made new commitments to help farmers improve their situation. Now it is time the company tackles those issues that would truly make a difference in the farmer's lives, like ensuring they earn a living income.
Workers 3 (2)
There is a slow but steady improvement from Kellogg on worker issues. The company would go a long way by establishing a constructive and ongoing dialogue with the union which represents workers in its supply chain.
Kellogg response:
"We're helping improve the livelihoods of farming families and communities who grow our ingredients and giving our foods the best start possible by protecting the land where our ingredients are grown and our foods are made. This includes a commitment to support half-a-million farmers, including smallholders and women, with a focus on training and programmes that increase productivity, climate resiliency and labour conditions.
"We hold all of our suppliers to the same high standards of integrity to which we hold ourselves. We are committed to responsible and sustainable sourcing and expect our suppliers to share that commitment. Our expectations and requirements for our suppliers regarding business integrity, product quality, health and safety, labour standards, sustainability and land use, and business management practices are detailed in our global supplier code of conduct.
"Kellogg also commits to uphold the UN Guiding Principles on Business and Human Rights, and we are members of the United Nations Global Compact as part of industry efforts to support these issues. Kellogg is proud of our contributions toward sustainable food, especially in the areas of climate, farmers, land and women, and we're pleased that Oxfam recognises our progress as well."
Mars Inc
Oxfam assessment:
2016 score (Feb 2013 score in brackets)
Women 5 (1)
Has come a long way to address women's empowerment, particularly in the cocoa sector. Making progress to implement its gender action plan. Information about other planned gender assessments in other sourcing countries would be welcome.
Farmers 5 (5)
Some progress in committing to support farmers and showing willingness to pursue advocacy efforts in support of farmer's rights but needs to require suppliers to treat farmers fairly and ensure they receive a living income. Code for suppliers needs a sharper farmer focus.
Workers 4 (4)
Shows some general understanding of issues faced by workers and has made a new commitment on the United Nations Guiding Principles on Business and Human Rights, but has limited specific information about workers throughout its supply chain and does not commit to pay workers a living wage.
Mars response:
"We're working hard to source sustainably produced raw materials, raise farmers' incomes and positively impact the communities from which we source. Oxfam's report is one way we keep track of how we're progressing in these areas, and we're pleased to see that we've been improving our scores year after year. But we're not there yet. We still have a lot of work to do, and we believe our wider sustainable sourcing strategy will help us get there."
PepsiCo
Oxfam assessment:
2016 score (Feb 2013 score in brackets)
Women 4 (2)
Fails to demonstrate basic knowledge about women workers and farmers growing its commodities. Has pledged to offer female workers more support, which is a step in the right direction.
Farmers 3 (3)
PepsiCo is running projects to tackle some of the issues faced by farmers in its supply chain and has made modest improvements in understanding their situation. Still needs to make credible commitments toward supporting the small-scale farmers from whom it sources.
Workers 3 (3)
Has work to do to improve workers' rights. The company does not appear to have a system for identifying high-risk countries for forced labour or low wages. PepsiCo needs to know where labour rights risks are to manage them effectively.
PepsiCo response:
"PepsiCo knows it has an important role to play in environmental stewardship and social issues. We are taking action on pressing global concerns such as climate change, water stewardship, land rights and the empowerment of women in our value chain. While we've made progress, we also recognise this is a journey and that there's always more to do. We will continue to listen to and engage with a wide array of stakeholders and organisations, including Oxfam, as we work to find solutions to these complex issues."
Mondelez International
Oxfam assessment:
2016 score (Feb 2013 score in brackets)
Women 6 (2)
Mondelez is a leader when it comes to gender analysis and implementation. The impact assessment and action plan the company delivered was extremely promising.
Farmers 4 (4)
Understands big issues faced by small-scale farmers, but failure to insist suppliers support the farmers they buy from needs urgent attention.
Workers 4 (4)
Mondelez has still not committed to living wages nor established a constructive and ongoing dialogue with the union representing workers in its supply chains.
Mondelez International response:
"We're pleased Oxfam has been raising awareness for these important issues. We appreciate they're recognising our ongoing work in advancing the rights of women in the cocoa supply chain and in other areas like climate change and land where our score has improved.
"Our business depends on a steady, high-quality supply of crops like cocoa, wheat and many other commodities to create our delicious snacks. As demand for these supplies increases worldwide, so do the challenges facing farmers – from reducing the environmental impact of agricultural practices and dealing with more frequent extreme weather to the long-term impact of climate change and growing competition for land. These challenges are complex and require co-ordinated action by governments, industry and scientific and environmental experts."
Oxfam assessment:
2016 score (Feb 2013 score in brackets)
Women 3 (2)
Recently signed on to the UN's Women's Empowerment Principles which is a good step forward. For many years the company has been implementing projects to promote women producers as well as intentionally sourcing from women farmers but in every other category the company falls short.
Farmers 3 (1)
Shows a better understanding of the situation of small-scale farmers in its supply chain and it runs projects to support farmers, but still fails to identify the numbers of small-scale farmers it sources from, and doesn't ask suppliers to protect farmers' rights.
Workers 3 (3)
General Mills has a slow but steady improvement on worker issues. The company still needs to establish a constructive and ongoing dialogue with its workers' union.
General Mills response:
"The Oxfam scorecard is one of many views on our corporate social responsibility efforts. Other organisations have a different view of our work in these regards and have ranked us more highly.
"Respect for human rights is core to our commitment to conduct business in an ethical manner. In 2015, we launched our policy on human rights, updated our supplier code of conduct and signed the UN Women's Empowerment Principles. We are also members of the AIM-PROGRESS Responsible Sourcing Forum, and signatories to the United Nations Global Compact (UNGC) and guided by the International Labour Organization's (ILO) 1998 Declaration on Fundamental Principles and Rights at Work. As part of our commitment to respect human rights, we have established internal and external mechanisms to help identify, address and mitigate potential adverse human rights impacts related to our business.
"We recognise that governments are ultimately responsible for establishing the legal framework to protect human rights within their jurisdictions, but we are part of the broader community wherever we operate. We work within a large, diverse value chain of business partners and stakeholders. We recognise that each entity in this value chain has its own independent duty to respect human rights. We expect them to adhere to ethical business conduct consistent with our own. In the communities where we operate, we believe that engaging stakeholders – including those from more at-risk populations – is fundamental to our respect for human rights."
Associated British Foods
Oxfam assessment:
2016 score (Feb 2013 score in brackets)
Women 3 (1)
ABF has projects to support rural women, but lacks policies to support them. Plenty still to do.
Farmers 3 (2)
ABF has started to measure its impact on small-scale farmers, but now needs to consider how it can support farmers through guidance and requirements for its own suppliers.
Workers 4 (3)
ABF now recognises a range of key workers' rights and unlike many companies on the scorecard, has made an explicit commitment to a Living Wage. However, ABF should now develop a strategy to raise low wages.
ABF response:
"We are disappointed to be positioned at the bottom of the table. As Oxfam knows, we do not have the same business model as most of the other companies featured on the scorecard. So sadly the survey can never reflect the breadth and depth of our work. We have pointed this out to Oxfam many times.
"By allowing our individual businesses to make decisions and trusting our people to make the right choices, we don't present the outside world with the same kind of policy and target-driven culture that many other companies adopt. We believe this enables us to run a more ethical business that positively contributes to the communities in which we operate.
"However, we also recognise that we can always do better and we continue to develop plans to further improve our activities. Over the past three years we are pleased that our ongoing and deepening work in corporate responsibility is reflected in an improved score on the scorecard.
"We are proud of the work we do at ABF and will continue to drive our own answer to the responsibility agenda and use our scale to make the biggest difference we can."
Oxfam assessment:
2016 score (Feb 2013 score in brackets)
Women 2 (1)
Made some improvements in the recent update with a new women's empowerment commitment. While this is a good sign of improvements it is now important to track what that translates into as actual progress for women farmers.
Farmers 3 (1)
While Danone is showing increased understanding of its supply chains, it does too little to address the hardships these vulnerable suppliers encounter in producing the commodities that form the basis of Danone's business.
Workers 3 (3)
A disappointing lack of information means Danone, which has signed up to international labour conventions, doesn't actually know how many people are in its supply chains. Its recent agreement with the main union for food and agriculture workers globally is a solid step in the right direction.
Danone response:
"The Oxfam Behind the Brands 2016 report does not acknowledge many of the sustainability projects we are collaborating on with our partners and stakeholders. Indeed, Oxfam's assessment methodology and framework does not really fit with our approach.
"Our primary aim is to act in the field. As an example of our specific approach, our RESPECT programmes, launched in 2005, and our FaRMs programme focusing on our milk producers, launched in 1997, ensure that we only work with suppliers that are compliant with core social principles such as not using forced labour, child labour, or working conditions that endanger the integrity and health of their employees.
"Danone's specific approach ensures our social and environmental sustainability work prioritises those areas where we believe we can make the most practical impact. We leverage lessons learnt and experience gained in collaboration with, for example, local food producers and communities. An example of this is our EUR100m (US$114m) ecosystem fund, which is intended to strengthen and develop the activities of those partners (eg farmers and suppliers) who operate within our ecosystem in a sustainable way. These initiatives are led in collaboration with, and co-funded by, NGOs, micro-credit organisations and development agencies.
"This approach to sustainability means that we prefer to experiment and validate the impact of our actions before publishing policies. When we have completed our assessment and validation we share our policies.
"We recognise that tracking progress in these areas is not an easy task. Danone is always willing to explore new initiatives that could help account for progress in our many sustainability projects within the context of our health, environmental, social and economic goals and commitments."