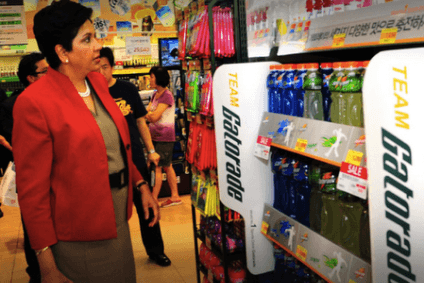 PepsiCo's second-quarter and half-year results included higher sales and earnings but the US group's shares, up 9% so far in 2017, moved little. In fact, the Lay's and Quaker owner's number belied slowing underlying sales growth, which could be a source of concern. Nevertheless, analysts were sanguine and reflected on the company's ongoing efforts to adapt its business to the changes reshaping the sector. Katy Askew reports.
In a number of developed markets, significant changes are taking place in the way food manufacturers interact with their customers and consumers. Retail dynamics are evolving rapidly, with consolidation, channel shifts and the growing importance of e-commerce shaping the sector – all driven in part by changes to the way consumers shop.
These shifts have been viewed as a challenge to large food makers that are seeing sales stagnate. The market share of legacy brands has been pressured by smaller players, particularly in the US. Simultaneously, sales volumes through measured channels in markets like the US and Europe remain sluggish.
PepsiCo's chairman and CEO, Indra Nooyi, outlined the challenges that are placing pressure on the organic growth rates of companies like the Lay's-to-Doritos maker when she spoke to analysts and investors yesterday (12 July) during a conference call following the publication of the US group's first-half results.
On the consumer side, Nooyi painted a picture of rapidly shifting expectations and shopping habits. "Some trends like consumers' increasing demand for convenience and variety have been present for decades but are becoming more pronounced, consumer shopping habits are rapidly adapting to evolving and new retail formats and their lifestyles are increasingly influenced by pervasive social and digital media and mobile technology," she noted.
"Consumers are also seeking more value and benefits from what they purchase and consume. They are also seeking more premium experiences, and at the same time seeking value. And across the spectrum, consumers continue to be interested in health and wellness, but with differing definitions, often not science-based of what this means."
According to Nooyi's analysis, the most dramatic updates are taking place in the retail sphere. "More pronounced are the changes we are witnessing in retail where the lines are blurring between channels. Bricks-and-mortar retailers are building deep e-commerce capability, pure-play e-commerce is moving into brick-and-mortar, and virtually every channel is melding aspects of grocery, convenience, foodservice, meal kits, prepared meals, and home delivery," she observed.
These pressures were evident when PepsiCo reported its first-half results. The company said organic sales increased by 2.6% in the six-month period. The result represents a slowdown from the growth rate that PepsiCo has enjoyed in recent years. In the first half of 2016, organic sales increased 3% and 12 months before that sales growth stood at 5.1% in the opening six-month period of the year.
Despite the slowdown, Wells Fargo analyst Bonnie Herzog suggests PepsiCo is likely to outperform its main competitive set in the face of these headwinds. "In the context of the broader staples universe, we think PepsiCo is relatively well positioned to adapt to these trends and believe its solid pricing despite modest volume growth will place its Q2 results above average relative to its staples peers," she notes.
At present, PepsiCo is faring relatively well compared to many of its contemporaries. According to their most recent financial updates, Nestle's first-quarter organic growth stood at 2.3%, General Mills booked a 4% drop in organic sales for the full-year to 28 May, Kraft Heinz revealed first-quarter organic sales were down 2.7% in the three months to 1 April and Mondelez International booked first-quarter organic growth of 0.6%.
While consumer trends – and in particular the pace of change – has placed a strain on companies, Nooyi insisted the environment represents an opportunity to drive innovation and growth.
"With all this change occurring and at an accelerated pace, we could look upon the spirit in our industry with hesitation and pessimism or with a sense of excitement and optimism. We choose to take the optimistic approach because this period offers a once-in-a-lifetime opportunity to strengthen our business and capture new avenues of growth."
So what is PepsiCo doing to try to capitalise on the opportunity?
PepsiCo's categories and brands
Speaking to analysts and investors yesterday, Nooyi argued PepsiCo is well-placed to unlock these possibilities because of the brand capital it commands in the categories in which it operates.
According to figures from Euromonitor International, the US savoury snack market grew by 4% in 2016 as consumers continued to prioritise the "portability and convenience" of snacking over traditional sit-down meals. PepsiCo's Frito-Lay North America (FLNA) division dominates much of the US savoury snack sector, with a market share of 38%. Likewise, in western Europe, Euromonitor says while the region's growth has been "lagging behind the global average", savoury snacks "continues to be the most dynamic snacks category" in the region. Here, too, PepsiCo is a leading player, with brands including Doritos, Walkers, Lay's and Cheetos.
"We participate in growing categories with products that are well-suited to consumers' continued desire for convenience, on-the-go portability, and snacking, in place of structured meals. Many of our brands occupy the number one or number two spot in their respective categories, giving them the scale to cut through an increasingly cluttered and fragmented media landscape, especially in the digital realm," Nooyi said.
PepsiCo's health and premiumisation drive
PepsiCo is also trying to meet mounting consumer concern about health issues through its ongoing efforts to provide better-for-you products, Nooyi said. The company, which has long sought to improve the health profile of its snacks – including potato crisps and tortilla chips – now claims 45% of the sales it generates come from so-called "guilt free" items.
Nooyi explained: "Our product transformation efforts to date have resulted in a portfolio where we now derive approximately 45% of our net revenue from products that we refer to as guilt-free. These products include diet and other beverages that contain 70 calories or less from added sugar per 12-ounce serving and snacks with low levels of sodium and saturated fat, as well as what we call 'everyday nutrition product'. And a full 28 points of the 45 points is made up of what we refer to as 'everyday nutrition', products with positive nutrients like grains, fruits and vegetables, protein, unsweetened tea, and water."
A focus on brands delivering more value – frequently associated with health and wellness – has supported PepsiCo's efforts towards premiumisation, particularly in its FLNA unit. Susquehanna International analyst Pablo Zuanic observes that while a "lack of volume growth at FLNA remains an ongoing concern… management management made a strong case for premiumisation driving growth, as shown by the 3% price/mix gains" in the second quarter.
E-commerce and channel shift
Nooyi was coy on PepsiCo's plans in e-commerce. She did, however, insist the company's online business is "growing brilliantly".
"We are doing very, very well. We are not yet ready to talk about it in any significant way… it's growing really, really nicely. But it's growing with our traditional products and our traditional packaging, if you want to call it that. There is clearly an opportunity for us to think about innovation for e-commerce, which is what we are all focused on. We want to make sure that our snacks are more shippable, not just in click-and-collect but more also for delivery, so the cube efficiency is there," she revealed.
In particular, Nooyi suggested there is an opportunity for impulse purchasing to play a greater role online. A significant proportion of PepsiCo's existing products are sold as single-serve impulse buys and, Nooyi believes, as this shopping occasion is translated into the online channel more effectively, PepsiCo will be able to leverage its brands with growing effectiveness in the digital space.
As the barriers between physical and online retail become more blurred, PepsiCo is looking at how best to meet emerging needs for its retail customers. "I think we all as manufacturers have to start to rethink how we serve this multiplicity of channels and how we should retool our business models to serve every one of these fragmenting channels. That's the challenge all of us have and we have been looking at that very, very carefully," Nooyi said.
Leveraging retail relationships
PepsiCo wants to help its retail customers grow sales, regardless of the channel. Nooyi suggested the impulse nature of the group's brands make them "highly incremental" to basket or box size. When PepsiCo's blockbuster brands are placed on promotion, they drive traffic, she added, while high sales velocities maximise revenue per square foot and increase cash flow for retailers.
"These attributes translate to the very foundation of the value we bring to our customers regardless of channel. We deliver sales growth and cash flow for our customers," Nooyi insisted. "And our partnership with customers goes well beyond supplying great products. Our deep capabilities, enabled by our scale and years of extensive investment, allow us to work with a strategic partner, delivering value in the areas of supply chain management, consumer and shopper insight, social and digital consumer engagement, research and development, design, data analytics, and e-commerce."
By fostering close alliances with PepsiCo's retail partners, the company expects to forge mutually beneficial ties that support organic sales through increased availability and expanding sales densities.
Innovation and investment
Nooyi suggested, in the context of these new and emergent paradigms, investment in brand support and innovation is increasingly pertinent. "As the retail environment shifts, we just have to retool our model for the retail environment shifts. The market is still growing, that's the good news, and these are huge categories. So, our goal is to capture the growth in a changing environment with our innovation and our big brands. That's why we focus so much on innovation because we believe innovation can actually create consumer demand and get us the price premium, and then we keep investing in our brands, both at the big brand level and the emerging brands like KeVita and Naked, so that we can grow our business on both ends of the spectrum."
She pointed to what she said have been successful brand extensions PepsiCo has rolled out in support of this model. "Our product portfolio has the stretch to continue to evolve with consumer needs. We have the ability to innovate to provide new benefits and value to the consumer in ways that are not only consistent with the brand's equity but in many ways strengthen it. A few examples come to mind…. Doritos, where our loyal consumers have embraced flavour extensions to the core product and innovations we have taken to foodservice and quick serve restaurants. Or Quaker, where we have provided increasing portability and convenience to a hearty, healthy breakfast through the introduction of Breakfast Squares and Breakfast Flats."
According to Wells Fargo's Herzog, the strategic focus on innovation to create demand and support pricing, backed up by increased marketing spend, "should over time allow PEP to remain ahead of the curve".