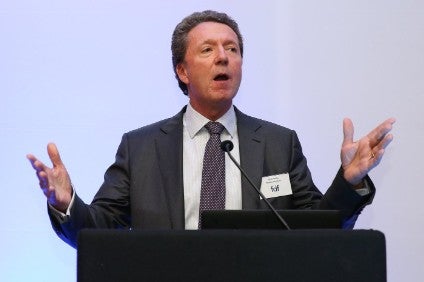 Gavin Darby has proved a controversial chief executive and some in the investment community will cheer his exit from Premier Foods. Others will argue progress was made at the UK firm during his tenure.
Shares in Premier Foods rose on Tuesday (13 November) – the day the UK manufacturer's (at times criticised) chief executive, Gavin Darby, announced he is to step down after six years in the job.
Darby's tenure has proved turbulent, with, at times, some pockets of growth from a stable of legacy brands in mature, low-growth categories and success in cutting Premier's debt pile.
However, Darby, who is to stand down in January, has faced criticism from some investors due to Premier's choppy sales performance and, notably, after a sale of the business to US suitor McCormick & Co. in 2016 failed to materialise.
Premier has also spent much of this summer locked in a war of words with one critical shareholder, activist investor Oasis Management, which wanted to unseat Darby as CEO at the food group's AGM in July. Darby eventually beat off that challenge but, partly as a result of investor pressure, Premier instigated a strategic review and in July said it may look to offload assets.
Darby says departure simply about "timing"
Darby's exit may not come as a surprise to some, coming hot on the heels of the spat with Oasis, which had argued he was in charge of a "zombie company".
It comes, however, at a time when some believe Darby has had some success in getting Premier to see sustained sales growth and has made inroads into its debts.
When Darby took the job in January 2013, Premier's balance sheet was loaded with more than GBP1bn (US$1.28bn) in debt and huge pension liabilities, as well as a larder of what might be deemed as dated brands from a bygone era.
The former Coca-Cola and Vodaphone executive followed a predecessor, Michael Clarke, who had only been in the role 18 months but had made some efforts to improve the performance of a business that had not found it straight-forward growing sales.
However, when Darby joined Premier, there were still concerns about whether the company could sustain sales growth on an organic basis.
The announcement of Darby's departure came alongside the publication of Premier's first-half financial results.
Martin Deboo, an equity analyst at Jefferies International, said the numbers indicated growth was
"becoming a habit" for Premier and had come "against tough comps".
"Premier have now posted five consecutive quarters of growth," Deboo said, noting the company's first-half sales and profits were "well ahead of our expectations".
He added: "Q2 [sales growth] … has been achieved against an exceptionally tough comp in the face of hot weather and a slowdown in [Premier's] international [business]. Mr. Kipling, Premier's largest brand, grew double-digit, with Batchelors, the fourth-largest, growing 7% but the inference is that sales growth was broadly based."
Darby has succeeded in reinvigorating some of Premier's brands, such as Mr Kipling and Batchelors and, as importantly from an investor viewpoint, debt levels are now more comfortable at around the half a billion pound mark.
Premier's share price was up by more than 2% mid-morning on Tuesday around 39 pence. The stock is off the heights of 136p seen in 2013, and is still below this year's peak of 46p in July.
Even last year's fastest revenue growth in five years following 2017's disappointing results has failed to lift the stock significantly.
Fiona Cincotta, a senior analyst at London-based City Index, said: "Darby can take credit for getting overall group sales growing more consistently and roughly halving Premier Foods' debt pile since he took the reins. But investors weren't easily going to forget the rejection of the McCormick bid, especially with Premier's shares still languishing below 40p."
Darby put his decision to step down on his sixth anniversary on 31 January simply down to "timing" and said Oasis' pressure had had no influence. He noted, too, how he believed Premier now "bears no resemblance to the one we [Murray] started with".
On a post-earnings conference call, he said: "When I look at what we have achieved, the business at the beginning was in serious trouble. We had a lot of brands that people loved that they were increasingly not buying, the demographics of which were headed in an unsustainable direction. Our big supermarket customers did not think that well of us.
"Fast-forward to where we are today, we have halved liabilities. We've got some of these great brands, that, instead of people just thinking nostalgically about, are growing strongly. And there's much more to come. We are a business that our customers strongly respect."
Ambrosia brand could also exit
Tuesday's announcements from Premier also included plans to sell Ambrosia custard both to raise funds to invest and also to reduce debts further.
Darby insisted on Tuesday Ambrosia requires two to three years investment to turn it around, a project that might be better served by another company. And in turn, a disposal would generate funds that could be channelled elsewhere.
Premier wants to focus on parts of the business with the "most potential", Darby said, adding: "We have consistently said in the last 18 months that we would look for opportunities to accelerate the pace of the creation of shareholder value. Ambrosia is a fabulous brand. I have absolutely no doubt that in time, Premier can turn around Ambrosia in the way we did with Batchelors, but the key point is time. And I think it is at least two to three years before Premier Foods will have the marketing firepower to do the things we need to do to Ambrosia.
"If we can sell the Ambrosia brand we can significantly increase the already good levels of investment in the parts of our business that are already growing fast."
Premier also sees the sale of Ambrosia helping to further reduce its debts.
Darby has enjoyed some commendable success in reducing Premier's debt burden but will not be around as CEO to realise the target he and his team set in motion. They aim to reduce the net-debt-to-EBITDA ratio to below three times by March 2020.
The pile fell by almost GBP26m in the first half to GBP510m, and the figure should drop below GBP500m by year-end. At the same time, the company has invested around GBP150m over the last four years.
Darby said the debt ratio stood at six times when he joined Premier, adding if the company can sell Ambrosia it will pay down debt in "bigger steps" than the current annual target. "If we can get into the twos some time soon that is a big step from six," he noted.
However, getting that cash to invest and to reduce debts naturally depends on someone paying a good price for Ambrosia.
When challenged during Tuesday's Q&A session on what price Ambrosia might generate for Premier, CFO Alastair Murray referred to the company's earnings statement, noting the brand accounted for just under 10% of group the grocery division's GBP256m sales. "So you can draw your own conclusions," he said.
"If we sell Ambrosia……I think the whole financial paradigm changes. So I think we will be re-evaluating whether GBP25m a year continues to be the right number," Murray explained. "That's the target we set when we had too much gearing and needed to get our debt down. There are still plenty of opportunities to put capex back into the network."
Premier preparing for Brexit
Premier has not escaped the uncertainty swirling around Brexit and all its possible outcomes that other players in the food and drinks industry, and the wider economy, are experiencing.
The company admitted on Tuesday it is among the food manufacturers seeking to shield themselves against the potential import shortages in essential inputs a no-deal Brexit could bring.
Darby explained Premier's position. "It is a serious issue. We have been planning like all professional food companies. In the first phase, we have committed to increase our infantry of packaging goods and of ingredients, and that decision has been made. We are in the processes of bringing our stocks up in the event that a hard Brexit meant that imports would not work for a period of time."
Murray stressed on Tuesday does have "contingency plans" that stretch beyond its first-phase in the event a deal is not sealed and a plan that will incur costs.
"If that is the case, we will progressively start building stock in our business as we go through the second half. If that is where we find ourselves then we are signalling that there may be a GBP10m adverse movement in working capital by the financial year-end," the CFO said. "That would come back in due course during the next financial year."
Darby said any second-phase decision will be taken in January as to whether the company starts building stocks in "incremental components and ingredients".
"And in that case we would be disproportionately well-placed with our core brands or SKUs to handle the inevitable dislocations in the event of a hard Brexit," Darby explained.
As Darby prepares to step down, some in the market see his departure as a belated victory for shareholders, most notably Oasis, who this summer wanted him out.
In a statement issued on Tuesday, Oasis said: "We welcome Gavin Darby's departure, and are optimistic about the path ahead. We look forward to Premier Foods accelerating and realising its true potential. We thank [Premier chairman] Keith Hamill for his leadership and action."
Others in the investment community believe Premier is better placed now than it was when Darby arrived, even if the company's product portfolio remains centred on some mature, low-growth categories.
At Jefferies, Deboo said he expected Darby's departure to be welcomed by Premier's investors. However, he added: "We think his contribution has been under-estimated: he leaves behind in our view a more sustainably-growing, less leveraged and more harmonious Premier."