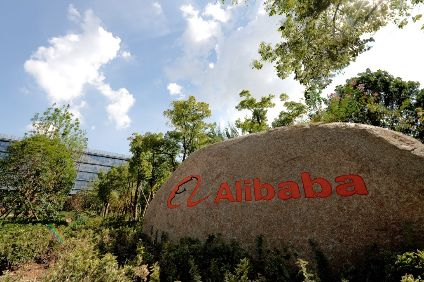 Alibaba's online marketplace Tmall is mooted to overtake Walmart to become the world's largest B2C retailer by 2020. Naturally, food companies are keen to work with the Chinese behemoth. Ben Sillitoe reports.
Food companies from around the world are increasingly setting up partnerships with global retail titan Alibaba as a route into the potentially lucrative Chinese market.
In the last 12 months alone, new Alibaba food suppliers have included UK baby and toddler products business Annabel Karmel and Spanish olive-oil supplier Deoleo. Mars, Mondelez International, and United Biscuits are among those which have long-standing relationships with the multiple Alibaba business areas.
The Alibaba business model provides brands a gateway to the sought-after Chinese consumer through an array of websites and stores – the most common route to market is via its Tmall business-to-consumer marketplace. The Alibaba ecosystem also consists of marketing, social, logistical and product innovation tools that make working with the company more than just straight-forward commerce.
The digital-first business is growing its footprint in the wider physical grocery market too, contributing to total revenue of US$56.15bn in 2018-19 – up 51% year on year. Full-year gross merchandise volume – which includes its partner brand sales – was up 19% to $853bn.
The group's tech-heavy Freshippo supermarket stores – known as Hema in China – now total 150-plus. In addition, Alibaba has significant stakes in hypermarket operator Sun Art Retail Group and French grocer Auchan's Chinese arm, while it also owns 20% of Suning Group which acquired the majority of Carrefour's business in China in June.
Alibaba business areas, therefore, offer a route to many areas of the Chinese grocery market. Tmall – which includes Alibaba food subsections Tmall Supermarket and Tmall Fresh – remains popular, but brands have various wholesale partnership opportunities.
Distributors and exporters are a preferred path to doing business in China, and there are government-supported country 'pavilions' that assume part of the regulatory burden on behalf of brands. One such option is the UK Royal Mail store on Tmall, which opened in 2015 and sells Waitrose honey, baby milk from Danone brands Aptamil and Cow & Gate, and took infant food company Ella's Kitchen (owned by Hain Celestial) to China at the time of the platform's launch.
The size of the prize is substantial. Food industry research company IGD says Chinese online grocery market sales are set to reach $205bn in 2023 – at an annual growth rate of 31%.
David Lloyd, Alibaba's general manager for UK, the Netherlands and the Nordics, suggests Alibaba food is performing well and growing in line with rising demand for newness and global products from a growing middle class in the country.
International brands require a Chinese entity or distributor to be on Tmall. For those wanting to sell directly but aren't registered, Tmall Global allows for goods to be held in a bonded warehouse and shipped direct to consumer.
"It works really well for beauty, cosmetics and it can work really well for ambient food as well – although, not so much for fresh food," Lloyd notes.
Alibaba food procured from international brands typically involves 'hero' products that have "massive sell through" fulfilled from local warehouses, while "the long tail" of goods can be sourced from home markets, he adds.
Been there, doing it
One active exporter to the Chinese market is UK-based Millennium Group, which counts Britvic, Premier Foods, and Princes among the companies it helps sell via Alibaba.
The business has a dedicated store on Alibaba competitor and fellow retail powerhouse JD.com but it also exports directly to Alibaba.
Rob Furse, a consultant for Millennium Group and an expert in cross-border e-commerce, says there is a "growing appetite" for global brands in China. He cites the large international Chinese student population and "a desire for authenticity" and clear provenance as factors influencing demand for foreign produce.
"One of the reasons brands work with us is they don't understand the Alibaba system or they don't want to get contractually involved because Alibaba is deemed too big and contracts are complicated," says Furse.
"Dealing with Alibaba or JD.com is not easy, as there are issues around payment terms, deliveries, and complicated red tape – but we can act as a broker."
Furse previously worked for the UK government's Department for International Trade and he helped launch the Royal Mail Tmall store.
"You can sell Waitrose honey, for example, without having to have Chinese labelling and it goes down as a personal import by a Chinese consumer," he says of the service. "There's a Government white-list of suitable products which is continually reviewed."
Annabel Karmel and Deoleo have taken the Tmall-first route – with the former now looking to stock in circa 1,000 stores, too – but Norwegian seafood producer Mowi and pork processor Danish Crown are embedding themselves in China and using other strategies alongside their work with the retailer.
Danish Crown will distribute pork from its soon-to-be-completed factory in Shanghai, utilising Alibaba's perishable food platform Win-Chain. Mowi is also using Win-Chain to distribute fresh chilled salmon in China, sourced from its Shanghai plant.
Meanwhile, HKScan, another Nordic meat supplier, has started selling via Alibaba's Freshippo supermarket chain and online store. HKScan is operating in China as a joint venture with Zhejiang Qinglian Food Co and it started exporting pork from its Finland home in 2018, and aims to triple volume by 2020.
Alibaba's Lloyd says Norwegian salmon and Danish pork, for instance, are deemed world class by Chinese consumers, who want access to the best food each country has to offer.
New Zealand dairy products and meat are sought after, as are 'Old World' wines from France and Italy, while appetite for seafood, fresh meat, fruit, and vegetables is growing.
"You also see desire for traditional products such as Walkers Shortbread from Scotland and Danish butter biscuits, which become very desirable as people want to experience a little bit of the international," he states.
Mars is one big multinational food brand with a now long-standing relationship with Alibaba. The US giant started working with the company in 2011-12, and it utilises a range of tools in the Alibaba business model, including Tmall, social media site Weibo, and video platform Youko.
Wallace Du, senior director for national customers and digital transformation at Mars Wrigley in China, says sales via Alibaba have increased tenfold since launch.
"The partnership with Alibaba is beyond sales," he states, adding Alibaba has helped Mars understand what it takes to be a direct-to-consumer (D2C) brand by supporting its own Tmall stores.
"The ways of working are completely new to Mars and it's an opportunity to build out our capability and continue driving the penetration of our categories," Du explains.
Chocolate – part of a wider Mars' confectionery arm – is its best seller in China, with Dove, M&Ms, and Snickers among the products sold in stores and online with Alibaba, alongside pet food and gum. Mars is looking to grow its premium confectionery offering, and is testing Dove Artés on Alibaba while gauging consumer reaction to the product.
In 2017, Mars aligned with Alibaba's research and development hub, Tmall Innovation Centre (TMIC), to create a chili-infused Snickers bar, aimed at Chinese consumers' love of spicy food. The product reached its first-year sales target in six months, says Alibaba.
TMIC has also worked with the likes of Unilever, Nestle, and Mondelez to help shape the manufacturers' product strategies in China.
Health, uniqueness
Industry watchers in China suggest with increasing knowledge around food, consumers are now pursuing better diets and are more aware about the links between diet, nutrition and health.
The Chinese government's '13th Five-Year Plan', released in 2016, has a strong focus on growing the domestic sports industry by 2025, and this is impacting the retail sector. Sports food and drink, nutrition, supplements, and health-conscious produce from abroad are popular, notes Furse.
Meanwhile, Alibaba has recently launched an English-language hub to help fast-track the Tmall on-boarding process for international brands, and it is also ramping up its focus on recruiting small US businesses.
Malcolm Pinkerton, VP of ecommerce and digital insights at Kantar, says innovation and uniqueness in product is becoming increasingly important to Chinese consumers.
And he suggests if Alibaba seeks out a food brand, the company in question should "lean in heavily" because its would be difficult to ignore the Chinese company's knowledge of consumer demand.
"A key priority for Alibaba is to attract smaller niche brands, not just focusing on the big household names," Pinkerton says. "If you have a niche or distinct product that satisfies a mission-led shopping journey then you'll win. There's also a growing opportunity to work with Alibaba as it moves into south-east Asia and invests in India, where they are going to be looking for grocery items, in particular, to build out the proposition."
Challenges to consider
Kerry Foods, the consumer-facing arm of Irish food major Kerry Group, is analysing the best ways to get fresh products shipped to China to serve what it sees as a potentially lucrative market.
Malcolm Hunt, head of e-commerce at Kerry Foods, says the complexity of the marketplace model and its quirks – for example, social media as a transactional platform – must be understood. He is assessing the channel, and says supply chain cost projections of shipping from Europe to China do not yet make commercial sense.
Kerry Group already sells its DaVinci syrup products via Alibaba, and the Kerry Foods arm would look to see if there are any ways, in Hunt's words, to "link up the expertise" later down the line, if selling on Alibaba was deemed a viable option for his division.
"Many of our products have short shelf life and you couldn't get them there fast enough, so we'd look at longer shelf-life products," he explains.
Mars' Du says a key challenge of working with Alibaba is one any brand looking to become more D2C-focused would encounter.
"As a traditional FMCG company, we need to adapt to the new digital landscape quickly," he says.
"In the past, we highly relied on our offline customer channels for product development
And production and maintained our relations with our distribution network. However, after opening our direct online stores, we also need to shift our attention towards driving traffic and sales on our digital channels."
The presence of the Alibaba Anti-Counterfeiting Alliance, which was founded in 2017 and includes brands such as Danone and Mars, raises the potential of other challenge brands may face by working with a major marketplace.

The criminal investigations led by the alliance member brands and Alibaba in 2018 resulted in the arrest of 1,277 suspects and the shutdown of 524 manufacturing and distribution locations, which yielded counterfeit product seizures worth US$536.2 million.
Lloyd describes Alibaba as "the world leader in brand protection – because we've had to be" and, through its large policing teams, artificial intelligence, and the alliance, 95% of products identified as potentially counterfeit are removed before a sale is made.
"We've wanted to take it very seriously because we know we operate in an incredibly large ecommerce market which also has a lot of manufacturing capability."
Seeing the future
China is a fast-moving consumer market, with Lloyd likening ten years there to 50 years in the UK in terms of the rate of development. Millions have moved out of poverty in recent decades and disposable income is growing rapidly.
Shopping habits seem somewhat futuristic from a wider world perspective, too. Alibaba's ecosystem includes lifestyle app Taobao with 700 million users per month, who access it to explore, play games, message and shop. Brands working with Alibaba can get hold of its aggregated consumer behavioural data to help shape their proposition in China.
And, in Lloyd's words, Freshippo is "a redesigned-from-the-ground-up supermarket experience" comprising interactive stores that merge online and physical shopping and can fulfil goods to consumers' homes in 30 minutes.
"China is a market where you can learn what Europe might look like in a few years' time," he argues – and companies like Mars acknowledge they are learning things by working with Alibaba that they can subsequently embed in their wider businesses.
Despite the access to Alibaba logistics, marketing and product innovation tools, Lloyd asserts brands must work hard to achieve success via its ecosystem.
"We provide the platform, access to an extraordinary number of consumers who are used to shopping with us, but then brands need to strike the right local partnerships, and give the right focus," he says.
"They need to adapt to Chinese strategy and consumers, and speak their language both literally and figuratively. There is a lot of work they need to do and that feels right to me – it's such a big opportunity that it shouldn't just come incredibly easily."