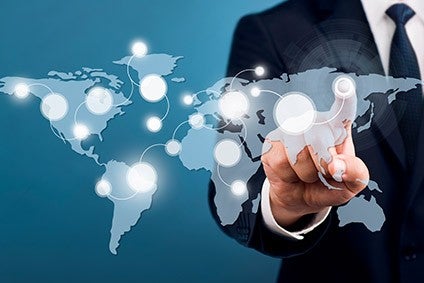 Export markets can be enticing for small- and medium-sized businesses in the food industry but how best should companies with limited resources and already doing battle in competitive domestic markets go about expanding internationally? Simon Creasey speaks to those in the field to find out more.
By 2050, the world's population is projected to rise from the present 7.6bn to 9.8bn. There are billions of potential customers for food companies to target.
Historically, exporting was the preserve of the global FMCG behemoths with production facilities and supply chain networks spread across numerous geographic territories. It was out of the reach of small to mid-sized food manufacturers, which had neither the time nor money necessary to build up an export business.
However, thanks to globalisation, the Internet and the efficiency of modern supply chains, location is no longer a barrier: a food business based in Toronto can service customers in Timbuktu almost as easily as they can in their domestic market.
And with many smaller food manufacturers finding their margins being squeezed by domestic retailers, amid factors including retailer consolidation, a growing number of small- to mid-sized food companies are starting to explore exporting as a means of bolstering sales and (given, the margins that can be secured in some categories in international markets), profitability.
Are you having problems at home?
So what do food manufacturers looking to broaden their horizons need to do to ensure their overseas adventures are a success?
According to export experts, the first consideration for any food company keen to build an export business is whether they are actually in a healthy enough position to start exporting.
"It's possible to export anything and everything that can be sold in a supermarket, but whether I'm talking to a British company trying to get onto the shelves in America or an American company trying to get on the shelves in Mexico, the first thing I look at is how are they doing in their home market because this is not for the faint-hearted," says Greg Seminara, founder of US-based Export Solutions, which helps food, confectionery, personal care and "supermarket-oriented" brands sell to overseas markets.
"If you can sell to buyers in your home market and people like your product and if you can remember what it took to get on the shelves of retailers in your home market, then you've got a good shot at making a success of it [overseas] because the fundamentals are the same. However, if you're having troubles in your home market then you should keep going in your home market because the other markets won't be any easier."
If a brand establishes it is in a strong enough position to start exporting the next step is choosing which market, or markets, to target from the 195 different countries globally. One of the main considerations when selecting a new territory to target is proximity.
"Forget China – for most UK food brands, for instance, the biggest export country is Ireland," Seminara says. "You also need to look at the GDP per capita of a country. They may have a lot of people but these people may be poor."
"The BRIC nations have been a huge distraction and a huge disappointment"
Seminara warns companies not to get caught up in the hype surrounding some of the world's faster-growing economies. "China and India have been huge disappointments as have Brazil and Russia. These BRIC nations have been a huge distraction and a huge disappointment. Most companies sell more to Hong Kong than they do to China."
Then there are trade and social factors, as well as considerations specific to your own product that need to be taken into account.
"For example, if you are a snack manufacturer, where is snacking a big trend?" says Nicola Thomas, managing director of A La Carte Consulting, which specialises in helping UK food and drink manufacturers accelerate their export growth. "If your product is targeted at urban millennials, which countries have the highest concentration of that demographic? Also where are your competitors being successful?"
Some markets are inherently more complex to enter or build up a new business in, according to Thomas, who is also a director of the UK Food and Drink Exporters Association (FDEA) and Food and Drink Exportese, which helps companies to enter and build sustainable exports in overseas markets.
"I wouldn't advise a first-time or inexperienced exporter to tackle China, US or India, for example. Cut your teeth on an easier and nearer market first," she suggests.
Internet research may provide some useful pointers to first time exporters – "Of course nothing replaces getting on a plane and going to visit a country but now all you have to do is go onto Amazon or another online retailer and from the comfort of your own home you can look at what's available in your category in that country, you can see the pricing and you can figure out the tax," Seminara says – but some companies prefer to take a more measured approach.
"We are currently working on a world market evaluation project with [agricultural and agri-food consultancy] Promar International to select the markets for targeting," says Rich Clothier, managing director at UK cheese maker Wyke Farms.
The company, which is hoping to generate export turnover of GBP20m this year – equivalent to 20% of total turnover – counts Europe as its biggest export market but it is also targeting the US, Canada, South America, India, China and Japan. Wyke Farms takes its export business seriously – to the extent it has produced bespoke 'British' branded packaging for its export customers.
"'British' is a brand now," says Clothier. "It stands for quality and reliability. In some regions it is even a fashion statement and is seen on clothes, etc. British products and quality are respected across the world."
Just as important as an export marketing strategy is making sure the company enters new territories in a manner that gives it the best possible chance of success, Clothier says. "In the key markets we want to put solid roots down – either [using] our own people or very closely aligned partners."
Finding good distributor critical
However, for many small to mid-sized food brands installing their own teams on overseas soil is going to be too cost prohibitive and too risky an option to consider. The lower risk and most commonly used route by brands entering new foreign markets is employing the services of a local distributor.
"The beauty of a distributor is he is your customer – not the retailer"
"The beauty of a distributor is he is your customer – not the retailer," Seminara says. "He is an outsourced virtual subsidiary who will be your brand advocate in that country. So you as an exporter cut a deal with the distributor, you sell to him and he pays you, not the retailer. Then he resells to all of his local customers. The distributor is the key."
But how do you find a good distributor? Seminara has created a database of nearly 8,000 distributors across 96 different countries that sell products that are typically found in supermarkets or convenience stores. The database allows users to filter potential distribution partners by country and/or by category. Once food brands have created a shortlist of potential distribution candidates they then need to be vetted using the following six factors, Seminara suggests.
"Number one, is distributor capabilities," says Seminara. "How long have they been in business, how many employees do they have and what other brands do they represent? The second factor is category expertise, the third factor is brand building expertise – how do they take a brand from a different [geographic] area and bring it to life and market it?
"The fourth thing is their cost to serve – what are they going to charge for this because you don't pay a distributor a salary, they pay themselves a margin, so what is their expected margin on your product because if it's too high it makes it a very expensive product and it won't sell. Factor number five is enthusiasm – for you and for your brand. Are they excited about it or not? And finally there is what I call the 'x factor'. Do you like them? Would you like to have a beer with them because you will spend a lot of time with your distributor and you have to be able to trust them."
Seminara likens the relationship between a food brand and its distributor to a marriage. "You wouldn't meet someone for a date in a pub and then get married immediately," he says. "You spend some time together, go on a bunch of dates and really get to know one another."
The lengthy courtship approach was successfully used by Thailand-based banana chip brand Banana Joe when it decided to start exporting a few years ago. The company exports its products to the US, Canada, the Middle East and Europe through distributors.
"We like distributors who are young, but have experience in the market, distributing healthier and better for you products," says Banana Joe founder Nat Meechubot. "That means they will be talking to the right retailers that we are seeking."
He advises food brands do their research and shop around before settling on a distribution partner. "They are your eyes and ears on the ground, so you rely on them. Once you get started with one, it's a little bit like getting married – so take your time, when you find the right one you will know."
Trade shows can be hit and miss
One way of finding the right distribution or retail partner is to attend one of the numerous food trade shows that take place throughout the world.
Visiting potential new overseas markets via attendance of a local trade fair can be an incredibly useful exercise, according to Sandra Sullivan, director at PS8, the event delivery partner of the FDEA.
But, to make the most of these events, Sullivan suggests brands "work through a trade association with a stand on a national pavilion. Be seen, get practical support and learn from other exporters".
Seminara also sees the value in attending global trade shows as long as companies do their research. "Too many lonely exhibitors show up with a smile and they haven't screened themselves to make sure they are export ready and they haven't contacted any distributors in advance," he says. "Most of the people who stop by stands randomly are time wasters. The biggest and best distributors are not prowling the aisles of trade shows looking for start-up innovation.
"Yes, you have to go to trade shows for visibility but you have to do your homework beforehand to make sure you have created the right story and set up the right kind of meetings."
Trade shows were Banana Joe's means of dipping its toe into exporting but Meechubot concedes success from the events has "a lot to do with luck", adding: "Trade shows are a bit like speed dating – you never know who you will meet."
Cristina Widjaja, founder of US-based gourmet sauces brand Hey Boo, concurs.
"We were lucky enough to have our products discovered by Marks and Spencer during a visit by their buyer to Dean & Deluca in New York City," explains Widjaja. "We were asked to submit samples and pricing by their US buyer. That was back in 2013. It did take about one year for the first order to materialise and we have been exporting to the UK since 2014."
As Widjaja's experience underlines, success doesn't happen overnight and doesn't come cheap. "Investment is the same per capita – there is no free lunch," Seminara says.
It's a view shared by Thomas at A La Carte Consulting. "My advice is always to think about how much time, money and resource you put into developing the UK market [if you're a UK food brand]. If you want to get anything like the same level of sales in an overseas country, this will get you a long way to the answer. However, if you think about how much it might cost to set up and run a [domestic] sales force, working with a local distributor in an export market can work out a lot more cost effective in the long-term and not many people recognise this."
What brands keen to export need to recognise is they have to offer their international customers the same level of service and support that they give their domestic customers, Elsa Fairbanks, a director at the FDEA, says.
"You can dabble with export but it probably won't be very productive"
"You can dabble with export but it probably won't be very productive," says Fairbanks. "It's not just about your product – it's also about your company and your mindset. That's why having an export plan is absolutely vital. You can't just think 'we will do exports if we have time at the end of the day.' Exporting has got to be part of your business objective. It doesn't have to be a huge part, but it has to be part of your planning in terms of product development, planning your packaging, developing your website and having the people in place to work with international customers who perhaps have different needs."
Fairbanks adds all of the association's members are looking to invest and grow their export business and these UK food brands are not alone. As retailers continue to put the squeeze on suppliers in their domestic markets, small- and medium-sized enterprises increasingly need to seek out new revenue opportunities across the globe.
At the moment it is particularly challenging for food brands regardless of their size to export thanks to the turbulent geopolitical climate caused by tension over trade, Brexit and global currency fluctuations. However, if brands can secure a supply contract with a reputable distributor or overseas retailer, the evidence suggests it is definitely worth the effort.