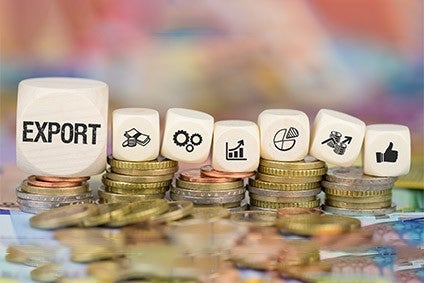 For many small- and medium-sized enterprises, breaking into overseas markets is a Herculean task and one that needs careful consideration to avoid the pitfalls and sidestep the prospect of failure. So where do you start? Simon Harvey takes a look.
Risk is the first word that springs to mind when assessing the parameters governing a major step into export markets, which for food SMEs must be a daunting prospect but a hurdle that may need to be overcome if a business wants to expand opportunities and diversify cash resources.
For a start, SMEs do not generally have the financial backing or the ladders of expertise that their 'Big Food' counterparts have, unless they are lucky enough to have attracted external investment, which if the case, already provides some measure of protection as a shield against shocks.
But for others, the risks are diverse: whether your product will stand out from the crowd against local competition; whether you can ultimately make money from the venture; and not forgetting considerations such as temperamental exchange rates and political stability. However, not expanding overseas is a risk in itself.
For first-time exporters, it's all about balancing risk, says Nicola Thomas, the director of Food & Drink Exportese, which runs the UK-based Food and Drink Exporters Association (FDEA).
"If you are only operating in the UK, there are limits to what happens in the UK and how far your market can develop," Thomas tells just-food. "You might want to consider what the risks are of not exporting."
How should SMEs assess their priorities?
Experts in formulating an export strategy on behalf of clients agree that in-depth research and conducting thorough due diligence are vital pre-requisites, with many important aspects often overlooked, such as different country-specific food regulations, how you are going to package the product, insurance against damage, waste and shipping, and the route to market.
Most concur a good starting point is to gauge the interest already received from potential customers – with trade shows an ideal platform to drum up business – and then visualise a plan on whether you go it alone or employ the services of a local agent or distributor, an option which may come at a cost, but one that will provide the knowledge and familiarity with the market in question.
Lesley Batchelor OBE, the director general of UK body The Institute of Export and International Trade, which runs the export advisory business Open to Export, says: "There are always distributors you can work through but then of course you are losing a lot of your margin. Or an agent, but that's not as straight forward because they are only going to introduce you to people as opposed to covering the cost of sales.
"So if you have a distributor they are going to buy it from you and sell it on at whatever price they decide, but you are probably giving between 30% and 50% margin away. They are taking all the responsibility for shifting the stock and they are going to market it for you. You've got to understand what you're committing to and what they need in the way of volumes."
Then, based on whether you have a niche or mass-market product, look at the dynamics in terms of population size, Thomas says. Where are the biggest concentrations of people? Which are the largest cities? Where are the expatriates based who might have a greater liking for your offering?Think about starting off in one city where there is sure demand for your products rather than trying to take on the whole country in one bite, she adds.
It's a point reinforced by Paul O'Collins, the regional manager for the south west of England at Enterprise Europe Network (EEN), an SME-focused consultancy offering advice for exporters to 64 countries worldwide.
O'Collins says it makes sense to try and leverage the "strengths and experience" from any established or existing business model. It's also important for SMEs to assess and understand their own capabilities and logistics.
"Take time to develop a strategy for what you want to achieve, and not just a short-term strategy of 'wouldn't it be good if we started selling stuff in France'", he says. O'Collins says the strategy should encompass what markets are open to you, the potential demand for your product or service, how you would serve those customers, and the competition.
"It's not a sprint, it's a marathon"
"Which markets present the least barrier to entry and where is a strong market for my product or service?" are key questions to ask, suggests O'Collins. "Then try and cut that down progressively, so that you've got a clear target market. Rather than just say I want to sell into the US, which has a total market value of X and Y, what I really want to do is I want to sell into Chicago, and use that as a landing point. I want some early success so I can learn from that and continue to build."
Thomas adds: "In order to identify your priorities, make a list of all the markets where you have enquiries from or you are doing a little bit of business with. If you've got a blank sheet of paper, make it a top-line mix of some EU markets, some middle-distance markets and some quite far-away markets, so you've got a bit of a mixed bag.
"Then perhaps look at exports for your category. What are the top ten or 20 markets where confectionery, for example, is being exported to, and then set a criteria that applies to you because these might be very different if you're selling energy drinks to millennials or private-label frozen vegetables."
Other considerations are local industry regulations for foods and ingredients, tariffs and export quotas, and then think about how much time and money needs to be expended in terms of servicing the account – the travel costs and frequency if the destination is far away from home, according to Thomas.
Business risk is another aspect, says Thomas, because "if you have a bad debt to chase it's going to be a hell of a lot more difficult to do that in India than it is in France, for example".
Thomas tells a "cautionary tale" of what can go wrong after a UK-based chocolate manufacturer she was working with spent time breaking into the US only to find an edible glitter garnish was not an acceptable ingredient under local regulations. "If they had done their due diligence, they wouldn't have wasted so much time and money talking to people in the United States."
Batchelor also considers foreign exchange as one of the key risks.
"Getting paid, not understanding the regulations and probably foreign exchange, which is linked to getting paid," Batchelor says. "People don't always understand how foreign exchange works. They have a tendency to pitch at the wrong price or expect their buyer to take all the risk. Your buyer will have to pay the import duty, so you've got to be able to make your price attractive enough for them to bring it into the country, pay that duty and still have enough room to make a profit."
SMEs might also want to consider accessibility to retailers and a good retail structure, listing and distribution fees, the price consumers are willing to pay, and transportation costs. And according to O'Collins at EEN, intellectual property rights are one aspect not to be overlooked.
Greg Seminara, who owns the US-based consultancy Export Solutions, suggests companies work out what is their unique selling proposition. He also stresses having a strong foothold in the home market is a must before embarking on an overseas venture because it provides credibility and is a good selling point when you can show you have a major retailer on board.
"If you are not on the shelf in your own home country, going overseas, with different eating habits and practises, different pricing, increased costs and tariffs etc, is not going to be any easier," Seminara tells just-food. "So the first key to success – how are you doing in your own backyard where you can watch it, where you might know the people, where you can go to your local Tesco or Sainsbury's and check the thing everyday."
The competition
However, Seminara warns f irms must not be fooled by domestic success, using the example of ethnic foods such as Thai and Indian, which, while consumed in the western world, often bear little resemblance to the traditional foods eaten in the originating countries they try to replicate. So you must have a unique selling proposition for your product, stresses Seminara.
"People eat their own type of food," he says. "What is the differentiator versus other products out there, and is that interesting and relevant and transportable?"
Seminara believes opportunities are sometimes inversely proportional to the size of the target market. Sizeable countries like Japan, the US, China, Brazil, India and Russia have their own local food manufacturers with "massive factories and plants and huge sales teams that have been around for generations, so really there is just a limited window sometimes for overseas products", he says.
Exporters might be better served by looking at smaller nations with populations of less then ten million, such as Hong Kong and Singapore, and which have a lot of tourism, he adds.
"They don't have these massive local food producers to compete against which have scale advantages, and they rely on a very high percentage of their food requirements from overseas," Seminara says. "So you are not crippled by well-funded local guys, and very often these smaller island nations could really hit above their belt in terms of potential relative to size versus bigger countries."
Competition is an important parameter. If it exists, your compatriots have already opened up the market, but otherwise you might have your work cut out to convince consumers to buy a new product, brand or service.
Consider The Meatless Farm Co., a UK-based meat-alternative business set up in 2017. Denmark-born founder Morten Toft Bech made a stark choice when he launched, starting out with meat-free mince in the face of growing competition in an expanding market for meat alternatives.
Meatless Farm is now exporting to Hong Kong, the UAE and Sweden, with Canada in the pipeline and negotiations underway with the Netherlands. Chief executive Robert Woodall, a former Kellogg executive who ran the Pringles snacks business for Europe, says his previous company used to do a lot of work on how to prioritise international markets, analysing gaps in consumption, the competition, the size of the category, population size, distributors and growth opportunities, among other factors, he tells just-food.
At Meatless Farm, Woodall says he attended one of the SIAL trade shows as the company sought to expand into export markets after securing an exclusive listing with Sainsbury's in the UK. After receiving approaches to the stand from distributors and retailers, "we could almost work out where the movement and interest was the greatest", he says.
It's important to decide if you have a niche or mass product and choose the population size accordingly, Woodall says, adding Meatless Farm also looked at markets where it could "command a decent price". Ideally, going direct to the retailer is the preferred option, but when you are in a nascent category a distributor often has more "stretch".
"You've got to look at the category: is there an interest in these types of food? Is it a market that's easy to get to and get to the retailers? If your going into a mature category, can I really compete against some of these very entrenched suppliers? We benchmarked some of the competitors to see where they had gone. We also looked at where the category is growing the fastest and where it had the most interest."
The legal considerations
O'Collins says an SME must first ensure it is legally permitted to operate in the target destination, and secondly to make sure its intellectual property rights are protected.
"A lot of people think that IP is just about patents, and it's not," he says. "It's a much more wider environment where you can look at your international activities and make sure that you are protected and that you are taking the right approach. If you want to turn ideas into money you need to protect it through your IP strategy."
Many governments offer financial support for SMEs seeking to expand overseas, along with a raft of institutions providing advise and clinics from experienced experts, many of them free. Good reference points include the CIA World Fact Book, the World Bank, Forbes business rankings and for things like wealth, health and the quality of life, the Prosperity Index, according to Thomas.
In summing up the priorities, O'Collins says: "Internationalisation can be an expensive business, so you need to make sure that you've got the resources in place for the journey. It's not a sprint, it's a marathon. You have got to put a lot of things in place – from any export documentation support you need, then to make sure your products can get into that market, all the way through to the logistics, all the way through to the dealers and distributors in-country."