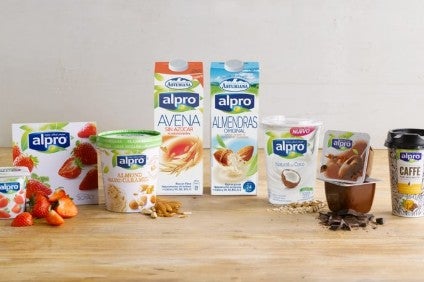 Like most markets in Europe, Spain is seeing plant-based alternatives to dairy eating into the sales of their conventional counterparts.
Spain has a long-standing market for alternatives to dairy beverages due to one of the highest levels of dairy intolerance in Europe – and to another factor that has its origins deeper in history.
Horchata de chufa is a popular drink consumed in Spain during the hot summer months – and made from soaked, ground and sweetened tiger nuts. The drink's presence in Spain has its origins in the Muslim conquest of the Iberian Peninsula during the 8th century but it still commands a significant portion of the country's sales of plant-based beverages, according to Danone, the French dairy giant that is also the owner of the Alpro dairy-alternative brand.
"Spain is quite a mature market in terms of plant-based consumption. We have already a big tradition of plant-based consumption," Frederic Sudre, the country manager for Alpro in Iberia tells just-food. "Horchata de chufa, which is very, very refreshing, represents 15% of the whole plant-based drink market."
The first brands to hit the market emerged in the 1980s, with the now Danone-owned Provamel among them. Demand, though, tended to be more functional, with consumers searching out products for reasons including lowering cholesterol.
Alpro was introduced into Spain in 2004 and the market has moved from being centred around functional needs to becoming more mainstream, driven by the trends seen in a number of markets worldwide.
"Most drivers behind the growth of dairy alternatives don't specifically apply for Spain but generally apply for most countries in western Europe," Richard Scheper, a dairy analyst at Rabobank, the Netherlands-based financial services group, says. "There are different drivers why consumers choose dairy alternatives – health, animal welfare, assortment, curiosity, sustainability and personal nutrition."
As in other markets in Europe, then, Spain has had a dairy-alternatives market that now goes back decades. However, in recent years, like in other western European markets, the dairy-alternatives category has started to grow rapidly, more closely competing for custom with conventional dairy – and started to broaden in types of ingredient and, more recently, in types of product.
"Spain already had a relatively large market for dairy alternatives, the majority based on soy. During the last few years we see a trend towards more non-soy dairy alternatives," Scheper explains.
Now, brands like Alpro and Vivesoy – owned by Spanish dairy business Calidad Pascual – market products containing other ingredients.
In May, Calidad Pascual launched Vivesoy Fusión, a line of beverages each containing a mix of nuts. Calidad Pascual cited data from Nielsen that it said showed sales for plant-based drinks rose 10.1% to more than EUR140m (US$156.8m) in 2018. The company launched two products: Fusión Frutos Secos, which contains cashews, almonds, hazelnuts and walnuts and has "a truly unique flavor"; plus Fusión Almond & Cashew.
"The Spanish market is one of the biggest in Europe for non-dairy drinks," Jose Miguel Flavian Erlac, an FMCG researcher, says. "Soya products are the main segment, but its consumption is plateauing. We see stronger growth in other vegetable drinks, like oats, almond etc."
The non-dairy drinks category has, until recently, been centred one part of the store, Flavian explains. "The Spanish dairy market is almost 100% ambient UHT, and non-dairy alternatives have followed this. Recently, chilled milk is becoming a bit trendy, and growing, but it is very small."
Since Danone finalised its acquisition of Alpro owner WhiteWave Foods in 2017, it has sought to invest behind the brand in key markets, including in Spain. Within Spain, Danone has sought to further grow the sales of Alpro beverages, launching its range of unsweetened drinks, encompassing ingredients including soy, almond and oat.
Sugar, Danone's Sudre says, is "a hot topic in Spain", adding: "They have one of the highest rates – if not the highest – of child obesity in Europe. That's why we have launched our range without added sugar – and they are flying."
A second key part of Danone's push behind Alpro in Spain is a sign of the growing spread of plant-based alternatives to dairy throughout the wider dairy aisle.
"The main [project] has really been to start to push for new categories," Sudre says. "In Spain, yogurt consumption is massive. It has one of the highest per capita consumption in the world – but it was really a bit abandoned. To give you an idea, the [plant-based] category even was declining by 4% on yogurt and now [since Alpro entered the segment] it's increasing 15-20%."
Earlier this year, Danone sought to take Alpro's reach in Spain further. "We started to expand our category footprint," Sudre says. "In early 2019, we started to enter with ready-to-drink coffee and ice cream. We launched ready-to-drink coffee in February and we also launched ice cream two months ago."
With plant-based alternatives to dairy now appealing to a wider range of consumers – not just those with an intolerance nor just vegans – broadening into more convenient or indulgent categories appear to be wise moves. Manufacturers must seek to appeal to consumers who still also eat conventional dairy products as a larger chunk of the growth of the market will come from so-called "flexitarians".
Sudre notes: "Two per cent of the population of Spain is vegan and vegetarian. Eight per cent is flexitarian. In the last two years, the population of flexitarians has grown 25%."
Growing interest from more 'mainstream' shoppers and the continued development of the category does, of course, encourage retailers to launch and push their own private-label products. And that's no different in the plant-based dairy category in Spain.
Listing businesses that "dominate" the category in Spain, Flavian points to Alpro, Vivesoy and the country's largest food retailer, Mercadona. He also cites another local grocer, Eroski, plus Carrefour as "leaders" in the private-label part of the market.
Antonio Obieta, managing partner at the Spanish arm of international food consultancy Green Seed, says Mercadona has played a key role in the development of the plant-based dairy category in Spain from the outset.
Asked to outline the factors driving demand for plant-based alternatives to dairy in Spain, Obieta responds: "The nutritional benefits linked to plant-based such as lower fat and lower calories, on top of the generic lactose intolerance issues, new vegan tendencies and general increased interest in health and wellbeing. Mercadona, the number one retailer in Spain, has always been very active in proactively offering 'better-for-you' alternatives."
Obieta adds: "The importance of private label is due to the fact that it was Mercadona with its private label who drove the segment from the start and has been actively promoting since then." He notes private-label accounts for 55% of the volume sales of plant-based milks in Spain.
For a company evidently investing in driving its plant-based dairy business in Spain (as well as its conventional dairy interests, let's not forget), how does Danone view the competitive threat posed by retail own label?
"This is not something new," Sudre says. "I think with the acquisition of WhiteWave we have a huge know-how. We are putting together the expert of plant-based and the expert of fermentation. This is for me where we have a big advantage."