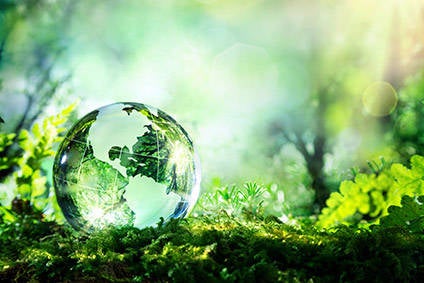 Climate change is widely viewed as one of the biggest threats facing humanity. The impact of global warming can be seen across the world and it is already causing insecurity and uncertainty in food industry supply chains. As a significant CO2 emitter, the food industry is uniquely positioned to tackle the issue through innovation. Katy Askew looks at how food makers can help mitigate – and even reverse – global warming by using their supply chains to rejuvenate farmlands and forests.  
According to the latest data from the US's National Oceanic and Atmospheric Administration (nooa), average global temperatures in March were 1.05°C higher than when records began in 1880. Scientific consensus – which is reflected in the Paris Climate Accord – places the 'point of no return', when global warming reaches dangerous levels, at 2°C.
The climate clock is ticking.
Estimates vary as to how long we have left to stabilise warming below this level. The Mercator Research Institute on Global Commons and Climate Change (McC) calculates this time based on the premise that we can emit a maximum of 760 gigatons of CO2 into the atmosphere between now and 2100. At present, we are emitting 40 gigatons of CO2 each year. That's 1,268 tons per second. At current rates, we have a little over 18 years before our carbon budget is spent, the MCC says.
Source: Mercator Research Institute on Global Commons and Climate Change
The Intergovernmental Panel on Climate Change (IPCC) suggests if humans carry on with a "business as usual" approach, the Earth's average temperature will rise by between 2.6°C and 4.8°C above pre-industrial levels by 2100.
For some climate scientists, however, this estimate could be optimistic. A 2016 paper published in Scientific Advances, under lead author Tobias Friedrich of the of the University of Hawaii, argues temperature rises due to greenhouse gas emissions are "strongly dependent on the climate background state", with "significantly larger values attained during warm phases".
In other words, the hotter it gets, the quicker the temperature is likely to rise. According to this paradigm, at current emission levels, the average global temperature could rise by between 4.78°C and 7.36°C by 2100.
The food industry is particularly vulnerable to climate change. As the World Food Programme and Met Office food insecurity map shows, areas in Africa, the Middle East and Asia are already vulnerable to food insecurity and global warming brought about by rising emissions that are set to deepen the problems faced in these regions.
Source: Met Office Hadley Centre
"Changes in climatic conditions have already affected the production of some staple crops, and future climate change threatens to exacerbate this. Higher temperatures will have an impact on yields while changes in rainfall could affect both crop quality and quantity," the WFP warns.
The integrated global nature of the food industry supply chain – which is reliant on crops such as cocoa and coffee, as well as coconut and palm oil, that are internationally sourced – mean large-scale food manufacturers in Europe and North America, where the WFP says food insecurity is negligible, are far from immune to the negative consequences of global warming.
The food industry and Scope 3 emissions
The food industry is also one of the largest carbon emitters. For instance, if both direct and indirect emissions are taken into account, over 30% of the European Union's greenhouse gas emissions come from the food and drink sector, environmental campaign group Friends of the Earth notes.
Andrew Nobrega, the North American investment director at France-based PUR Projet, which looks to help companies regenerate and protect ecosystems, that the food sector is already taking action to address emissions, from investments in renewables to carbon offsetting.
Speaking during a Climate Collaborative event in May, Nobrega notes: "Many organisations attempt to both value and address Scope 1 and Scope 2 emissions within their supply chain." These emissions include those directly from production, such as efforts to lower energy use, and indirect emissions such as transportation. "There is an opportunity to look a little bit further and look at Scope 3 emissions," Nobrega says.
Scope 3 emissions include those produced by raw material processing and production and, Nobrega says, these account for 40-50% of a product's total emissions.
PUR Projet specialises in providing supply chain management for corporations that reflect "positive carbon actions and the need to cut deforestation in commodity sourcing" and it operates projects in Latin America and other tropical forested regions.
To address Scope 3 emissions directly, investment can be targeted at the farm level to promote ecosystems and biodiversity, stabilise yields, reduce costs for the farmers and provide alternative income opportunities and help to adapt to climate change and reduce pressure on their systems, Nobrega suggests. Ecosystem restoration can be achieved through agroforestry practices, such as insetting trees, rotating crop cycles and utilising non-chemical fertilisation methods.
"We are taking a unit of climate mitigation and we are seeking to address climate smart agriculture and the regeneration of forests in some cases but also decreasing deforestation in the first place," Nobrega explains.
"Agroforestry itself is a carbon sequestration measure… and by the provision of sustainable timber and mitigating loss of yields you actually reduce the need for these farmers to go further into existing forested lands to degrade either for more agricultural land, illegal timber harvesting or something of that nature. So you are both engaging climate action on the parcel level and reducing the need for degradation outside of the parcel."
Preventing deforestation has been flagged as a priority by global chocolate giants, companies reliant on cocoa. Earlier this year, companies including Nestle, Mondelez International, Hershey, Ferrero and Mars announced plans to work together to "end deforestation and forest degradation in the global cocoa supply chain".
The joint initiative, which also has the backing of NGOs and other stakeholders, will move to "develop and present a joint public-private framework of action to address deforestation" at the COP 23 UN climate change talks in Bonn in November. It will initially focus on Côte d'Ivoire and Ghana, the world's leading producers of cocoa, where the farming of the commodity is a driving force behind rapid rates of deforestation.
Regenerative agriculture
While addressing deforestation helps to cut Scope 3 emissions for some products, climate smart agriculture can also help to take carbon from the atmosphere and put it back in the ground through photosynthesis.
For this to work, you have to start with healthy soil, Tim LaSalle of California State University and Chico State, told an event focused on climate change running alongside the Natural Products Expo West food industry trade show in California earlier this year.
The UN's Food and Agriculture Organization says 24bn tonnes of fertile or 12m hectares topsoil are lost every year and 25% of the earth's surface has already become degraded. If this rate of soil degradation continues, there are only 60 more harvests left.
"Let's go back to the biggest world challenges, coming from the standpoint of hunger, water, climate. Those are three things that face humanity as stressors. When we come to what will help cure all of those, it comes back to soil carbon… When you build healthy resilient systems it can work against drought, percolate water, it can hold the soil in place, can draw down carbon – and we can draw down 100% of it," LaSalle claims.
"We have surpassed any chances of sustainability on this planet. We are over consuming it and over polluting it. Too many people and too much consumption. The only option we have left is to regenerate… We have to turn climate around tomorrow. Not next week."
LaSalle is part of an influential team from Chico State University and climate action group Carbon Underground that launched a definition of regenerative agriculture in March this year. Signatories include around 150 companies with brands owned by Unilever and General Mills – Ben and Jerry's and Annie's – as well as consumer goods giant Procter & Gamble backing the move.
LaSalle explains it is important to define regenerative agriculture so the meaning is not "robbed and diluted". He says it pertains to practices that build fertile topsoil, primarily through increasing soil organic matter and soil carbon.
This essential soil nutrient not only aids in increasing soil biota diversity and health but increases biodiversity both above and below the soil surface, while increasing water holding capacity. Significantly, this means regenerative agriculture sequesters carbon, essentially drawing down climate damaging levels of CO2 while also improving soil structure to reverse human-caused soil loss.
Regenerative practices include minimum tillage; increasing soil fertility through biological means – the application of cover crops, compost, animal manures – versus chemical fertilisers; well-managed grazing versus the use of industrial feed lots; and crop rotation – including grazing animals.
Larry Kopald, of US-based The Carbon Underground, which promotes the benefit of healthy soil, is equally confident improving soil health affords the opportunity to reduce CO2 levels and limit the impact of global warming.
"Scientists say we have five-to-seven years to do something before the natural systems start to snap… Five to seven years to reverse the carbon arrow. We don't have to solve it but we have to reverse it. No matter what the question is, the answer is soil… There is no solution to climate change that doesn't include drawing down carbon, it can't be done. There is nothing that has the scale, the ability or the immediacy to draw down enough carbon to beat that window other than soil," he said at the Expo West Climate Day.
In fact, Kopald argues, limiting emissions is not enough to stop climate change: carbon sequestration is critical. Citing NOOA data, he suggests: "From the moment we hit zero emissions the climate will continue to degrade for 1,000 years before it starts to turn around.
"That is because of carbon lag. It takes one or two generations for the carbon once it is released at the surface level to get to the atmosphere and do its damage. The strategy that we have been using… is not going to work for climate change. You have to draw it down."
Kopald places the cause of poor soil health at the door of industrial agriculture that, he argues, "kills" microorganisms that keep the soil in balance. In healthy soil, the microorganisms form part of an ecosystem in which they break down organic matter to release plant nutrients and carbon is sequestered into the soil. In this process, plants draw down carbon from the atmosphere into the earth, releasing nutrients and sequestering carbon when they decay, feeding the micro-organisms. Farming systems that rely on chemical fertilisers do not support this balance and are not effective at sequestering carbon.
Regenerative agriculture – good for business and consumers?
Kopald believes there is a very good reason why regenerative agricultural practices could catch on. "This is good for business. It is good for governments and the people with the power to create this change. Obviously, it protects your supply chain. If you use natural resources or water in the manufacturing of what you are doing, you are feeling the stress. Everybody is. It improves margins because when you reduce input costs your margins go up. Food security, healthy soil enables food to grow during droughts, during floods, so that your food security is going up. Your yield, over years, is going up. It is a better way to feed the planet."
Investments now in regenerative agriculture have the potential to ultimately reduce adaptation expenses by "trillions of dollars", he adds.
Kopald also believes the integration of regenerative agriculture into supply chains has widespread consumer appeal. "If you have a consumer brand, and I ran advertising for a lot of consumer brands, I never had the chance to tell consumers "our brand is helping to reverse climate change, our brand is helping to reverse the biggest challenge facing humanity". That is a pretty powerful claim and consumers are demanding that companies act more responsibly."
While consumer awareness of climate change is high, consumer understanding of the importance of regenerative agriculture is not. Rose Marcario, CEO of organic cotton group Patagonia, which supplies food products via its Patagonia Provisions unit, is more sanguine about the marketing possibilities.
"We are excited about regenerative and its potential to solve climate change. We are completely behind that, we have been dedicated to protecting the environment for 20 years," Marcario says. "It is more about doing the right thing. I don't think its a branding exercise. Anytime we have done the right thing for the environment, we do well. And that includes decisions like [sourcing regenerative]," she says.
Some large food sector customers are increasing the pressure on food manufacturers to make progress on emissions. For example, retail behemoth Wal-Mart launched Project Gigaton earlier this year with the aim of cutting emissions in its supply chain by one gigaton by 2030.
John Roulac, CEO of coconut oil-to-hazelnut spread manufacturer Nutiva, is a pioneer of the regenerative agriculture movement and founder of the Soil Not Oil project. He reveals he has met some resistance to his views on industrial farming from retailers.
"I have had my share of retailers criticise me for my critique of industrial agriculture and didn't sometimes want to do business with us because we are too strong a critic of what has been going on," he says.
Nevertheless, Roulac remains determined businesses must forge ahead and aggressively promote regenerative practices. "Regenerative and organic is the platinum standard or the gold standard and we need to move to that…  So we have a huge task ahead of us in the next five years. We don't have 20 years to figure it out."
The importance of educating farmers
He believes there needs to be a focus on farmer education to step up the rate of US farmers adopting regenerative practices. "I would like to see a Big 10 [group of prominent midwestern universities] approach to regenerative agriculture. Farmers who are addicted to… chemical fertiliser and have been taught this through our university systems… we need to get those farmers in."
Roulac believes the term "regenerative" can bring together rural interests frequently sceptical of techniques viewed as better for the environment, such as organic farming. "You just spend some time in rural America and say 'oh you should do organic'. Let's get real. Organic to them is like a religion that they don't want to join… regenerative is a way the environmental community and ranchers and urban and rural can come and connect and build on this."
Ray Archuleta of the USDA National Resources Conservation Service concurs education is crucial to convincing more farmers to convert to regenerative practices.
"I have not met one farmer that says 'I love to spray… I love paying for that fertiliser bill'… What I think we need to understand is when you transition people it is an incredibly scary thing. These guys run multi-million dollar businesses. They have been farming like this for years, it is a generational thing, it is a social issue… They don't know any better," Archuleta suggests.
Converting the rhetoric of regenerative agriculture into practice is the biggest challenge facing proponents of the movement as a solution to global warming.
As with organic farming, the cost of conversion can stand as a significant barrier to uptake at the farm level. Elizabeth Reaves, of US-based sustainability strategists The Sustainable Food Lab, suggests food processors need to look at ways to incentivise adoption. She says food makers should pick an ingredient "where you have high value and big leverage" and where companies can commit to long-term supply agreements.
"That means where you have big buy but in order to be really effective it is big buy, plus strong supplier relationships," she suggests. "With strong supplier relationships, you also gain the ability to prioritise the practices and standards that you want to build into your supply chain."
By focusing on long-term goals with strong partners, food manufacturers and producers will be able to "get over the hump" where investment levels are not reflected in higher yields and focus instead on longer-term returns, Reaves says.
She cautions against a laser focus on individual supply chains. "The change is big. It needs to happen in our supply chains but it also needs to happen at the landscape level. Being able to look for opportunities in the regions in which you are working, where other people are doing similar activities or buying a crop from the rotation you are sourcing from, is an opportunity to look for taking a sector-wide approach and scale those opportunities out," she suggests.
Collaborative support for regenerative practices not only has the potential to transform supply chains, it could deliver a step-change in industrial food production. Farming is a significant contributing factor to climate change. Through regenerative agriculture practices, it can also become part of a solution.