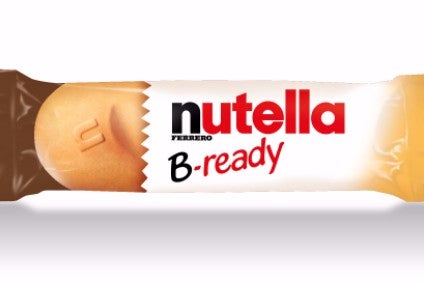 IRI's latest exclusive column on just-food sees Sally Lyons Watt, executive vice-president and practice leader for the consultancy's US arm, looks at the trends evolving across that market, as well as in Europe and Australia, to identify the key opportunities for food manufacturers in this growth area.
Fundamentally, the way consumers in the US, Europe and Australia is changing.
Snacking is becoming an increasingly significant market, as shoppers choose to buy more both for consuming on the go and to eat at home.
For example, according to IRI consumer analysis, in the US, 45% of people now eat three or more snacks a day, with the number eating five or more snacks a day increasing by 2.7 percentage points to 14.2% in the last year.
In Australia, 31% are eating three or more snacks a day and sales data across Europe suggests that the quantity consumed is growing across several countries, although at a slower rate.
Overall, the growth is particularly driven by millennials who are moving to snacking rather than sitting down to three main meals per day.
Perhaps the strongest possible indicator that the snacking world is changing comes from France. In a country that traditionally looks at the very notion of snacking as simply a failure to have eaten properly at mealtimes, snacking appears to be on the rise.
The trend is borne out by the development of the snack area within supermarkets and convenience stores such as Monoprix and Carrefour Express. The snack area is a place stocked with sandwiches and small portions of crisps and chocolate that are specifically designed to be eaten between meals. Items purchased in this area are bought and consumed in the very short-term, 83% within the day and 61% within minutes, according to IRI ShopperScan. Hypermarkets, including Carrefour's flagship stores and Auchan, are also looking to capture the snacking opportunity.
Overall, snacking behaviour is down to the moment of demand. We know that whether and what people decide to snack on is determined who they are with, what they are doing and the time of day. In the US for example, early-morning snacking, pre-breakfast, is a growth area with an increase of three percentage points to 23% year-to-date in June. The general trend is most snacks are consumed in the home but what we see with millennials is they are eating more snacks on-the-go.
As the number and type of occasions during which we snack changes, it follows, too, the nature of what a snack is starts to evolve.
But, as the times and amounts that people snack changes, so too do the products they are seeking, and we see the list of what might be considered a snack extending.
Driven by the overall trend to consume more protein, packaged meat snacks are now huge in the US and growing across Europe. Eggs, a food that traditionally would have been consumed as a sit-down meal, become a snack hardboiled and sold in a plastic pot.
Other examples might include cereal, usually eaten in a bowl with milk at breakfast time now being eaten dry as snack, or ingredients such as chocolate chips produced for baking, being eaten as they are.
A wish to be healthier, a pervasive trend across all areas of food, is being seen in snacking. While treats such as chocolate and salty snacks have the greatest share in the US and Australia (22% and 29% respectively), we are seeing a growth in healthy snacks. In Australia, plus the European markets of Spain and Greece, the search for healthy snacks is the driver for growth of the sector.
That said, the trend is not seen in all markets. By contrast, in the UK and Italy, declines in less healthy items led to a decline in the sector as a whole.
The packaging in which a product is offered also opens up snacking occasions, presenting an opportunity for food manufacturers. An example of this is peanut butter, traditionally consumed on bread as part of a meal, and now spread on fruit or offered as a dip in a packaged snack.
Elsewhere, the successful Nutella B-ready, launched by Ferrero in France and Italy in 2016 (it was named product of the year in the latter market) followed by the UK this summer, is another example of taking a product traditionally consumed as part of a meal, making it portable and thus opening up the market.
As the world becomes busier, snacking with its benefits of convenience and speed, seems likely to be an area for food manufacturers that has a great deal of development potential. Finding ways to meet consumer needs such as portability, health and personalisation are how brands can become more relevant to the way modern consumers live their lives.
And, as Campbell Soup Co. and Hershey have demonstrated this week, these trends are drive some eye-catching M&A, activity that looks set to continue in the year ahead.