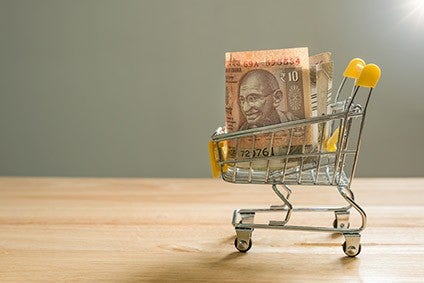 India offers a potential opportunity for overseas firms, with a rising middle class showing a growing appetite for foreign fare, although businesses need to tread carefully, Mini Pant Zachariah hears at India Food Forum 2019, a key event for the country's food industry.
If evidence was needed the mid-to-upper parts of India's consumer food market was becoming increasingly open to foreign tastes, Godrej Nature's Basket, a premium fresh and fine foods retailer, with an online and offline presence across India, claims 40% of its sales come from international food lines, mostly imported.
Millennial consumers – with growing incomes – in India are looking for confectionery, dairy products and health drinks, protein bars and other healthy snacks from overseas to make their dining experience global. And they are willing to pay more if the experience meets their expectation.
"International food is growing at 25-30% year-on-year," Avinash Tripathi, buying and merchandising head for Godrej Nature's Basket, tells India Food Forum 2019, the annual gala of Indian food industry heads, held in Mumbai on 5-6 February.
India is – potentially – a lucrative market for any exporter. Upwardly mobile, globally-connected aspirational millennials, with disposable incomes above the Indian average, comprise 46% of Indian consumer spending today, Amit Lohani, founder director of the Forum of Indian Food Importers (FIFI), based in Delhi, explains to India Food Forum. Those consumers are driving the international food category not only in major metropolitan areas but also in small towns and cities, with the average per capita GDP in India expected to reach US$3,274 in 2023, up from $2,135 in 2018, according to the India Brand Equity Foundation.
The categories showing promise
India's bulk, intermediate, consumer-oriented food and agricultural-related imports rose from $22.2bn in 2013 to $30.2bn in 2017, according to the US department of agriculture (USDA). Imports of consumer-oriented foods, led by tree nuts and fresh fruits, are among the fastest growing segment of imported agricultural products, with total consumer food imports reaching $4.9bn in 2017, according to the USDA.
Outline the types of international food sold through Godrej Nature's Basket, Tripathi says the sales of chocolate products from overseas have buoyant, up 40% year-on-year in the company's most recent data (he did not release the exact time-scale). Sales of darker chocolates – with cocoa content of 75-80% – are rising faster than this average, because consumers consider such products to be healthier than milkier lines. Tripathi says plant-based alternatives to milk, such as almond and soya milks, was the second fastest-growing category, now selling more than regular milk at their stores.
Cold-pressed juices are another burgeoning category. "Cold-pressed juices were 8-10% of our total juice sales when we started selling them two-to-three years ago. Today, it comprises 70% of all our juice category," Tripathi reveals. Godrej shoppers are willing to pay INR600 per litre for cold-pressed juice compared to regular juices available for between INR120 to INR140 a litres.
And growing interest in the links between diet and health is also pushing the sales of certain types of snack bars. In the past, Tripathi says, Godrej only sold General Mills' Nature Valley health bars, but the retailer today has a wider range, including brands like Yoga Bars and Mojo Bars. Protein bars account for 60% of Godrej's sales in this segment, products especially popular among vegetarians, which the USDA has estimated comprises 40% of India's population.
Gunjan Jain, MD of India nuts and dried fruits supplier VKC Nuts, is also managing director of Nut Lounge Retail, with the trader having been expanding into retail sales. The company, he says, has been responding to changing consumer habits in India. Two years ago, he noticed shoppers were moving from traditionally popular dried fruits and nuts, such as almonds, figs, pistachio and cashews, to a wider range. "Millennials want to try new healthy stuff," Jain says. "As much as 60% of our sales in stores is from non-traditional categories that did not exist five to ten years ago. Be it cranberries, pecans, chia seeds, hazelnuts, macadamia nuts, flax seeds [or] blueberries, customers want to try new healthy stuff that is available globally." Per capita consumption of nuts and dried fruits in India is just 45 grammes and there is much room for growth, Jain adds.
Muyum Milk Foods, meanwhile, underlines how India's consumers are becoming more health-conscious, which is shaping their purchasing habits.
"The world is moving towards healthy eating without compromising on taste and socially-connected Indians are no different"
"The world is moving towards healthy eating without compromising on taste and socially-connected Indians are no different," Prateek Kalli, the CEO of snacks maker Muyum Milk Foods Pvt Ltd tells just-food on the sidelines of the event.
The company sells seven healthy varieties of cookies in India, including lines with traditional twists, such as using ragi (a gluten-free finger millet) and jaggery as ingredients. The Hyderabad-based company is developing technologies to introduce 19 more such Indian cookie lines, using other traditional Indian ingredients.
For all the growing interest in international foods, it is imperative to remember Indian consumers, including the more affluent, remain interested in the country's traditional culinary habits. The combination of a desire for international tastes with wanting to retain traditions such as vegetarianism has inspired companies to innovate. Dr Oetker, for instance, has long sold eggless mayonnaise in India.
Oliver Mirza, the managing director of Dr Oetker's business in India, emphasises his optimism for the prospects of India's packaged-food market. "India is moving towards consumption. Whether you are making specialty products or are a specialty importer it is a great time to be in India," he says.
Quality products, whether natural or even just perceived to be natural, in ready-to-eat or ready-to-prepare segments, all have a huge potential, Mirza says.
Such factors are driving demand for cheese in India. The dairy sector in India is expected to grow at at 15% compound annual growth rate between 2016 and 2020 to reach $146.2bn in 2020, according to the India Brand Equity Foundation (IBEF). "Cheese in India is very trendy," Sanjay Tandon, managing director of Epicure Frozen Foods, an Indian importer of dairy products, says. As wine replaces whisky as a preferred drink in India because of its perceived health benefits, sales of cheese as an accompaniment with wine are growing.
Forming alliances
That said, Tandon adds demand for low-fat or non-dairy cheese has yet to enter the mainstream. Such differentiation is a warning overseas brands need to tread carefully in India and need to understand the Indian palate. Lohani, of the Forum of Indian Food Importers (FIFI), has a note of caution for exporters to the country, telling just-food: "Choose your partner carefully, have a marketing strategy and a yearly plan and grow your brand from a small to large format brand."
Exporters entering India need to understand the nuances of labelling, compliance with Indian regulation and to learn from their importing partners "the on-ground reality of products that they wish to target the audience with", Lohani adds.
Gustora Foods, a joint venture between Indian conglomerate Goyal Group and Italy-based pasta maker Rustichella d'Abruzzo, is a good example, operating a manufacturing facility in Rajasthan making artisanal pasta without eggs and selling to 800 hotels and food retailers across India.
Another recent joint venture highlighted at India Food Forum by Mexico's ambassador to India, Melba Pria, was formed through Mexico-based bakery giant Grupo Bimbo's acquisition of a 65% stake in India's packaged-bread business Ready Roti India in 2017. Ambassador Pria added Mexican food companies, which have well-developed food processing technologies and serve domestic palates with similarities to India's, could thrive in India, working with local players.
On the same panel at the event, Nitin Verma, an agriculture and food inspection specialist at Canada's High Commission in New Delhi, had another note of caution, setting out the price sensitivity seen in India but adding there is a customer at every price point.
"You need the three Ps of patience, perseverance and deep pockets to survive here. The common mantra we give all exporters is not to deal with India as a country but as many different states and if you want your product to succeed you have to work with key local partners," Verma explains.
And echoing Verma was a senior industry representative from another major western market. Choose the right product, the right partners and do your homework, is the advice of Ian Wright, chief executive of The Food and Drink Federation, the industry association representing food and soft-drink manufacturers doing business in the UK.
"UK brands have quite a lot of salience here, British producers are very, very good at hitting the right price points and very good at innovation," Wright tells the event. "If the UK producers fiddle with the format, they should be able to exploit the present market."