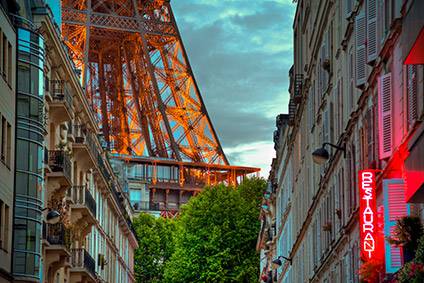 In Europe's main markets, purchases of food and drink to consume outside the home have been growing at an average of 2.5% per year since 2015, with growth rates in some countries putting grocery retail in the shade. Virginie Pernin, chief analyst at IRI GIRA Foodservice, considers the reasons for this growth and the developments to look out for in the future.
With the trend for eating out all through the day increasing, sales in the out-of-home sector in Europe's major markets are on the rise.
A new report just launched by IRI GIRA Foodservice estimates sales hit EUR335.9bn (US$417bn) in 2017 as, across Europe's principal economies, the sector returned to growth following the economic upheaval of the late Noughties and early Tens.
The report reviewed more than 1.7 million foodservice outlets in ten European countries – Austria, Belgium, France, Germany, Italy, the Netherlands, Portugal, Spain, Switzerland and the UK – between 2015 and 2017.
The foodservice sector splits into two quite distinct parts. Social foodservice – sectors such as education, healthcare and welfare and other institutions – makes up 20% of the market. Commercial foodservice, by far the bigger part of the market, is made up of everything from formal sit-down restaurants to cafes and sandwich shops.
Nearly one fifth (18%) of all meals now bought away from the home. Foodservice marketers are becoming more mindful of the need to appeal to human emotions in order to sell new concepts or provide a surprising or personal experience. Consumers are also looking for an emphasis on convenience and, in response, many operators are blurring the boundaries between pure table service, self service and quickservice restaurants, in some cases offering all at once.
Like much of the food market, a quest for healthy and sustainable options has translated into eating out occasions as well. The desire for super, green and protein food trends has led to a rise in restaurants sourcing local and healthier food items for their menus. The clear interest on the origin of the product and foods being additive-free are other drivers behind the way menus are constructed.
Digitalisation, meanwhile, provides a huge opportunity for the foodservice sector as data becomes more available and important to the industry. Understanding and targeting customers according to their needs at different times of the day and for different eating occasions is critical in this new world. Being able to develop their offering to appeal throughout the day is one way that outlets have been able to expand the market in recent times.
Generally speaking, consumers spend more when they order online or through an app. This provides an opportunity for restaurants to capture new customers using technology and packaging but always without any compromise on food quality, which is often the route to increased margins in foodservice.
Linked directly to digitalisation is a slightly different take on the concept of out-of-home, with foodservice providers increasingly focused on consumption at home by working with delivery partners.
In some cases this is a front-end app like Just Eat or an end-to-end solution like UberEats, Deliveroo and Amazon Restaurants. Deliveroo has just launched a global advertising campaign to showcase the breadth of food available on its service. This is an area of foodservice with considerable room to grow by 2020, with a particular focus on healthier and premium options.
That foodservice operators believe in the prospects of this part of the market is underlined with the development of delivery kitchens that focus only on delivery without a bricks-and-mortar restaurant at all. In many cases this can be very economical for the foodservice provider as it negates the need to locate in prime areas in order to attract footfall, since all the ordering is done online and delivery drivers take the food directly to the consumer.
IRI GIRA Foodservice believes that the market for foodservice in Europe's principal economies has plenty of growth still in it, predicting it will be worth EUR353.6bn by 2020.
As foodservice providers adapt to many of the same drivers that motivate consumers purchasing food to prepare at home, there is a clear blurring of the boundaries. Improvements and expansion of delivery options also mean the restaurant can now come to you.
Food manufacturers supplying the retail sector need to be mindful of the competition from the foodservice channel.
However, many food manufacturers serve both sides of the market and, with foodservice in a number of countries in Europe growing faster than retail, supplying customers like restaurants, schools and workplaces can offer a range of business opportunities.