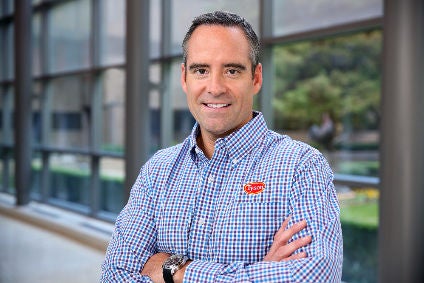 Shares in US meat group Tyson Foods took a battering this week, when the company missed earnings estimates and announced the appointment of a new CEO, current president Tom Hayes. Katy Askew takes a look at the group's performance in 2016 and weighs up what Hayes' strategic priorities are likely to be when he takes the helm in 2017.
Tyson Foods has seen its share price fall by more than 13% in the five days since the group named Tom Hayes to the post of chief executive.
Alongside the publication of its fourth-quarter results on Monday, Tyson said Hayes will replace CEO Donnie Smith on 31 December. Smith has served as chief executive at the US meat manufacturer since 2009 and overseen significant strategic moves such as the acquisition of Hillshire Brands.
Tyson pays the piper to secure Hillshire – analysis
To some, the change in CEO now is a curious one. As Ken Zaslow, an analyst at BMO Capital Markets said on Tyson's conference call to discuss the results, the timing of the announcement of Hayes' appointment was is far from "optimal".
He said: "Tyson is in the middle of a class action suit, [while] earnings fell short of expectation on the perception that you have kind of reached peak earnings."
In September, Tyson was named in a lawsuit alleging the company fixed prices alongside a number of other large meat processors, such as Sanderson Farms and Pilgrim's Pride.
The case, filed at a US District Court in Illinois by New York-based distributor Maplevale Farms, claims 14 businesses, which also include Perdue Farms, Foster Farms and Mountaire Farms, "conspired and combined to fix, raise, maintain, and stabilize the price of broilers" from as early as January 2008.
Tyson has said it disputes the claim and will defend itself in court. Speaking during the call with analysts on Monday, the outgoing Smith added: "As we have said before, we dispute the claims, we are looking forward to our opportunity to defending ourselves in court on the litigation. So that has nothing to do with the transition."
While the allegation is serious in nature, possibly of greater concern to investors in the near-term is the group's recent earnings miss. On Monday, Tyson touted a year of "record results" but the market was unimpressed as the group's numbers failed to meet analyst expectations and sales in the year fell.
During 2016, Tyson posted a 9.2% drop in adjusted sales, which fell to US$36.88bn compared to $41.37bn 12 months earlier. This missed estimates at brokerage Morningstar, which had been predicting an 8.9% decrease. Operating earnings stood at $2.83bn, against $2.17bn the previous year. But this, too, missed forecasts with an adjusted operating margin of 7.7%. Morningstar had forecast a 7.8% margin.
The result came on the back of a soft fourth-quarter performance when one-time production issues related to Tyson's drive to streamline its footprint led to increased costs. The company also booked fall sales during the three-month period, when sales stood at $9.16bn, down from the $10.51bn Tyson generated in the fourth quarter of its previous financial year.
The group's fourth-quarter showing in the chicken sector has been flagged as a particular cause for concern. The company posted a 3.2% drop in chicken volumes during the three-month period and volumes dropped 0.7% in the year as a whole. Segmental adjusted operating income was down 3% to $1.3bn in the full year.
Hayes pointed to three factors that, in his assessment, caused the "lower-than-expected results" from Tyson's chicken business in its fourth quarter. Firstly, the company responded to an apparent drop in consumer demand for chicken products in July and August. At the same time, the group absorbed a "sharp spike" in soybean meal input costs. And, thirdly, the company stepped up investment in growing distribution of the Tyson frozen chicken brand heading into the next quarter.
Hayes insisted the efforts are already showing some positive results. "As a result, our Tyson brand frozen value-added chicken volume was up 6% in Q4 of 2016, and is gaining momentum or attending very strong chicken segment volume in our first quarter of 2017," he said.
While Hayes is upbeat on chicken, Morningstar's Zain Akbari stressed dealing with any continuing softness in chicken should be Hayes' number one priority when he takes over as CEO moving into next year.
"Tyson did post a bit of a volume decline in chicken in the quarter. A lot of that is due to some one-time effects that hopefully will iron out but I think everybody is going to be looking for any signs that the chicken demand is changing, especially with beef getting a little bit cheaper," Akbari told just-food. "Step one for him is certainly going to be stabilising that volume piece and getting past some of the one-time issues in chicken."
Clues to Tyson's longer-term strategic direction lie in Hayes' biography. Hayes joined Tyson as part of the Hillshire acquisition in 2014, serving first as chief commercial officer before being promoted to president earlier this year. Central to the deal was the idea that Hillshire would expand Tyson's portfolio in the value-added, branded market. Tyson's board clearly hopes that Hayes' experience in this field will serve the company's future value-added ambitions well.
The company's management, under the direction of Smith, has worked to grow the group's "hybrid" model that delivers both commoditised fresh meat and value-added brands.
According to data presented by Tyson, the company was one of the fastest-growing, top-ten branded food companies in the US, with group-wide sales volumes rising 5.9% in the 13 weeks to 2 October. Significantly, sales volumes of its "core nine" brands significantly outpaced growth of Tyson's other businesses, up 9.6%.
The so-called "core nine" brands are the group's retail value-added poultry, its Wright branded bacon, two products sold under the Hillshire Farm label -smoked sausage and lunchmeat and two marketed under the Jimmy Dean brand – frozen breakfast and breakfast sausage. The group also includes Aidells smoked sausage, State Fair corn dogs and two lines sold under the Ball Park brand – corn dogs and hot dogs. And it is this higher-margin area of the business that Tyson wants to beef up.
Detailing Tyson's performance this week, Hayes said the company is growing volume by focusing on "strategic brands and categories" to "increase operating income over time".
He continued: "We supported our brand equities across prepared foods through marketing, advertising and promotional spending to grow volume and secure our position on the shelves of retailers and restaurants. For example, we increased our support behind Jimmy Dean frozen breakfast franchise and Hillshire Farm lunchmeat. And in our fourth quarter, volume was up 9% and 28% respectively. We also grew our share by 1.5 points in the frozen protein breakfast category and by 2.3 points in lunchmeat."
Moving into 2017, Tyson is stepping up its investment to support growth in these categories. The company is planning capex of US$1bn plus investments in improved safety, animal welfare and distribution, Hayes revealed.
The "biggest" share of this expenditure will go to expanding production to facilitate growth, he said. "We are making significant investments in consumer insights, innovation, our brands, our customer relationships, our facilities and our people… These investments should improve cost and turnover as well as continue to drive long-term sustainable growth."
While foodservice volume remains "relatively flat" and a "lacklustre environment" is expected to continue into 2017, Tyson also believes it can expand its sales in the channel, which are already outpacing both private-label and branded competitors.
In value-added chicken, for instance, foodservice category volume growth stood at 1.7% in the year, compared to Tyson's growth of 3.9%. The company was, therefore, able to grow its market share to 33.1% of the market.
"Tyson Foods is doing well on foodservice," Hayes noted. This is an area that looks set to be an important growth engine for Tyson moving forward.
How do you see 2017 panning out for your business? – take the just-food Confidence Survey now