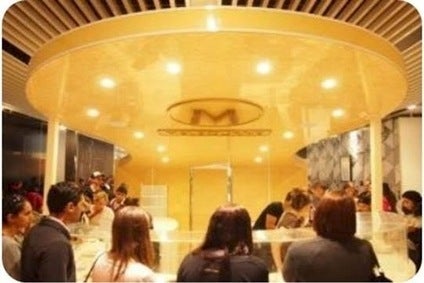 Unilever is building on its push into branded ice cream retail with the acquisition of Italian gelato group Grom. And Unilever is not the only manufacturer working to expand its branded retail presence, particularly in "treat" or gifting categories. Katy Askew looks at the benefits branded retailing offers food manufacturers.
Unilever last week unveiled a deal to acquire Italian gelato maker Grom for an undisclosed sum, the move seeing the Wall's owner taking ownership of the upmarket Italian gelato company, which will continue to operate on a stand-alone basis.
Grom only sells its gelato through company owned scoop shops, a spokesperson for Unilever confirmed. The spokesperson indicated that there are "many opportunities to drive further growth" and did not rule out the possibility of extending the brand to third-party retailers. Possibilities for expansion are to be evaluated in the future, the group indicated.
Unilever's acquisition of a pure-play scoop-shop operator is reflective of the growing significance the group's ice cream business places on this small – but still valuable – model. Unilever operates 1,200 retail stores across the world, including Ben & Jerry's, Wall's Happiness stations and Magnum Pleasure shops. The company is targeting 5,000 outlets by 2020, Kevin Havelock, the head of the FMCG giant's refreshments business, revealed at a recent briefing in London.
The Magnum Pleasure format is largely a brand-building exercise for Unilever's EUR1bn (US$1.22bn) brand. "People that have been to a Magnum Pleasure store are three times as likely to want to buy Magnum later on because they have had a good experience with the brand, they have talked to people about the brand who care about it… I believe that retail is very valuable to top end brands across markets," Havelock suggested.
Unilever is aware of the need to build the visibility of its ice cream brands in order to support impulse purchase. With this in mind, the Magnum Pleasure outlets operate at a break-even level, Havelock continued.
Unilever's other retail formats, however, serve a different purpose. The company's Ben & Jerry's brand runs scoop shops in 27 markets throughout the world, having just entered Brazil. Meanwhile, Wall's Happiness stations are opening in retail outlets and malls globally. "A Happiness station is effectively a scooping shop that offers you the array of Unilever ice cream in a soft ice scooping and dessert format… A good retail store can do between half a million and a million euros [per annum]," Havelock says.
While one purpose running retail outlets serves is undoubtedly raising the profile of a given brand, for Unilever it is also about building more profitable brands, Havelock indicates.
"How would we improve margins? Number one is selling more of our premium brands – B&J, Talenti [the US gelato firm Unilever acquired last year], Magnum. Number two, expanding and growing our impulse markets the out of home markets across the world. Number three, building our retail offering across the world… all of these are things that are at the same time about growth, but also about helping expand margin. Magnum Pleasure stores we would use more as a branding mechanism across the world, whereas Ben & Jerry's and Happiness are valuable business contributors both to the growth and profit."
Retail stores make money for Unilever. They are an interesting sales stream. But – perhaps most importantly – the outlets add value to its brands and differentiate it from the competitive lower end of the market, where Unilever would be pitted against cheaper private-label products or even the discount retailers.
According to Euromonitor analyst Lamine Lahouasnia, Unilever is not the only food manufacturer "looking upwards" by developing a retail offer. Other players expanding in the channel include Ferrero, which bought up UK chocolate maker and retail operator Thorntons earlier this year.
Lahousnia explained: "We couldn't quite believe that Ferrero would want to buy a brand like Thorntons for the FMCG brand itself… We fully appreciate that Ferrero is a very premium oriented company… going forward they see a real opportunity in super-premium."
Lahousnia said retailing via supermarkets or c-stores is not conducive to the development of a super-premium positioning. "It is not really the right channel for a lot of the super-premium products. The in-store experience does not help consumers buy into the super-premium experience. Having your own network of branded retail outlets helps you to control the environment."
While limited in size, this super-premium sales opportunity is relatively untapped and "likely to grow in the future" compared to a saturated mass market, Lahousnia continued.
Elsewhere, Swiss chocolate group Lindt & Sprungli has flagged the importance of branded retail in its growth model. A spokesperson for the group said, the company's global retail concept is a "crucial factor" in the group's "future-oriented expansion strategy". Lindt uses retail stores in order to enter new markets, where the chocolate category is frequently still under-developed and where it needs to build up its brand equity.
The Lindt spokesperson continued: "The own retail network is divided into six different concepts: Chocolate Cafés, Chocolate Boutiques, Chocolate Outlets, Factory Stores, Ghirardelli Chocolate & Ice Creme Shops [and] Russell Stover, which differ in terms of location and product offering, but also complement each other admirably. Especially the Chocolate Café and Chocolate Boutiques have proved a successful way of accessing new markets as they convey the image of the Lindt brand particularly well. All the retail outlets incorporate a uniform shop design which can be recognised by consumers all over the world."
In developing markets, branded retail represents an important way to develop brands and increase consumer recognition, educating and engaging with consumers. Meanwhile, in developed markets it is also a way to premiumise a product, boost profitability and increase sales.
Could this retail concept be extended beyond gifting and sweet treat categories? Possibly. Dairy seems like an area that offers some potential. US yoghurt maker Chobani opened its first "yoghurt bar" in New York in 2012 and the Chobani stores act as a way to encourage consumers to extend the uses of Greek yoghurt into areas like cooking. Traditional cheese shops or fromageries are a well-established concept – although not one where large-scale branded dairy processors frequently dabble due to high start-up costs and limited demand for super-premium.