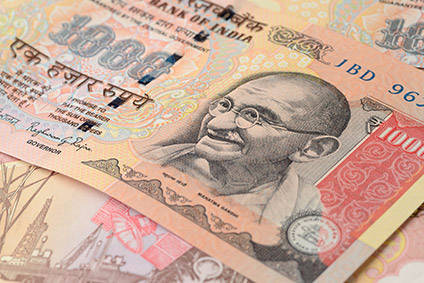 Last month, India pulled from circulation INR500 and INR1,000 banknotes, in a bid, the country's government said, to clamp down on counterfeiting, corruption, drug use and smuggling. The demonetisation move has proved controversial and has affected consumer spending, with smaller traders facing pressure, although many of the largest food companies operating in India believe it will benefit the country's economy. Raghavendra Verma reports from New Delhi.
On 8 November, Indian Prime Minister Narendra Modi announced the removal of INR500 and INR1,000 banknotes from circulation and would cease to be legal tender from that midnight.
It was an announcement that caught the country and its business sector by surprise, hitting demand in the food sector and disrupting supply chains, forcing some food companies to cut production and growth plans. However, some of the major names in India's food sector and wider packaged food industry believe, in the long run, the move will benefit the more modern, organised parts of the FMCG business and the wider economy.
"The [negative] impact [on sales] has been between 15 to 40% depending upon the product category," Sagar Kurade, president of trade body All India Food Processors' Association, tells just-food. "The spending patterns of the consumers have changed and they are making only priority purchases."
Kurade says the impact on demand for essential items such as wheat flour has been minimal, but on more discretionary items, such as processed meat, it is high.
The situation has forced most major Indian food manufacturing companies to cut production and the impact is worst in northern states, Tom Thomas, managing director of Malabar Fruit Products Co. in the city of Cochin in the south-western state of Kerala, says. "South India, especially Kerala, has a more organised trade and there is a higher use of [non-cash] banking transactions," Thomas says.
However, it is very difficult for any business to completely avoid cash transactions in India, especially when dealing with a large labour force. "Most of our employees are from north-eastern states who don't have any bank accounts here," Thomas explains. "They want only cash payments." That has left many companies in a bind, given that newly-introduced banking regulations allow them to withdraw only INR50,000 in cash per week.
The INR500 and INR1,000 notes accounted for 86% of the total cash in the economy and had to be exchanged with new INR2,000 notes or deposited in bank accounts, in a move to combat black money and counterfeit currency.
Citizens have faced long bank queues that have not dwindled, even one month after the announcement. The problem has been a severe shortage of cash as the central bank has so far managed to replace only one quarter of the old currency with the new notes.
The biggest impact of demonetisation is in villages, where banking and internet services are still poor. "It is very tough, very, very tough [to retain customers while moving to cashless payments], Varun Berry, the managing director of India-based food major Britannia Industries, said in a recent interview with India's Mint business newspaper, "Rural economy is all cash."
More broadly, Berry said demonetisation had derailed India's economic recovery and estimated that, even though growth would return, it would probably be at a slower rate than before the move. The International Monetary Fund had in October been projecting India's GDP would grow by 7.6% in 2016.
"We were just about seeing categories starting to pick up. I think it has derailed it for sure," Berry said. "It might come back to normal or just about below normal, but is it going to have the same kind of momentum that we were seeing in the last three months? Probably not." Berry added Britannia was looking to cut back its production by around 15% in the wake of demonetisation.
In addition to falling consumer demand, the disruption to the food supply chain has been intense. Farmers, facing a shortage of buyers because of the cash shortage, have seen prices plummet. For example, hundreds of potato farmers in the northern Indian city of Kannauj last month abandoned trucks of produce in a local market after they could not find buyers.
"As the quantum of trade has reduced and prices of vegetables have come down, farmers are just trying to ensure that their produce gets sold," Kurade at the All India Food Processors' Association says. "Transportation and cold chain related activities are also impacted," he added, noting cold storage owners have asked suppliers to remove their produce as its value has disappeared.
Satya Prakash, a wholesale fruit agent in New Delhi's Azadpur market told just-food making business transactions has become very difficult as everyone deals in cash: "We cannot even issue cheques as our clients are not sending payments. They say we don't have customers because of the new notes."
Hindustan Unilever, the local, listed unit of consumer goods giant Unilever, said the wholesale trade is the most impacted and there has been "trade down-stocking due to liquidity squeeze." It added market growth will be adversely impacted for a few months, after which there will be a gradual improvement of sales, led by urban consumers.
The Knorr maker's comments came in a conference call with analysts and investors two weeks ago, a sign Hindustan Unilever thought it necessary to give the market information on how it, one of India's largest consumer goods companies, believed demonetisation could affect the business and the wider market.
However, in its presentation, Hindustan Unilever described the combination of demonetisation and India's plans for a country-wide Goods and Sales Tax – which will effectively create a single, common market in the country – as "a win-win for all". Hindustan Unilever said the two moves would lead to lower inflation for Indian consumers and "higher, investment-led growth" for the Indian economy.
Hindustan Unilever acknowledged there would likely be "temporary pain in the near term" from demonetisation from consumers having less cash on-hand and being cautious with their spending, while there would likely be trade de-stocking "due to [the] liquidity squeeze".
The company, which also sells food brands including Kissan ketchup and Cornetto ice creams in India, would look to "dynamically play" its portfolio to try to "deliver value to the consumer" and "work closely with distributors and retailers to mitigate the impact of [the] cash crunch".
It told investors: "Demonetisation and GST are significant growth drivers for India and a win-win for everyone. Market growths [will] be adversely impact for a few months, with a gradual improvement expected to be led by urban [areas]. The speed of recovery will be dependent on liquidity build-up across the chain."
Other major names in India's consumer goods sector appear to echo Hindustan Unilever's view that demonetisation has and will lead to temporary challenges before conditions improve.
Adi Godrej, chairman of Indian conglomerate The Godrej Group, which has interests in sectors from chemicals and construction to food and agriculture, has said he has already seen signs the economy is bouncing back. "As far as the effect on the economy is concerned, it would have had a considerable negative effect in the first few days after the policy was announced in November. But since then the situation has improved quite considerably and we are seeing a strong pick-up in demand of many of our products now," Mr Godrej told The Press Trust of India.
Like Hindustan Unilever, Dabur, an Indian business selling a range of consumer goods products including food and beverages, also made an announcement to the Bombay Stock Exchange on the impact demonetisation could have on the company.
A.K. Jain, Dabur's vice president of finance, said demonetisation would put "some near-term pressures" on the business amid the "scarcity of cash available with customers and trade".
Jain said: "The impact varies across channels and geographies and stress is highest for wholesalers and small-town grocery shops, who are facing a severe liquidity crisis and are destocking."
However, Jain added: "The impact is likely to be positive on modern trade outlets and plastic money-enabled retailers who are likely to benefit from this change. Demonetisation of high-value currency notes is a positive move for the economy and industry and will lead to better transparency and compliance in the medium-to-long run. This will be beneficial for organised FMCG players, creating a level playing field."
Ankur Bisen, senior vice-president at India consultancy firm Technopak, points out food constitutes 67% of the country's retail basket and demand across all segments should not slow dramatically. "It is the most recession-proof category," he says.
Demonetisation might also help the branded processed food industry. According to Bisen, the cash ban will inevitably harm informal retail trades carried out completely in cash, and those consumers that have the choice of using credit cards and other non-cash instruments, are more likely to use them. In food terms, that means more supermarket sales of packaged food by middle-class consumers, a shift that might become permanent as these shoppers become more aware of the range of choice in supermarkets and the convenience of using charge cards and credit cards, Bisen says.
Bisen sees another possible indirect consequence of demonetisation that could benefit the organised trade. Consumers, he suggests, would also through experience learn that packaged food quality is more reliable than the informal unpackaged food products that they might have been buying with cash in the past. Unpackaged food products are most prone to adulteration, he stresses. "Demonetisation will help push out the players who are susceptible to spurious trades" of unreliable quality, he says. "The food processing industry should be very happy because of this development."
Already, Bisen says, even small businesses and lower income consumers are migrating to digital payments, food apps and e-farmer websites, a drift that could be hastened by the demonetarisation.
Most economic experts quoted within the Indian media have suggested that the economy will take three to four months to settle down. "We are hoping that by March…production would be back at pre-demonetisation level," Kurade says.