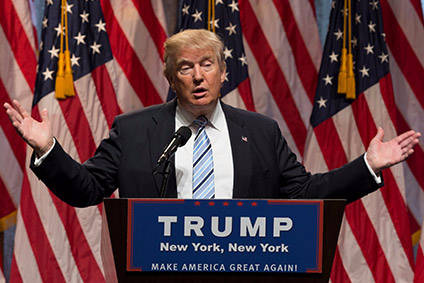 Republican Donald Trump has beaten front-runner Hillary Clinton in the race to become the forty-fifth President of the United States of America. His eleventh-hour election success defied the pollsters as first the key swing state of Florida fell, followed by North Carolina, Ohio and finally Pennsylvania. With big business largely backing Clinton, pundits are framing Trump's win as further evidence of disillusionment with the so-called political and business classes. just-food examines the implications of the election result for the global food sector.
Currency volatility
As with Brexit, the immediate implications of Trump's victory are being seen on the currency markets. Investors are shying away from the US dollar, reflecting concern over the country's growth outlook under Donald Trump.
The Mexican peso has also taken a severe hit, plunging by more than 13% in after-market trading, the biggest daily fall since 1994. Global investors have been spooked by Trump's campaign statements that he will rip up the North American Free Trade Agreement (NAFTA), tax money sent back to Mexico by migrants and make Mexico pay to "build a wall" between the two countries.
On the other hand, investors are putting money into currencies that are viewed as "safe havens" such as the Japanese yen or the Swiss franc.
These currency movements will present a significant headwind for food companies that are exposed to the dollar or peso but report in another currency.
Nestle, for example, generates around 25% of its sales in the US; Danone generates 12% in the country but that is set to rise to 22% following the completion of its takeover of WhiteWave Foods; while Unilever generated 15% of turnover Stateside last year. Japanese firms such as Ajinomoto and Nissin Foods Holdings are also exposed to currency depreciation in North and South America. Last year, Ajinomoto generated 24% of sales in the Americas, while Nissin's Americas revenue stood at 10% of group sales in the year to the end of March 2016.
Jeffries analyst Martin Deboo notes exposure to the dollar is "negative" for the likes of Nestle but says he nevertheless expects European food stocks to rise in the wake of the US election result. "We expect the European names to outperform on any defensive rotation. We expect Unilever and Danone to be relatively strong, given currency exposures and recent under-performance," he notes.
Conversely, companies that report in dollars but have significant overseas sales will benefit. Around 60% of PepsiCo's sales are generated outside North America; nearly 75% of Mondelez International's sales are generated overseas and General Mills says it makes 28% of its revenue in global markets.
That said, food companies with exposure to Mexico could be affected if the pressure on the peso is long-lasting, there is an economic slowdown in the country and NAFTA is dismantled. One of those companies, Pablo Zuanic, an analyst at Susquehanna International Group, is PepsiCo. Zuanic estimates Mexico accounts for around 8-9% of PepsiCo's total sales.
Trade and protectionism
While managing foreign exchange rate fluctuations will present a short-term challenge to food makers, Trump's stance on free-trade has deeper implications.
In his campaign statements, Trump has taken a strongly protectionist line. "As President, I will be an aggressive proponent for defending the economic interests of American workers and farmers on the world stage. I will fight against unfair trade deals and foreign trade practices that disadvantage the United States," Trump has insisted.
The Republican was critical of NAFTA in the final presidential debate, stating it is "the worst trade deal maybe ever signed anywhere, but certainly ever signed in this country".
Trump's objections to NAFTA apparently stem from the perception – widely held in US labour circles – that free trade has damaged American manufacturing by enabling companies to import cheap goods that undercut US-made products.
Detailing his opposition, Trump focused on the auto industry and launched a stinging attack on Ford Motors. However, there are arguably similar examples that can be drawn from the food sector.
Mondelez has been embroiled in a dispute with the Bakery, Confectionery, Tobacco Workers and Grain Millers International Union over its decision to move production out of Chicago and into Mexico. The company pumped $130m into a factory in Mexico in a bid to "modernise" its North America supply chain. The move has affected hundreds of Mondelez jobs in the US.
If NAFTA was torn up, companies that wanted to make products in Mexico and import them to the US would likely face some form of tariff. However, it would not impact companies from Mexico or Canada with local production in the US. For example, Mexico's Bimbo Bakeries generates significant sales north of the border but any revision to NAFTA would have a minimal impact because it makes products in the US and trades via a local subsidiary, Bimbo Bakeries USA.
Trump has also come out against the Trans-Pacific Partnership (TPP) agreement. "I strongly oppose TPP as drafted and will work hard to develop trade agreements that are in the national interest and benefit American workers including our farmers," he told the US Farm Bureau.
This free-trade deal, which was ushered in after five years of talks by the Obama administration, would link 12 Pacific Rim countries – or around 40% of the world's economy – including the US, Australia, Japan, and Vietnam.
It was broadly welcomed by food makers, with US meat, poultry and dairy sectors by-and-large approving of the increased access to overseas markets.
"In many parts of the world, food and agricultural products still face the legacy of high import barriers. We believe the Trans-Pacific Partnership will allow food to move more freely across borders from places of plenty to places of need, which benefits farmers and consumers around the world. Over time, the most successful countries have been those that embraced international trade. Modern trade agreements like the TPP will continue that trend, while also setting high standards for labour, human rights and sustainability," Cargill chairman and CEO David MacLennan said at the time.
Trump's protectionist leanings could make the going tougher for US exporters and are certainly likely to make it harder for global companies who want to import food products to the US. As Peter Cusick of UK law firm Roythornes concludes: "Mr Trump's stated aim of an America first policy could make exporting to the USA more challenging."
Relations with China could also worsen under Trump, Jamie Norman, an equities analyst at French bank Societe Generale adds. "As the author of the book The Art of the Deal, [Trump] has described NATFA as well as TPP as the worst deals he's ever seen," Norman says. "He's frequently complained accusing China of dumping and currency manipulation."
This is bad news for US food companies who have prioritised China as an engine for future growth. Infant formula maker Mead Johnson is heavily exposed to China, while companies such as Mondelez, Tyson Foods, Mars Inc and PepsiCo are all invested in growth in the market.
The implications are broader than simply impacting those companies who have a direct interest in China, Norman suggests. "Worsening trade relations between the world's two largest economies is negative overall. In the longer term impact of US protectionism to this degree would likely lead to unhealthy levels of domestic inflation and lower growth," he claims.
On the other hand, we could see a relaxation in relations with Russia under Trump. The President-elect has made a number of comments suggesting the US's relationship with Russia could thaw and expressing admiration for Vladimir Putin. "Possibly [we would] have a good relationship. He's been very nice to me," Trump said of Putin in April. "If we can make a great deal for our country and get along with Russia that would be a tremendous thing. I would love to try it."
If Trump forges closer ties with Russia, trade restrictions that have been in place since 2014 over Russia's military intervention in the Ukraine could be eased. With the US leading the way, we could well see the European Union following suit and trade relations between the western powers and Russia may be restored. This would be to the benefit of European companies such as dairy groups Arla Foods and Valio, which saw their sales hit by the Russian ban on food products from the US, EU and other western allies.
Regulation and food policy
Like most Republicans, Trump takes the stance that the federal government should play a minimal regulatory role.
"Our nation's regulatory system is completely broken. Terrible rules are written by unelected, unaccountable bureaucrats who often know nothing about the people they are regulating. The regulators have all of the power, and our nation's farmers are often forced to endure costly, burdensome, and unwise regulations that are bad for American farmers and consumers," he said in a campaign statement.
Looking at the food and agriculture sector, Trump highlighted the increase in "regulatory burdens" under the Obama administration.
Indeed, Obama has overseen a drive to increase the power given to the Food and Drug Administration and initiatives such as the Food Safety Modernisation Act, which was introduced in 2015.
While the FSMA in its final form garnered wide-spread support from food makers, some regulatory requirements are still proving challenging. Randy Fields, CEO of supply chain specialist Park City Group, highlights foreign supplier verification requirements and the sanitary transportation rule as areas of friction.
"What we see, which is pretty amazing, is that the food industry which has been regulated is about to become really regulated," Field said in September. "It will look like the wild-wild west was evolving quickly to a highly regulated paper driven, compliance driven environment and people are waking up."
But, just like Trump plans to unpick Obamacare, signals have been made that he could also move to de-regulate the food sector once again. "As President, I will work with Congress to reform our regulatory system. We will reduce the power of government bureaucrats… We will increase transparency and accountability in the regulatory process. Rational cost-benefit tests will be used to ensure that any regulation is justified before it is adopted. Unjustified regulations… will be changed or repealed," he insisted.
Trump has also thrown his weight behind the bio-tech sector and said that he does not support the labelling of GMOs. He appointed arch GMO-advocate, Republican Senator Pat Roberts to his agriculture advisory committee. A staunch opponent of GMO labelling in the Senate, Roberts sponsored the DARK Act, legislation that would override state moves to require the labelling of GMOs.
"I oppose unwarranted government mandates that hurt farmers and confuse consumers, such as mandatory biotech labelling," Trump said in a statement to the Farm Bureau. "Government should not block positive technological advancements in agriculture. Agency reviews need to be streamlined with all unnecessary red-tape cut out."
Another area that the Obama administration has been active on is obesity, with First Lady Michelle Obama taking a lead in addressing the nutritional challenges that face the US. If the appointments to Trump's agriculture advisory committee – alongside social media posts of him eating fried chicken and burgers – are anything to go on, the future POTUS takes a decidedly different approach.
Texas Agriculture Commissioner Sid Miller was chosen to play a key role in Trump's agriculture committee. When Miller was appointed Texas Agriculture Commissioner in 2015, he effectively repealed a 2004 law prohibiting the sale of high-sugar and deep fried foods in Texas public schools. Stating his intention to "grant full amnesty" to high-fat foods, Miller held his press conference in front of a truck selling cupcakes.
Food security and climate change
The election of Trump could well have significant long-term implications for global food security and efforts to tackle climate change.
Throughout his candidacy, Trump has waged war on the Environmental Protection Agency, the agency that regulates pesticide use in food production – as well as the nation's water supply.
In October, he promised to cut EPA regulations "70 to 80%" and plans to slash the budget of the federal body. He has said he wants to "get rid of [EPA] in almost every form. We are going to have little titbits left but we are going to take a tremendous amount out."
Trump promised to make the US energy self-sufficient by 2022. This will largely he achieved, he has said, by opening up oil fields that the Obama administration moved to protect and increasing the country's use of fossil fuels such as coal and ethanol. "I strongly oppose the extreme, climate alarmism agenda of the Obama-Clinton years. Too often, the Obama-Clinton team imposed billions of dollars in environmental costs on American citizens without achieving real environmental benefits," Trump insisted.
As part of this drive to tackle "climate alarmism", Trump has indicated he plans to back out of the Paris Climate Change agreement that seeks to cut global CO2 emissions and limit temperature increases. In fact, Trump has denounced global warming as a Chinese conspiracy designed to hurt American businesses.
Trump's stance on climate change is out of step with much of the food sector, which has pushed ahead with initiatives to voluntarily tackle climate change and make their business models more sustainable. As Unilever CEO Paul Polman notes: "We cannot choose between [economic] growth and sustainability, we must have both."
As an industry, the global food sector is reliant on a stable climate and favourable agricultural conditions to produce raw materials. If Trump stands by his campaign statements and pursues an agenda that aggressively denounces climate change science in favour of short-term economic gain, the long-term implications for global food production could be significant.