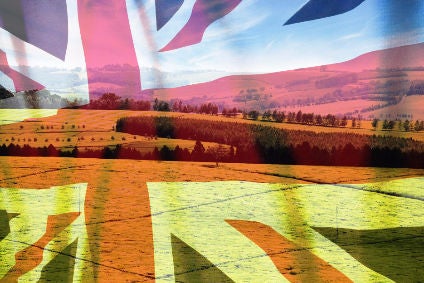 Boris Johnson has championed UK bioscience enthusiastically since being elected in December and securing the UK's withdrawal from the EU. Ben Cooper ponders where the UK might go on GM regulation after the end of the Brexit transition period, and what this may mean for UK-based food manufacturers.
In the three years after the UK's referendum on EU membership, it was often said Brexit had monopolised the political agenda leaving precious little "bandwidth" for anything else. But who would have imagined an issue of such magnitude was about to emerge that would consign Brexit to the "and in other news" section of TV bulletins?
That the biggest Brexit story last week was that EU negotiator Michel Barnier had tested positive for coronavirus and David Frost, his UK counterpart, is self-isolating after showing symptoms, tells its own story.
A few critical and challenging issues had dominated the long debates over the UK's membership of the EU, while undeniably important topics, including the country's differences with Brussels over genetic modification and biotechnology, were relatively little discussed. However, UK prime minister Boris Johnson is going some way to correcting that.
Boris backs British biotech
Since securing his premiership and withdrawal from the EU, Johnson has repeatedly made a point of championing deregulation and divergence from the EU on GM as a Brexit boon for the UK and a priority for his administration. Johnson also appointed George Eustice, a longstanding and vocal critic of the EU approach, as Secretary of State at the Department for the Environment, Food and Rural Affairs (Defra).
Based rigidly on the precautionary principle, EU regulations both on planting GM crops and commercialising foods made from GMO ingredients are considered by many scientists overly restrictive and lengthy. Over the years, governments and policymakers from across the political divide have sympathised with that view but could do no more than push for reform in Brussels.
Johnson now has the opportunity to put the UK on a different footing. His intended direction of travel is clear, though GM is a highly contentious issue that could challenge even his libertarian instincts.
There has been strong support for deregulation on biotech in the scientific community for many years, so Johnson's remarks have been welcomed enthusiastically by crop scientists.
Professor Jonathan Jones of The Sainsbury Laboratory crop research institute, a practitioner and energetic proponent of GM technology for three decades, bemoans the "glacial" progress of GM regulation, but says the Johnson rhetoric is "exciting".
However, he cautions: "Of course, he's not delivered everything he's promised in the past but I think he's serious on this one. How rapidly we get there from here I don't know. It's complicated."
Consumer fears easily provoked
A prime challenge is the consumer concern and suspicion GM has always attracted. This has engendered a highly cautionary approach by retailers, as reflected in a comment from Andrew Opie, director of food and sustainability at UK food retail trade body The British Retail Consortium, for this article. "Retailers do not currently sell genetically-modified food under their own brands and would not do so unless there is a change in consumer demand," Opie says.
"Activist groups often behave irresponsibly in terms of inflaming public fears about something that is totally benign"
Others would say consumer fears which, while borne partly out of the understandable natural caution people have about technology related to food, are stoked by misinformation and sensationalised reporting, resulting in the retailers' and public policy being led by the least well informed on the topic. "Activist groups often behave irresponsibly in terms of inflaming public fears about something that is totally benign," Prof. Jones contends.
Food manufacturers have also been somewhat reticent about supporting GM publicly, even if they recognise the benefits of the technology.
Asked by just-food for its view on where the UK should go on biotech, the UK food manufacturing representative body The Food and Drink Federation, states: "FDF believes that modern biotechnology, including genetic modification and new breeding techniques, offers considerable potential to improve the quality and quantity of [the] food supply and could contribute to sustainability by helping to produce more food using fewer resources and with less impact on the environment. FDF recognises that the impact of biotechnology must be objectively assessed, based on sound science and evidence, and be underpinned by an effective regulatory landscape."
The recognition of the potential benefits but a reluctance to go into battle on behalf of GM can clearly be seen in that statement. While Prof. Jones brands current policies on GM as the "tyranny of the more risk-averse", he says he "totally understands the brand reputation pressures both manufacturers and retailers are under". They see "a little bit of upside in terms of cost reduction but a vast amount of downside in terms of risking damage to my precious brand".
All this means biotech has been somewhat friendless, not receiving the widespread support from the private sector that technological innovation in other fields often can. Its backing by "Big Agri" has obviously been significant globally but the associations within that sector help foster some of the distrust, giving environmental campaigners a potent focus for their activities that has resonated with the public.
Farmer support
The National Farmers Union has generally been more publicly supportive of GM, however. Helen Ferrier, chief science and regulatory affairs adviser at the NFU, says it supports a "proportionate and enabling" regulatory framework on GM.
Vicki Hird of food and environment pressure group Sustain, however, suggests the picture is more mixed. "There's a lot of farmers I know who aren't members of the NFU [who] have a position on GM and biotech which is quite different from the NFU," Hird says, adding that protection of their European market will be a prime concern for many, underlining the influence ongoing negotiations could have on the UK's biotech ambitions.
"The UK currently remains aligned with the EU in its approach to genetically modified food. The UK's stance beyond January 2021 will depend very much on the outcome of trade negotiations," the BRC's Opie says.
Gene-editing move?
Where there could be more immediate progress is in the field of new gene-editing techniques. Dr Richard Harrison, director of Cambridge Crop Research, part of the National Institute of Agricultural Botany (NIAB), is leading research utilising modern gene-editing techniques, including CRISPR-Cas9, to modify the genetic make-up of the Fusarium venenatum fungus, the mycoprotein source for meat substitute brand Quorn, owned by Philippines group Monde Nissin.
"We're trying to understand how the fungus uses different carbon sources, and also how it regulates responses to nitrogen as well, because if we could understand that, then we'd be able to use a far greater range of crop-based carbon sources to produce mycoprotein," Harrison explains.
Being able to vary what mycoprotein is fed on could broaden the options for how and where mycoprotein can be sustainably produced as a meat alternative. The research is funded by the Biotechnology and Biological Sciences Research Council, with Quorn manufacturer Quorn Foods, a subsidiary of Monde Nissin, as a project partner and co-funder.
However, Harrison stresses the objective is not to produce a genetically engineered Fusarium venenatum that Marlow Foods might then commercialise, but that the gene-editing techniques are being used as "a research tool to validate our hypotheses".
Speaking to just-food last year, then Quorn Foods CEO Kevin Brennan said the company would "never go anywhere near genetic modification". This is not surprising and is common position among food companies. Owing to a 2018 European Court of Justice ruling, any food produced from ingredients derived from the gene-editing processes Harrison's team is employing would be subject to the EU's GM regulations and would have to be labelled as containing GMOs.
Brennan said the research "provides underpinning science for alternative carbohydrates but also to support feed optimisation". He continued: "If we can understand at a granular level what the organism reacts to we can optimise feedstock to encourage the ideal growth".
Ironically, some older and less accurate mutagenesis techniques, such as using gamma radiation and chemicals to alter genetic profile, fall outside the EU regulation. "All scientists are asking for is an objective evaluation rather than emotive one," Harrison adds.
In common with many scientists, Harrison believes EU regulations on genetic modification and gene editing to be overly restrictive and an impediment to scientific progress, not least as it discourages private-sector investment. So, would there be greater commercial opportunities for food companies, and consequently more investment in research, if the UK were to diverge from EU biotech regulations?
"Would a more proportionate regulatory framework bring in more investment? I think the answer is yes"
Harrison has no doubt there would, and Prof. Jones concurs. "Would a more proportionate regulatory framework bring in more investment? I think the answer is yes."
The NFU's Ferrier also believes regulatory reform will boost investment. "What we're interested in as an organisation is that you're able to move from the research into private-sector R&D and then commercialisation, because as long as seed companies don't see the EU and the UK as somewhere that they want to invest in, then you can do as much brilliant science as you like but the UK, farmers, society, environment, won't get any of the benefit because it will just stay in the research community."
Climate emergency
With regard to the regulation of genetic technologies in food production overall, Harrison urges a strictly evidence-led approach, not least given the challenges posed by climate change.
"There is enormous potential to grow crops with fewer pesticides by using naturally-occurring, disease-resistance genes. You could do that through traditional breeding but that takes a long time and costs a lot of money. Genetic technology makes it a lot faster and we should really have access in the 21st century to those technologies because we rapidly need to reduce our greenhouse gas emissions. Genetic technology could really be a powerful tool to accelerate our decarbonisation of the foodchain."
Prof. Jones adds: "We need every tool in the toolbox to address the perfect storm of rising temperatures, greenhouse gas emissions and rising population."
While recognising the benefits of separating gene-editing technology from GM, Prof. Jones is concerned arguing in favour of this may unintentionally lend weight to the view that there is still something to be feared in genetic engineering. "There are literally dozens of technologies like that that would be fantastic for the sustainability of agriculture, that you can only really accomplish by moving genes from one plant to another or by moving genes between bacteria and plants which is something that's happened naturally in evolution scores of times," he says, strongly urging the government to follow through on its supportive stance on GM.
Nevertheless, gene editing could be the more immediate move that is easier to negotiate politically and practically. It is also almost impossible to imagine the UK moving out of the transition period with an ECJ ruling featuring in its legislation. Ferrier believes the UK could also work with other member states, many of which were concerned by the ECJ ruling, to move EU opinion on the issue. "This is the opportunity to work with other member states who are similarly concerned about it. That is an area that the UK research sector can have a strength in and it is a really exciting area for developing products that farmers could grow."
While the UK government is so far holding to its December deadline, the coronavirus pandemic seems highly likely to result in the extension of the transition period. When it does finally leave the EU, the UK is likely, at the very least, to have a different regulatory approach to gene editing, if not immediately on GM overall.
When exactly the transition period will now end, however, may depend more on how successful scientists have been at understanding the genome of Covid-19 than the genetic composition of any food crop.