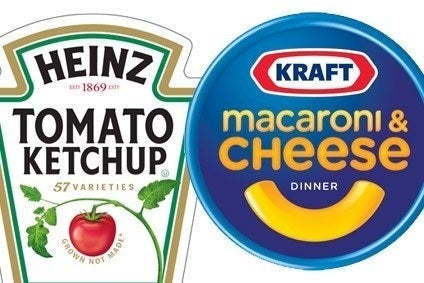 This morning's (25 March) news HJ Heinz and Kraft Foods Group have inked a definitive merger agreement sent shockwaves through the US food sector. But, when the dust settles, what are we likely to see from the enlarged Kraft Heinz Co.? Katy Askew investigates.
Kraft Foods Group and HJ Heinz, which is owned by private-equity groups Berkshire Hathaway and 3G Capital Partners, announced this morning (25 March) they want to merge operations to create the world's fifth-largest food maker.
To many pundits, the creation of Kraft Heinz Co. is expected to trigger a cost-cutting spree at the combined business.
As Glenboden M&A advisor Stefan Kirk tells just-food: "It should be a great success story in terms of the 'craft' of cost reductions. At the same time, it's doubtful that the group will succeed in the 'art' of top-line growth."
Ernst and Young advisor Andrew Cosgrove concurs: "At the time of the split with Mondelez International, Kraft was positioned to be a low-growth, strong-margin business. 3G could potentially increase margins significantly further and, as we have seen with Heinz, are willing to sacrifice some top-line to do so."
Certainly, Berkshire Hathaway and 3G's recent history with Heinz supports the conclusion that cost-cutting will be placed front and centre while sales growth will be put on the back burner.
Following the purchase of Heinz by 3G Capital and Berkshire Hathaway, the condiments maker focused on lowering its cost base. Earlier this month, Heinz revealed 2014 adjusted EBITDA increased by nearly 35%, reflecting higher gross margin and lower SG&A costs. This was primarily driven by efficiencies from productivity initiatives and zero-based budget cost control. However, sales were lower year-on-year as the company cut SKUs and exited less profitable businesses. Revenue totalled US$10.9bn last year, down 4.6% from $11.4bn. Sales volumes were down 5.3%.
Looking at its plans for the combined group, the management of Kraft and Heinz noted they do expect to generate some meaningful savings. The group projected $1.5bn in run-rate annual cost savings by 2017. To reduce cost of goods sold, the new Kraft Heinz Co. would follow the tried-and-tested model implemented at Heinz.
Management would introduce zero-based budgeting, rationalise its combined manufacturing footprint, integrate distribution networks and realise synergies from overlap. Kraft Heinz would also work to leverage its scale in US retail and food service. This would translate to improve productivity and procurement optimisation as well as strengthened pricing power.
Heinz CEO Bernardo Hees, who is set to take over as chief executive of the combined group, insisted the merger is also a "growth story" for the Heinz and Kraft brands.
Upon completion of the merger, Kraft Heinz would become the third-largest food maker in the US retail space behind PepsiCo and Nestle. It would be the largest US foodservice supplier, with "unmatched" scale in the channel. The company would generate North American sales of $22.2bn and expects to leverage its scale to generate organic growth in the US.
As Euromonitor analyst Lianne van den Bos notes, with eight billion-dollar brands in its portfolio, the combined company would boast a strong presence in staple categories where retailers are hungry for leadership from power brands. As a result Kraft Heinz would gain significant clout with its customers, van den Bos suggests.
"With this merger, Kraft-Heinz will become a powerhouse of staples. Another important point to note is that staples have a high percentage share of private label, making power brands ever more important. With this merger Kraft and Heinz will gain even more influence in the retailing landscape to position their brands against private label as well as other companies."
Speaking during a conference call today, Hees suggested Heinz was moving from a phase of cost-cutting and rationalisation to return to its "historical growth rate". In particular, he focused on the group's innovation pipeline which, he said, will be supported by marketing initiatives.
The company is extending its namesake brand into yellow mustard in US retail – a product it already delivers in US foodservice. It is also rolling out a pan-European launch of Heinz-branded hot sauces, Hees revealed.
"We have refocused our strategy on innovation… our goal is to be industry leading innovation… we aim to deliver by focusing on big, bold innovation," he said.
This return to growth on the Heinz side would be accelerated by feeding Kraft's brands into Heinz's global distribution infrastructure, management argued. Kraft chairman and CEO John Cahill – set to be vice chairman at the enlarged business – said: "We will benefit from our scale and relationships across foodservice [in the US] but we are most excited about the international opportunities… Our ambition is to leverage [Kraft brand] equities in the right categories and markets."
Kraft brands will be fed into Heinz's existing international distribution channels, management stressed. In developed international markets, Heinz has a strong presence in countries such as the UK and Italy. Meanwhile, the group also operates brands in emerging markets such as Indonesia – where it sells the second-largest soy sauce brand – China, Brazil and India.
Emerging markets account for 25% of Heinz's group revenue and international sales are 60% of group sales, the company revealed. The combined company would initially generate 34% of sales from international markets, with 24% of revenue coming from outside North America. However, as Kraft's brands are expanded internationally, overseas revenue is expected to grow.
Cahill expects international growth of Kraft brands – which are already recognised outside North America – to accelerate and identified Central America, South America and Europe as key markets for the group. "The potential is already there and the combination with Heinz allows us to realise that in the very near term," he insisted.
There is one spanner in the works. When Kraft span off from Mondelez, Mondelez took the rights to market a number of Kraft brands internationally. However, as these licencing agreements come to an end, Kraft Heinz would adopt a "targeted approach" to international growth for Kraft's brands.
Announcing the deal, management declined to reveal what its growth targets might be. However, it is clear the combined entity would be focused on delivering growth alongside cost savings. This makes a tie-up an even more interesting proposal for Kraft shareholders, who would retain a 49% stake in the combined entity.