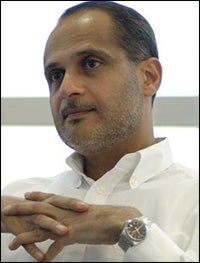 After 17 years at Vanish-to-Cillit Bang maker Reckitt Benckiser, can Javed Ahmed, the man named yesterday (19 May) as Tate & Lyle's new chief executive, add some sparkle to the under-performing food ingredients giant? Dean Best reports.
In November, Tate & Lyle's new chief executive will take the reins at the UK-based food ingredients group after years selling products like Nurofen at Reckitt Benckiser.
Tate & Lyle's long-suffering shareholders will no doubt be hoping the company's new boss will be able to take away some of the pain of investing in the business.
Later this year, Javed Ahmed will replace Iain Ferguson as Tate & Lyle's chief executive and look to breathe fresh life into a business that has reported profit warnings and endured a volatile share price in recent months.
Tate & Lyle, as a company rooted in the commodities arena, is a volatile business and has suffered amid the global economic downturn and increasing competition.
Last month, the group issued its latest profit warning and admitted demand for sweeteners and starches had been "weak" in its key Americas market, while ethanol margins and volumes were under "severe pressure".
Ferguson, who joined Tate & Lyle from Unilever in 2003, sold off a raft of assets and looked to focus on value-added food ingredients. The strategy appeared sound. However, it looks to have come up short with Splenda, Tate & Lyle's sucralose product and the jewel in its value-added portfolio, preparing to face stiff competition after the company's defeat in a trademark ruling last month.
Ahmed's time at Reckitt Benckiser selling products from Vanish and Cillit Bang to Veet and Calgon means food industry watchers know little about the 49-year-old Pakistani's credentials.
Ahmed joined Reckitt Benckiser in 1992 as general manager of its Canadian operations and worked his way up to become executive vice president of the groups European business, accounting for 50% of the firm's turnover.
But, just how will Ahmed adapt from selling Strepsils to sugar and starch? Ferguson had faced weeks of speculation surrounding his future but, for Shore Capital analyst Darren Shirley, it was a "surprise" that Tate & Lyle plumped for Ahmed.
"We have to say that we cannot form a strong opinion yet on Mr Ahmed albeit he descends from a very strong corporate stable in Reckitt's," Shirley says, keeping a 'hold' rating on Tate & Lyle's shares.
Shirley preferred to focus on Ferguson's legacy at Tate & Lyle. "It has to be said that he did not quite break the mould of volatility that tarnishes the reputation of Tate & Lyle in many investors' minds," Shirley argued. "The company suffers from immense fluctuations in sentiment, reflecting the underlying volatility of the commodity markets in which it remains heavily engaged."
The analyst said Ferguson's push to boost Tate & Lyle's value-added business was "sensible" but insisted the programme had so far had little effect on the group's profits.
"A drive to value added seemed a sensible strategy but in reality many of the broad applications highlighted by the company for products like Bio-PDO have just not emerged at anywhere near the magnitude to make a difference to earnings while sucralose was arguably over-invested with the prospect of falling margins and returns hereon," Shirley said.
The prospects for Tate & Lyle's sucralose business do not look as promising as the company may have once believed. Last month, a US court upheld an initial ruling that found Chinese manufacturer Niutang did not infringe Tate & Lyle's patents for manufacturing the sweetener. While Niutang basked in what it described as a "complete victory", Tate & Lyle still maintained it had a "formidable competitive advantage in the global sucralose business".
Not everyone, however, shares Tate & Lyle's bullishness on sucralose. Julian Lakin, an analyst at Mirabaud Securities, pointed to likely growing competition from Chinese and Indian manufacturers. "The time when Tate & Lyle controlled the [sucralose] market by virtue of its patent lawyers is clearly over," Lakin said.
It's clear, then, that a challenging period lies ahead for Tate & Lyle, which, as well as Ahmed, has welcomed other new faces to its top table in recent months. In December, company veteran Tim Lodge was named as finance director and, in February, Sir David Gershon joined the group as chairman.
Lakin, however, thinks it unlikely that Tate & Lyle will deviate from its current strategy. He is quick to acknowledge Ahmed's track-record at Reckitt Benckiser but said the executive's lack of experience in the food industry suggests no huge change in emphasis at Tate & Lyle.
"It would be quite strange to see [Tate & Lyle] change direction because of a new CEO," Lakin told just-food. "The new CEO comes from a packaged grocery business [but] Tate is not a packaged grocery business."
Lakin added: "[Ahmed] has dome a tremendous job [at Reckitt Benckiser] but Tate & Lyle is a very different ball game."
Given that Tate & Lyle's shares hit seven-month high on news of Ahmed's appointment, the City seems to believe a sweeter future lies ahead for the sugar refiner.