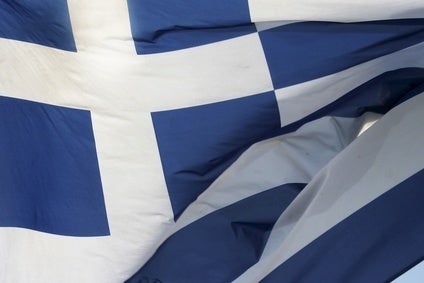 This Sunday, Greece will decide whether to accept a proposal from its creditors following the breakdown of negotiations over its EU1.6bn debt repayment with the International Monetary Fund. If voters reject the proposal, Greece risks exiting Eurozone. Concerns over what this will mean for the food industry are rife and food manufacturers have started taking measures to prepare for the worst. Hannah Abdulla reports.
Earlier in the week, dairy firm Arla said it withdrew most of its capital from Greece and reduced its risk by cutting stocks in the country. While it has committed to trading in Greece, it has warned that if Greece were to exit the EU, the European dairy group could see annual revenues of EU30m-40m in the market halved.
Greece has low levels of productivity. According to official statistics, Greece imports about 45% of its food from abroad. In terms of packaged food firms, most of the notable players have a presence in the country. Rabobank notes Unilever had the highest retail food sales in 2014 at EUR312m followed by local company Vivartia.
Responding to tough economic conditions, Greek consumers for some time now have lowered their reliance on branded food products. Cyrille Fillot, analyst at Rabobank says: "Foreign-branded food companies have been hit hardest. Sales have declined in almost every instance, sometimes in excess of 30% in the last five years. It's interesting to see how some local companies have done better. For example, local biscuits producer Papadopoulos has actually seen revenues increase by some 20% in the same period. Biscuits are a growing category throughout Europe, but in this instance, we see a market share shift away from companies such as Mondelez.
"It could be that Greeks have been buying local products on purpose which could be driven by a variety of reasons, ranging from promotions to nationalistic buying behaviour. Or perhaps foreign companies have actively de-emphasised the Greek market."
Industry experts believe that demand for foreign branded products is only set to plunge further, should the Greeks exit the Eurozone. Food imports are likely to become very expensive in the event of a Grexit. This, along with inflation in the Greek market, would make sales of imported product "too difficult," explains Euromonitor's senior analyst Dimitrios Dimakakos.
"For importers it would be extremely difficult to sell their expensive products because of the high currency exchange rate as well as inflation. We definitely would see less of imported products on Greek shelves."
But it's not every food sector that will suffer. There will still be a reliance on staple imports – particularly stuff Greece can't produce itself, such as baby formula.
FrieslandCampina has a production plant in Patras as well as a distribution facility in Greece. Dairy products it produces include branded cheese and yoghurt, ready to drink milk and infant nutrition. Its NoyNoy brand claims to be the largest dairy brand in Greece. In a bid to continue production, FrieslandCampina issued an early salary payment to its Greece-based employees and has boosted stocks of its condensed milk and infant formula in anticipation of stockpiling by consumers.
"All possible scenarios are being considered, with the primary focus on ensuring the continuity of the group's activities in Greece. We are committed to our Greek business, our employees and our customers," a spokesperson for FrieslandCampina told just-food.
Greece contributes about 2.5-3% to FrieslandCampina's total EU11.3bn revenue.
"If Greece is forced to leave the Eurozone, financial transfers are likely to be subject to restrictions, while the transition to a new currency will have to be phased in. A devaluation will also result in goods from abroad becoming more expensive for Greeks, and that will have an impact on exports to the country amd of course leaving the Eurozone will ultimately affect the prospects for Greek economic recovery, while a departure from the European Union would be the worst possible scenario for all parties," he added.
Manufacturers of luxury food products – such as confectionery, snacks – are likely to face a more challenging time.
"Greek families would struggle to afford the basics needed to live, some of the most important products will be staple food such as rice, pasta and pulses. Shelf stable food could see a good performance as well as baby food. On the other hand, confectionery, snacks or ready meals sold in supermarkets would all be considered unnecessary," explains Dimakakos.
just-food approached Mondelez International to explore the impact to its business in the country. While the company declined to comment, a spokesperson said its business in Greece was small, so the impact to its business was "quite limited".
Nestle has sold products in Greece since 1989 and has a presence in 10 product categories including breakfast cereals, confectionery, ice cream and infant nutrition. A spokesperson told just-food the company has "strong roots in the country and forms an integral part of the local community".
"In the current difficult situation, we continue to focus on servicing our consumers and customers, as well as our around 1000 employees in Greece. We are monitoring developments carefully and will adapt as necessary."
On the other hand, should Greece fly solo, the situation could mean good news for exports. Deprecation of the new Drachma will lead to a strong export boom.
"Food manufacturers with strong export activities will be more competitive even if this is not secured as doubts by foreign buyers will occur about the ability of Greek exporters to deliver merchandise while facing financial problems," says Dimakakos.
However, while Greece can rely on trading well with the rest of the world through exports of product that are high in demand, a lot of that relies on how much it can actively produce. Olive oil is a key example; Rabobank Food and Agribusiness analyst, Vito Martielli, says olive oil trading prices have increased more than 45% over the last five years. Greece is the second largest producer of olive oil, but Martielli warns in 2015/16, Greece will produce much less oil because olives are a biennial crop.
The likeliest scenario in the event of a Grexit is that Greece will truly fly solo: it will become increasingly self-reliant. And Greek consumers have already somewhat prepared for this. Dimakakos says in the last five years, Greeks started "caring less about brands and focusing on prices, with discounters and private label products experiencing a positive growth." This shift to locally-produced products will continue at a rapid pace. Local producers also will have an opportunity to export more as the currency is in their favour.
Speaking of packaged foods, Fillot says maybe there will be an increase in private label products coming from Greece. "But bear in mind that many of the agricultural commodities that are used as inputs in processed food are dominated in euros or dollars, so the advantage may not be as big as it seems.
"Wherever the food is produced—either abroad or locally with commodities coming from abroad—prices for processed food will go up in case of a devaluation, that is. We would expect a shift to locally-produced crops and to wet markets, away from the retail channel."