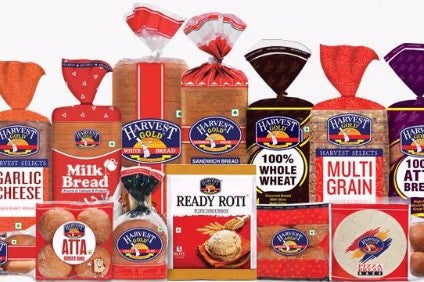 Grupo Bimbo, the Mexico-based business that is the world's largest bakery products group, has moved into a new emerging market. Bimbo has muscled its way into India with the acquisition of a majority stake in local packaged bread group Ready Roti India. Logistical and supply chain issues make India's bakery industry challenging but some market watchers expect Bimbo's move to be followed by other multinationals attracted by the industry's growth.
In recent months, Grupo Bimbo, the world's number one bakery business, appears to have stepped up efforts to expand in the world's emerging packaged bakery markets in a bid to give it another platform for sales growth.
Mexico-based Bimbo's domestic business is in growth but its US operations – a significant market for the company, with it being the largest bakery group in the States – has been in the doldrums for a while.
Bimbo's net sales jumped 15% in 2016 to MXN252.14bn (US$14.1bn), helped by growth of 8% in Mexico and tailwinds from exchange rates.
However, in North America, Bimbo's underlying sales performance was less robust. Net sales in peso terms grew 16.2%, while dollar-denominated sales declined 1.1%. Volumes "remained unchanged", Bimbo said.
Bimbo's interest in emerging markets has been shown in 2017 through the acquisition of businesses in Morocco and Colombia, while also reportedly indicating it plans to expand its business in China through M&A.
Last month, Bimbo announced a move into a new, potentially sizeable market – India. It has acquired a 65% stake in Ready Roti India, a manufacturer of packaged bread, buns and pizza bases and the owner of brands like Harvest Gold and Harvest Select.
India's bread sector, a central part of Ready Roti's business, appears to be growing strongly. Based on data from manufacturers, Pune-based ValueNotes Strategic Intelligence estimates bread sales in India reached INR33bn (US$511.7m) in 2015, contributing to a three-year compound annual growth rate of 9%.
ValueNotes estimates India's unorganised retail sector continues to account for the majority (55%) of sales but the country's growing, modern, organised retail channel now generates 45% of sales.
The packaged bread category is largely constituted of white bread, with brown and other bread constituting less than quarter of the total sales, ValueNotes says. It has forecast sales will grow to INR53bn by 2020, at a CAGR of 10%.
In a short statement, Bimbo described Ready Roti as "the baking leader in New Delhi and its surrounding areas", with four plants and generating annual sales of approximately US$48m. Retailers in New Delhi told just-food Ready Roti sells about 150,000 loaves of bread every day in and around India's capital.
Bimbo is not giving too much away about its latest investment but, speaking to Ready Roti, it appears there are plans afoot to drive the business forward.
A spokesperson for Ready Roti tells just-food the deal "will be beneficial for Indian consumers", with the tie-up sparking the launch of "many new products".
Ready Roti, which was founded in 1993, and Bimbo are now devising a business plan, the spokesperson says, to consider "what products will be coming in [to India], what geographies we will be going into", adding it should take three to four months to come to decisions.
The spokesperson argues the wide variety of cultures and tastes within India creates demand for a broad range of bread products that Ready Roti could tap, including breads made from rice, he suggests. He estimates that with Indian consumers increasingly time-poor, demand will increase: "Bread products will give them more convenience," he says.
Ramesh Mago, president of the All India Bread Manufacturers Association says Bimbo's investment is the first case of foreign investment in an Indian bakery company. He argues several other bread companies are waiting and watching to see how Ready Roti performs following the deal with Bimbo and points to the growth seen across the wider baked goods market. "Bread, rusk, cookies, buns, cakes, all are growing at the same rate," he says.
The size and growth of India's bread market has been piquing the interest of investors. In 2016, Indian private-equity firm Everstone Group acquired the 52-year-old Modern bread and bakery brand from Unilever. With bread manufacturing units in 14 biggest cities across the country, Modern, according to Indian media reports, last November then held 10%-12% of Indian bread market.
Indian government policies have also favoured the bread industry with long standing exemptions from sales taxes and these are set to remain under the new national Goods and Services Tax (GST) system, which is set to come into force on Saturday (1 July). Bread is among basic food commodities placed in the 'nil' tax bracket in the GST schedule, although other baked products like rusks and cake face higher rates.
India's bread market remains a sector in which local or regional businesses dominate due to logistics and supply chain issues, as well as the cost of investing in production plants.
The perishability of the commodity is a big issue in India, as swift and reliable transportation via Indian roads remains a challenge. Therefore, even the big bakeries serve a maximum 300km radius, Mago points out.
Pankaj Batra, the managing director of Delicious Foods (P) Ltd, a bread manufacturer in the city of Bareilly in the northern state of Uttar Pradesh, underlines the point that even large Indian bakery businesses like Ready Roti, Modern and Britannia Industries face logistics issues competing with small units in the unorganised sector. "Small companies are very localised and operate with small overheads and transportation costs," Batra says.
However, Batra argues Bimbo's acquisition in Ready Roti could be the spark for other similar deals in the sector. "[Bimbo's] investment is expected to herald a wave of other foreign companies to invest in Indian bakeries," he tells just-food.
And Batra points out how backing from investors could be to the benefit of India's bakery businesses. He explains there is a need to boost automation in Indian baked goods factories, especially in dough handling and loaf packing but the technology is expensive and even larger local companies have found it hard to estimate the scope and cost of the technology required and still guarantee profits.
"We have to compete with the unorganised sector. The bread price is the same and if the financial investment of automation is too high, how are you going to get the returns?" Batra says. Major plants make about 30,000 to 50,000 loaves a day, he says, while those in the unorganised sector produce less than 10,000.
The cost of setting up a plant making 50,000 loaves with semi-automation requires an investment of around US$24m, Batra suggests, plus the cost of land and building, which varies from city to city but starts from around $16m.
In fact, Batra almost makes a pitch for foreign investment. "We are also interested in getting foreign investment. We are in business for 33 years. Well established companies can share their experience in marketing with the multinationals. We can handle the local management and the foreign company can bring new technology and investment. They will get the brand and its market. It would be beneficial for both of us."
Meanwhile, in Mexico, Bimbo tells just-food it is continuing to look for new opportunities in different markets. A Bimbo spokesperson says the company is "always alert" for potential deals. "What we are looking for is to continue learning from the markets, such as those with a high-growth rate like the Indian one.