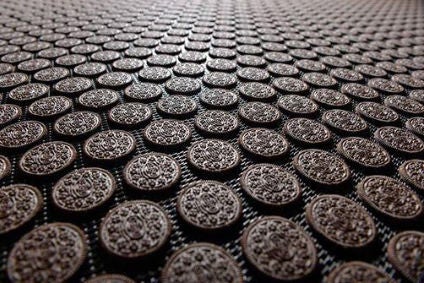 just-food correspondent Raghavendra Verma surveys India's biscuit market, which has enjoyed bumper sales during the Covid-19 pandemic.
India's biscuit market, already enjoying some tasty-looking growth before Covid-19, has, like many other product categories worldwide, seen demand rise during the pandemic due to higher at-home consumption.
According to UK-based data and analysis group GlobalData, the market grew by 9.7% in 2019 to a value of US$4.7bn. Market insiders suggest that growth ticked up to around 12% in 2020 – and there are forecasts the category can continue to see expansion of 10-12% in the coming years.
Biscuits make up the largest processed food category in India, the 2019-20 annual report issued by local major manufacturer Britannia Industries claims, with more than 90% of the nation's households buying them. That said, annual average per capita consumption stands at 2kg, as opposed to 10kg in certain developed countries, such as the UK and Italy, notes data service Statista. The difference in per-capita consumption provides a good base for future growth, Britannia, home to brands including Good Day and Tiger, believes.
How to capture that growth is the question on the minds of product developers and market strategists.
India's biscuit category remains very fragmented and cluttered with numerous brands, Manoj Verma, sales director of major manufacturer Mrs Bectors Food Specialities, the owner of the Cremica brand, tells just-food. "The trend is likely to continue."
More than 100 types of local and imported biscuits are available on Amazon's Indian site, where prices range from INR5 (US$0.07) for a 65g pack of Parle G glucose biscuits to INR2,499 for a 400g Belgian Collection Tin from upmarket UK grocer Marks and Spencer.
The demand for costlier biscuits has risen rapidly in recent years and India's biscuit industry is moving towards premiumisation – which should expand further the variety of biscuits sold to consumers, Verma explains.
Mrs Bectors, which listed on the Bombay Stock Exchange last month, is continuing to launch lines to tap developing niches – with pistachio cookies, honey oatmeal cookies, and chocolate chip cookies being among recent launches under the Cremica brand. Looking ahead, Mrs Bectors is also planning launches of healthier, low-calorie salty crackers, which it thinks will be a segment offering long-term growth.
Another promising area is marketing biscuits as the perfect compliment to tea. Verma stresses in India "60% of biscuits are consumed with tea and people have tea at least two times a day". With Covid-19 pushing more people to work from home – a trend expected to continue after the pandemic – demand for biscuits that can be snacked from the larder with tea, is likely to increase, he says.
The biscuit business is a key growth driver for Mondelez International in India. In recent years, one way in which Mondelez has sought to expand sales has been to use its Bournvita brand to meet what the US giant sees as demand for snacks during the morning, with, for example, the 2019 roll-out of Bournvita Biscuits Banana & Oats.
In December, Mondelez sought to tap into what it says is growing demand in India for healthier snacks, with the launch of another Bournvita line – Bournvita Crunchy.
"Given the unprecedented times, health and hygiene has become very important for our consumers and they are looking up to their trusted snacking brands for nourishment and wellbeing," Sudhanshu Nagpal, associate director of marketing for Mondelez's biscuit business in India, says. "Taste continues to remain an important factor for our consumers, as they choose snacks to create eat experiences with their families, at home. "Our endeavour has always been to provide unique eat experiences and a broad range of product offerings to our consumers – from indulgent to wholesome. Our latest launch – Bournvita Crunchy, is in line with this commitment and we're confident that this wholesome product with provide our consumers with a 'guilt-free' snacking experience."
At the more indulgent end of Mondelez's biscuit range, its flagship global brand, Oreo, continues to be a strong player in India, Nagpal asserts, with an 8.5% share of the country's sales of cream cookies. The Oreo brand, he adds, "gained massive momentum during the lockdown [with more] nesting at home with the family".
One reason for Oreo's recent growth has been the way consumers are using the biscuits. Oreos are being used as an ingredient in milkshakes, coffee, cakes and ice creams made at home during the pandemic, Mondelez says, although it did not predict whether this trend will continue after Covid-19 subsides.
Other food manufacturing majors, such as Britannia, Parle Products and ITC (through its Sunfeast brand), have also been benefiting from this trend, with Parle's low-fat Marie biscuits used to make cheesecakes or banoffee pie.
Normally, Parle launches five or six products every year but has not done so since the pandemic broke out, Mayank Shah, the head of Parle's biscuit business, says, with the company focusing its efforts on the day-to-day running of operations. "In the next three months, we will start rolling out new ones," he adds, although would not give further details.
One reason why Indian biscuit companies usually launch products so often is because so few new products generate sustainable sales, Jaspal Sabharwal co-founder of TagTaste Foods, an Indian network of food professionals, argues.
Most companies launch between two and five new biscuit varieties annually, but a mere 0.3% are still sold after five-years, he says, noting "90% of the new launches don't last for even one year … which is despite companies spending 4% of their revenue on advertising and publicity".
Introducing new biscuit brands can be costly given retailers are demanding ever-bigger margins, says Amit Lohani, founder and director of the Forum of Indian Food Importers. "The retailer margin on Indian biscuits is 10-12%, while on imported ones it is 25-40%," he says. For access to major retail chains, there is an additional cost of a one-time 'listing fee', which in very exclusive stores that remain open 24 hours, could be as high as US$130 per store for every SKU.
This is forcing many brands to focus on smaller shops first – another reason for trying out new lines to see what attracts sustainable sales. "[The listing fee] is so high that most new products can't enter," says Sanjay Jain, director of a comparatively new and smaller manufacturer, Dugar Overseas, which sells its Sapphire brand butter cookies and confectionery through 1,400 distributors and 200 sales representatives.
Sapphire cookies are sold in 400g and 800g tin packs as gifts but the company will soon introduce soft packages of 70g and 150g, Jain says. The smaller packages will target India's growing mass market for biscuits by helping consumers with high indoor humidity, which can make uneaten biscuits in larger packs damp and soft. Some brands, such as Parle's Monaco and Sunfeast's Bounce biscuits, use small packets inside larger packages to tackle this problem.
Looking forward, at Parle, Shah says India's biscuit market is expected to grow between 10% and 12% over the next few years, with a high degree of premiumisation.
This growth may include healthier or organic biscuits sales, which have expanded during the pandemic as health concerns have grown, Ankur Bisen, senior vice president at Gurgaon-based consultancy firm Technopak, suggests. "Earlier, premiumisation was about a discerning taste, the richness of the ingredients or creating a fusion of several ingredients," he tells just-food. "Now people are looking for healthy options, like wholewheat and multigrain."
Competition looks set to be intense. As well as Mondelez targeting the better-for-you parts of the category with its new Bournvita Crunchy line, other manufacturers look set to be active.
Britannia's R&D team is developing capacity to use "alternate cereals, whole grains, super seeds and protein isolates in the product portfolio", the company says in its annual report. "[We] continuously endeavour to disrupt the markets through the launch of new-to-market formats, thereby addressing more and more consumption occasions."