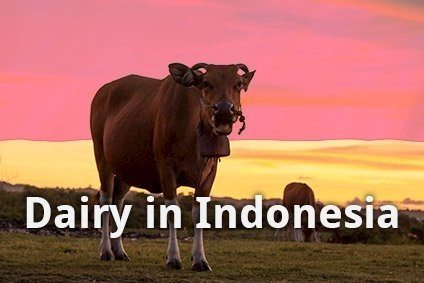 Indonesia's dairy market has enjoyed solid expansion in the last decade. With China's economy cooling, more attention is being paid to other markets in south-east Asia, suggesting Indonesia could become of growing interest. However, the country has seen its own economic slowdown and its dairy sector has a series of significant challenges to surmount. Dean Best reports.
The figures differ depending on the source of the data but Indonesia's dairy market has seen solid growth over the last ten years or so.
According to figures from Nielsen, Indonesia's dairy industry has seen demand grow around 10% on an annual basis for the past decade. Euromonitor says in 2014, the value of retail sales in the dairy category grew 7.7%, with growth of 8.8% seen in 2012.
China has been the market at the centre of many an international dairy company with ambitions to expand their overseas businesses but other markets in south-east Asia can offer opportunities. And with economic growth in China slowing, interest in the smaller but growing dairy markets of countries elsewhere in the region is likely to rise.
Indonesia is among a clutch of markets in south-east Asia that could be attractive to ambitious dairy companies. What's more, Indonesia has a lower per capita consumption of dairy products compared to other countries in the region, suggesting there is more room for new entrants and for growth.
However, Indonesia has seen its own easing in GDP, in part due to a fall in demand from China for the country's commodities. And dairy company strategists needs to be aware of a series of factors in Indonesia that maker doing business a challenge, not least the dominance of the traditional retail channel and the problems of distribution. Dairy companies interested in Indonesia need to know any rewards will only be reaped over the longer term. Two of the more successful international dairy processors operating in Indonesia – Nestle and Frieslandcampina – have been present in the country for decades.
Looking at the Euromonitor data, the value of the dairy category at retail in Indonesia was US$1.87bn in 2014 and is estimated to grow to $1.99bn this year. Long-life milk dominates sales, a consequence of the under-development of logistics and distribution in the country. Cheese and yoghurt are growing segments but have so far been largely limited to wealthier parts of the population.
FrieslandCampina is the largest player when looking at Euromonitor's retail sales data, with Nestle third. At second and fourth are two local players – Indofood Sukses Makmur (which last year signalled its belief in the prospects for dairyby buying Danone's business in the country) and Ultrajaya Milk Industry & Trading Co. Yakult's recent initiatives in Indonesia place the Japanese group fifth, with Fonterra, a business ambitious about its plans for the market, in sixth.
Despite Indonesia going through a period of slower economic growth, the country is still seen as an attractive prospect. "Compared to many countries, five and six per cent [GDP growth] is quite positive," dairy industry consultant Preben Mikkelsen says. "It seems like [growth] going to continue because economic growth in the country is quite positive, so you have a basis for increasing consumption of value-added proteins, including dairy, so consumption is expected to increase."
However, Mikkelsen immediately points to a factor that could hinder growth – whether there is investment in primary milk production. The majority of milk consumed in the country is imported. The Indonesian government has set a target of reducing its reliance on imports and is aiming for domestic supply to account for 50% of consumption by 2025.
Mikkelsen says "a lot of smallholders have been ceasing production in recent years" and insists there is "a major question" whether larger farms can compensate. He is sceptical about whether Jakarta's 50% target can be reached, suggesting the country could grow domestic production to 30% of consumption. "It's a huge expansion of milk production. You have to import a huge amount of cattle and all the facilities around making a modern milk production is not available – they don't have any extension services, they don't have any veterinarians and so on. It's a huge task to increase so significantly."
Like many an emerging market, Indonesia is a country that needs continued investment in infrastructure. President Widodo is said to be eyeing spending of $20bn on infrastructure this year, including on roads and ports, but there have been concerns about progress. The recent rise in wealth in Indonesia, its growing middle class and interest in healthy eating have been factors in driving dairy consumption but the country's infrastructure has defined how the sector has developed.
"Improving access to and affordability of dairy products is not just about consumer demand and wealth, but also about the physical delivery of food products, particularly fresh or perishable items. Indonesia is also the world's largest archipelago with over 18,000 islands, providing a major challenge to distribute perishable and frozen products throughout its 33 provinces," Jo Bills, director of Australia-based dairy consultants Freshagenda says. "The logistics presented by Indonesia must be a major barrier to consumption of fresh products. Three types of consumer products dominate Indonesia's market. Fluid UHT milk, sweetened condensed milk, and powdered milk dominate the consumer product market for dairy, they have market shares of 26%, 35%, and 39% respectively – notably all products that do not need a strong cold chain."
According to management consultants McKinsey, Indonesia is a country "dominated" by the "fragmented trade", 4.1m, small, independent retailers, often with little or no chilled fixtures, underlining why long-life products account for the lion's share of the market. Traditional trade accounts for the majority of retail sales (a PricewaterhouseCoopers report from February says the five largest firms in Indonesia's grocery sector have a combined market share of 3.8%), making it a challenge to reach shoppers.
Indonesia is, overall, a country where per capita data lags neighbouring markets like Malaysia and Thailand on a number of levels, not just on dairy consumption. Companies need to be aware incomes are lower and need to price accordingly. "Indonesia is still a relatively price sensitive market for dairy products," Bills notes.
Nevertheless, for all the challenges in distribution, retail and income, there are signs Indonesia is improving on each metric. For example, the modern retail channel is growing twice as fast as traditional stores. According to Euromonitor, major, modern convenience store chains, such as Indomaret, Alfamart and Circle K, expanded into Indonesia's second and third-tier cities last year.
Looking at consumer demand, there is growing interest in more value-added areas, such as functional milk, cheese and yoghurt. "As modern retail increases in Indonesia there are likely to be increased opportunities for product innovation, as consumer seek products that are healthy, convenient and more westernised food options. Most analysts expect health and wellness to be an ongoing consumer trend – and this should favour dairy products – fortified foods and beverages are growing in popularity," Bills says.
Mikkelsen adds: "[Companies] have been doing a lot of marketing of new functional products like Anlene from Fonterra targeted for special groups and this has been quite successful."
The cheese category remains small – only accounting for $74.2m of the $1.87bn in dairy retail sales in 2014 – but industry watchers are seeing more Indonesian consumers take to the product. "More Indonesian families, particularly in the big cities, have started to use cheese as a main ingredient in their meals. With cheese being perceived as a more affordable product, a wider number of consumers have started to prepare Western foods which use cheese as an ingredient by themselves at home," Euromonitor says. "Cheese is benefiting from its image as a premium and healthy dairy product." Euromonitor predicts cheese sales at retail will break the $100m barrier in 2017, although its share of dairy sales will rise slightly to 4.4%.
And Euromonitor believes growing interest in health from Indonesia's middle class will propel yoghurt sales in the country (although the research group says it will be drinking yoghurt that drives sales, with spoonable yoghurt seen as less convenient).
A further opportunity – though in the early stages and limited to more urban centres – is in foodservice. "One of the key growth areas we see is out of home and convenience eating as a result of Indonesia's growing middle class. We believe this is a huge opportunity for the dairy industry to develop convenient and tasty products that can be eaten on-the-go. Our foodservice business is catering for this trend," Achyut Kasireddy, MD of Fonterra's business in Indonesia, says. "Our chefs and technical experts work alongside our customers to develop convenient, tasty dairy-based products and recipes that people can eat out or on-the-go. This model has allowed us to develop clear leadership positions in this category."
For dairy companies looking to expand internationally and with an interest in Asia, Indonesia should be on their radar, with economic growth easing but solid and a growing middle class in what is – with the country's population at 250 million – south-east Asia's largest consumer market. Per capita consumption is lower than in some neighbouring markets and awareness of dairy is on the rise. "It's a little bit of a dark horse," Mikkelsen says. Dairy majors like Nestle and Fonterra agree, having both made recent capital investments.
There is, however, some significant near-term challenges of which to be aware. Bills says: "I've no doubt with the steam going out of the Chinese market, more people will be looking at Indonesia as an opportunity just on population alone. It most certainly is, but its diversity and infrastructure will still make it a challenge – you would want to be in it for the long haul."