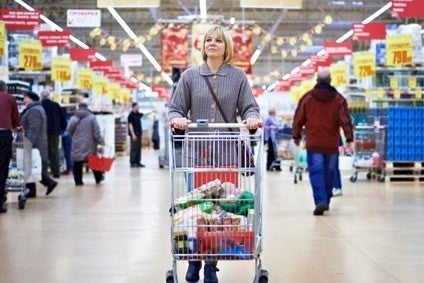 We are seeing mixed messages when it comes to the level of economic recovery across Europe during the last year. In the UK, unemployment is down to its lowest level for at least 40 years, while in Italy and France numbers are still rising as their economies continued to stagnate in the final quarter of last year. GDP is up in most countries, including France, Germany, Spain, the UK and the Netherlands, but Italy continues to struggle, despite a rise in exports of 0.2% in the second quarter of 2014.
The topline macroeconomic trends across Europe are variable and suggest many countries, while they are seeing some recovery, are still in recession. What's also concerning is the impact that is having on FMCG sales. 2014 was a pretty poor year for grocery in most countries according to IRI's latest Topline Report, which shows annual data trends – with a quarter-on-quarter comparison over the previous year – for the UK, Germany, France, Spain, the Netherlands, Italy and Greece.
Apart from in the Netherlands, food price rises particularly have remained flat or declined in the second half of the year. Similarly, non-food prices are down in all countries bar the UK. As a result, value sales were poor across these countries in Europe, showing no change on average for 2014 versus 2013 – compared to a rise of 0.5% for 2013 against 2012. Germany recorded the fastest value growth for the year at 1.6%, stealing the crown from UK the year before.
And while volumes sales were going up just a few years ago, volume growth has become harder to achieve, falling by an average of 0.6% across Europe last year compared to a slide of 1% the year before. Only Germany (0.2%), France (0.4%) and Spain (0.1%) showed slight increases, but both the Netherlands and UK were well down in volume – by 2.6% in both countries. In particular, we saw a poor fourth quarter for most countries, with only Germany and France showing growth in volume and value in the last three months of 2014.
Driven mostly by the food sector, the level of trade promotions increased in the fourth quarter in all countries, especially Italy, where deals are growing strongly, and Spain in the last six months of the year.
All countries except for the Netherlands saw an increase in trade-promoted sales in 2014, a good deal of these coming through in Q4, probably down to more Christmas promotions. Trade promotion levels in the non-food sector tend to be more erratic, often rising in Q2 for the summer and Q4 for Christmas. France saw some big changes quarter to quarter, while in Italy a steeply increasing trend can be seen for non-food as well as food.
What's interesting is we are seeing shoppers react quite differently to the ongoing economic uncertainty. In France, for example, where we have seen deflation, consumers are using this as an opportunity to trade up to better quality products. As a result, national brands saw an increase in volume sales by more than 2% in 2014, while private-label decreased by more than 2%. National brands have also benefited from an increased range of products, while own label has remained more or less stable, and promotional activity has also increased widely.
In the UK, however, prices have been going up faster than wages since the recession began and people have been buying lower priced products or seeking out more on promotion. Recently the continuing price war between UK retailers, in the battle against the discounters, has been giving an opportunity to consumers to save even more and they seem to be taking it. Consumers are benefiting from price cuts and increased promotional activity from national brands, halting the potential move by shoppers to supermarkets' own label products.
Food prices in particular, look set for a continued period of low/negative inflation in most major European countries in 2015, either due to supermarket/discounter price wars or pressure to improve volume sales as recession continues. But if lower unemployment levels are an indicator of reduced hardship, with five of the seven countries considered here currently showing reduced levels year-on-year, then maybe there can be cautious optimism volumes at least will improve this year.