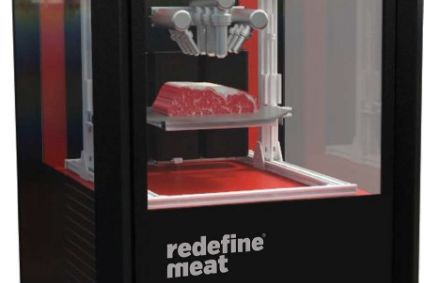 Andy Coyne looks at 3D printing technology and considers its ramifications for the meat – and meat-alternative – industries.
When a technology trend gets backing from both private equity and Big Food, it is worth sitting up and taking note.
And when that technological breakthrough promises to revolutionise the way alternatives to meat are produced within a few short years it becomes clear why the money men and large manufacturers are getting so excited.
3D printing technology is still in its infancy but things are developing rapidly and investment money is coming in to speed up the process even further.
Right at the forefront of this charge is Israel-based Redefine Meat, which says it has developed a solution that "combines a proprietary semi-industrial 3D digital printing platform – in fact, one of the world's fastest 3D printers – a 3D meat modelling system and plant-based food formulations".
In layman's terms, Redefine Meat has created equipment that allows it to create finished food by 'additive manufacturing' – atom-by-atom or ingredient-by-ingredient layering of an object based on a digital file.
This month, Germany's largest poultry company PHW-Gruppe joined a US$6m funding round for Redefine Meats led by London-based investment firm CPT Capital, the investment arm of the family office of UK businessman Jeremy Coller, which has also backed companies like Beyond Meat and seafood-alternative business Good Catch.
Redefine Meat said it will use the investment to finalise the development of its "revolutionary alternative-meat 3D printer", which is set to be launched next year.
This is interesting because until recently people thought of 3D printing of food as a gimmicky technology that could nevertheless maybe one day create a steak in the lab – in the way that clean meat companies are trying to do using animal cells – but those businesses involved with this technology now have their sights firmly set on the meat-alternative suppliers.
And given the rapid growth seen in that area, it is perhaps no surprise that new backers have got this segment in mind when opening their wallets.
Costa Yiannoulis, the CPT Capital investment director and a now a director of the Redefine Meat board, said: "From very early on, it was clear that their unique approach has tremendous merits and has already produced some of the highest quality alternative meat products that we have ever encountered."
And PHW-Gruppe, like many meat companies, is keeping a close eye on developments across meat alternatives. In January 2018, PHW-Gruppe backed Israeli 'clean meat' business SuperMeat, which produces "clean meat" by growing cells extracted from chickens.
PHW-Gruppe CEO Peter Wesjohann, is impressed with Redefine Meat's technology. "There is currently no other company that has demonstrated such an impressive development in the field of 3D-printed meat. The PHW Gruppe sees Redefine Meat as a strategic investment, especially regarding the future product development for the European market and our broad distribution network," he said.
Eshchar Ben-Shitrit, co-founder and CEO of Redefine Meat, which was only founded last year, says the company wants to use the investment cash on its technology to help it develop, produce and scale its offering.
Working with chefs and butchers, Redefine Meat has already demonstrated various 3D-printed products.
"The products created in the lab are good enough for restaurants and have already been served to hundreds of people in Israel," Ben-Shitrit tells just-food.
He accepts it is a difficult concept to understand. "It's difficult to explain to people what we are doing but then you don't know how a lot of your food is produced," he says.
"What we are doing is a different way of developing food. Printing is just a headline. Most of it is additive. You start off with something small and by adding things make it big. Instead of mixing ingredients together we compile them, we build a file and determine what the ingredients will be. It is really a robot that knows how to transform orders into actions."
As well as the science behind 3D printing, food companies will be just as equally weighing up its potential. Unsurprisingly, Ben-Shitrit talks up the technology's potential.
"It is a superpower over food as it gives us total control over what we eat," he says. "No technology currently available in the food sector would allow you to do that."
Barcelona-based Novameat is another business at the forefront of this technology and, like Redefine Meat, it has recently received an injection of capital, in its case from foodtech investment firm New Crop Capital.
Novameat came to attention through the production of the world's first 3D-printed plant-based beefsteak in 2018. The company, founded by biomedical engineering specialist Giuseppe Scionti, plans to use its new funds to accelerate the development of fibrous-textured meat replacements.
It is this fibrous texture point the 3D printing businesses see as their ace card.
Scionti says: "They [the plant-based meat companies] want to create something fibrous and that is the advantage of this technology.
"They use extruders and they want the technology to help them avoid the use of soy and wheat gluten.
"Plant-based meat manufacturers can have access to something that creates the texture and taste of a steak"
"They want to use pea protein and rice protein and that doesn't work with their extruders. Our technology can be used to create fibrous or muscle-cut meat or meat substitutes which would work with their machines. Plant-based meat manufacturers can have access to something that creates the texture and taste of a steak."
At Redefine Meat, Ben-Shitrit sees great potential in this area.
"I believe the most important industry in our time is meat alternatives. More than electric cars or cyber security or anything else," he says.
"The process we use would work for meat but alt-meat or plant-based ingredients are available and cheap."
Novameat says its micro-extrusion technology can also help reduce costs, because it speeds up the time to create meat substitutes.
But when are we likely to see this technology being used in the food industry on a meaningful scale?
Scionti says: "The next step will be end of 2020 to scale this up. We wanted to have some lead users and they are restaurants here in Barcelona and in Italy.
"The new investment allows us to scale up. We are building a pilot plant. To have that all ready will probably take until the end of 2022. We have done this on a small scale and want to demonstrate that it can be done on a large scale."
Ben-Shitrit says: "Early next year we will start testing. We are in advanced negotiations with potential partners. By the end of next year there could be machines in customers' facilities."
But above and beyond alt-meat companies, who are those customers likely to be?
"'Big Meat' is looking at alternative proteins so they might use our technology," says Scionti. "New Crop Capital has invested in cell-based companies so these could be clients of ours. They need to show their investors they can provide something that is consistent and they are still limited to using soy extrusion like everyone else. Soy doesn't work well with steaks."
Ben-Shitrit believes the foodservice channel is the obvious place to start looking for customers for this technology.
"I think the products will be in foodservice before retail," he says. "We are working on how a retail supply chain operation would work but it makes sense to start it with the help of chefs and butchers and restaurants. Israel will be our first market as meat prices are extremely high and the percentage of people looking for alternatives is one of the highest in the world."
Roisin Burke, a 3D printing expert at Ireland's Technological University Dublin, is in no doubt the technology will take off.
"It can develop any recipe you like as it uses compounds as building blocks to create a new food that doesn't exist. It can be designed anyway you want and it can make sure the protein content is the same as meat," she says. "The technology has become more sophisticated and it's getting cheaper all the time. Chefs are becoming involved as well so the food is tasting better."
Burke sees other applications beyond manufacturers of meat alternatives.
"It can provide personalised recipes which could be useful in old people's homes or hospitals or even in high-end dining," she says. "It could also help with food waste. Stuff is being thrown away which could be reformed into another shape."
And the investment that has gone into the companies behind this technology is likely to speed things along.
"There is still a lot of work ahead but our partners will push us to be quicker to market," Ben-Shitrit says.