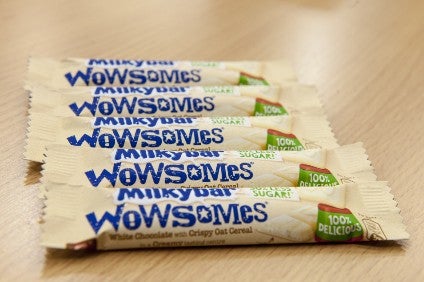 Nestle has launched an addition to its Milkybar range containing 30% less sugar than a comparable ordinary chocolate bar. Ben Cooper looks at the technology behind Milkybar Wowsomes and assesses its potential to be used more widely in the confectionery sector and other food categories.
The drive to cut sugar consumption, it is said, could take as a useful model the successful campaign to reduce salt consumption in the UK. The launch last month in the country – and in Ireland – by Nestle of Milkybar Wowsomes, advertised as containing 30% less sugar, shows how an idea used to reduce salt levels in foods can be applied to sugar.
Nestle is using a new type of sugar it has developed called "structured sugar", which it describes as "an amorphous and porous sugar made with all-natural ingredients". Amorphous sugar dissolves faster in the mouth, Nestle explains, effectively providing more sweetness from a given amount of sugar.
Innovative…
The idea of changing taste profile by adapting the particle shape or structure, a process already being used in salt reduction, has been discussed for some time as a possible means of reducing sugar content in foods, but Nestle is the first major company to apply this thinking in a product launch.
"Nestle has stepped outside of the realm of conventional sugar reduction with its new structured sugar," says Professor Kathy Groves, head of microscopy at Leatherhead Food Research.
Nestle's structured sugar is produced by spraying a mixture of sugar, milk powder and water into warm air which dries it. "Spray drying is a technique commonly used to prepare dry ingredients," Prof. Groves says. "Nestle's skill has been to develop a method which co-dries the sugar, milk powder and water in a way that the sugar remains amorphous and stable."
It is not only Nestle's technological breakthrough that has impressed experts but also the speed with which it has brought this innovation to market. Nestle only began work on the new technique in 2015.
"It's a great example of an accelerated innovation programme meeting a real consumer need"
Describing the new technique as "a great step forward", food technology consultant Steve Osborn, a director of UK-based Aurora Ceres Partnership, says: "It's very exciting to see products already on the market, since we only heard about this sugar innovation back in late 2016. It's a great example of an accelerated innovation programme meeting a real consumer need and delivering value at the same time."
"We have worked very quickly to make this breakthrough and then apply it to a product so soon," Rob Brown, marketing manager for confectionery at Nestle's UK business, tells just-food. "Nestle's unrivalled research and development network and strength in innovation is incredibly important to reducing the sugar in our products."
A key advantage of achieving sugar or salt reduction by adapting the particle structure or size is it provides a "clean label" solution. Nestle stresses the 30% reduction was achieved without the use of any artificial sweeteners, claiming the technology could deliver up to a 40% sugar reduction in products such as chocolate.
"The next step will be to continue our research and development so that we can use the technology in other products and other types of products," Brown says.
… but applications limited
However, the technology can by no means be used universally to reduce sugar in processed foods. The structured sugar particles are only stable in dry products so it will not work in products such as sauces or soft drinks, as the structured sugar particles would simply dissolve and the sensory characteristics created by the altered structure would be lost. In chocolate, Prof. Groves explains, the structured sugar would be added after the refining process. In order to achieve the desired effect, the structured sugar has to dissolve in the mouth.
"It's also difficult to see how the technology could be applied to cakes and biscuits as the sugar in these products is typically dissolved during manufacture," she says.
For the same reason, it would be ineffective in confectionery products such as hard-boiled sweets, fondants or fudges, Osborn asserts. However, it could be used in frostings, dustings or fillings for cakes and biscuits, and for sugar-dusted sweets.
The wider application of this specific process may also be limited by intellectual property rights. Nestle said it had filed a number of patent applications in relation to the technology but declined to provide any further details. Asked whether other companies would be able to use the process, a spokesperson for Nestle's UK arm says: "This is only the very first use of the technology and we are concentrating on developing it further, in-house, for now."
The breakthrough has, however, shown an approach based on changing particle structure can work and is likely to prompt other companies to step up their efforts in this area, not least in the confectionery sector. "The confectionery industry will have been watching with interest," Osborn says.
The impact on confectionery sector
While wider applications for structured sugar may be limited, Nestle's choice to apply it first to a mainstream children's chocolate brand underlines the potential structured sugar – and possibly other techniques that maximise taste profile by altering the structure of sugar particles – have in reducing sugar levels in confectionery.
"This is a significant moment for the confectionery sector in responding to health concerns," says Tom Vierhile, innovation insights director at market research firm GlobalData.
Sugar reduction in confectionery to date has been focused on shrinking portion sizes, which can alienate consumers, Vierhile explains. "Confectionery companies are already committing to use less sugar in their products. We think that ingredient innovations like structured sugar are going to make it a lot easier to achieve that goal, while at the same time limiting calls on the consumer to sacrifice by consuming less product."
Vierhile and Osborn stress the clean-label advantages of the new technology, while the latter makes a further observation about chocolate labelling.
"One of the key benefits here is its ability to manoeuvre around the strict chocolate and cocoa regulations, which control the addition of many bulking agents to chocolate. This ingredient is only, albeit manipulated, sugar, so provided the proportions still stack up, the product is still legally chocolate."
Both also agree the prospect of the UK's sugar levy being extended from soft drinks to confectionery makes it a timely moment for this new technology to emerge.
The confectionery industry was "fortunate", to avoid being subject to the levy, Vierhile argues. "We think that it may only be a matter of time before confectionery is subject to a sugar tax of its own." He believes the same may be true for the voluntary sugar reduction targets set by the UK government being made mandatory. With the government seeking a 20% reduction in sugar content by 2020 across nine product categories, including confectionery, Nestle is going to be "ahead of the game".
Healthier confectionery contradiction
Sugar reduction in confectionery has been challenging not least because consumers expect it to be there and in considerable quantities. Consumers are specifically seeking indulgence and are looking for the luxurious mouthfeel that high sugar and fat combined give, which is the primary reason confectionery has not been a focus for reformulation to date. Healthier confectionery is a pretty hard sell.
However, if technology like structured sugar can deliver the indulgent sweetness and mouthfeel consumers are seeking with significantly less sugar, could it change the consumer mindset and make healthier confectionery more marketable?
"It may be a stretch to suggest that an innovation like structured sugar can create a 'healthier confectionery' segment"
Vierhile has his doubts. "It may be a stretch to suggest that an innovation like structured sugar can create a 'healthier confectionery' segment, as confectionery by its very nature is indulgent and the mixture of health and indulgence properties sends mixed signals. Companies are going to have to walk a fine line with this sort of innovation."
Nevertheless, consumers are increasingly looking to reduce sugar consumption and if manufacturers can make reduced-sugar chocolate taste good enough, today's consumers may be more persuadable than previous generations. According to GlobalData's 2017 Q4 consumer survey, 81% of UK consumers say they are paying attention to sugar or sweeteners in food and drink products, though this is actually below the figure for consumers globally which is 87%.
Moreover, while consumers may be put off by the idea of a reduced-sugar confectionery product, this assumes the consumer is actually told.
The first use of this technology may have been in a product overtly marketed as containing 30% less sugar but much of the reformulation to reduce levels of nutrients of concern like salt and sugar is done without the consumer being alerted. Indeed, 'reformulation by stealth', whereby small incremental reductions, all but imperceptible to the consumer, are made successively over time, is considered a highly effective way of improving the nutritional profile of food products.
Nestle's structured sugar, and possibly other yet-to-be-developed methods of restructuring sugar particles, could be used in the stealth approach. Using it in dustings and frostings on cakes would be a case to point. Here it could form part of an overall sugar reduction for a cake, combining with a reduction using other ingredients for the cake itself.
The list of products structured sugar will not work in is far longer than the one for products where it will be effective but it is no surprise the new technology does not provide all the answers. The multi-functional properties of sugar have meant sugar reformulation simply does not lend itself to the broad application of a single widely applied solution. The huge plethora of sugar replacers that have been developed, and the fact they are often used in combination to substitute effectively for what sugar does on its own, bears witness to the challenge of sugar reduction.
However, if in its infancy restructured sugar technology can provide substantial sugar reductions in chocolate, a product clearly linked with unhealthy diets and obesity, while playing a supporting role in other areas, it can only be seen as a significant new addition to the reformulator's armoury.