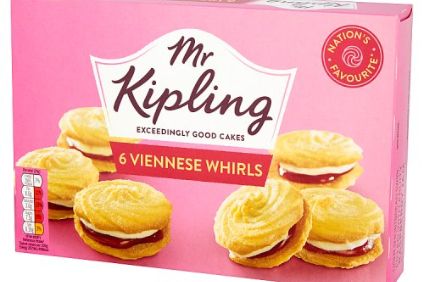 It's difficult to know what to read into the optimism displayed by new Premier Foods boss Alex Whitehouse when he talked through the first-half results. Perhaps he already knows the outcome of a strategic review, which, whatever way the wind blows, will determine the future direction for one of the UK's largest food manufacturers. Simon Harvey looks at the latest developments.
A year into a strategic review, Premier Foods looks poised to finally make an announcement after new boss Alex Whitehouse said it was "nearing a conclusion", with industry watchers more likely focused on the outcome than the better-than-expected first-half results.
That said, however, the share price made healthy gains in London on Tuesday (12 November) as the owner of Mr Kipling cakes and Sharwood's cooking sauces reported further progress in cutting its huge debt load, although the company is still saddled with a pension fund deficit of more than GBP400m (US$513.3m). Those factors have weighed on Premier Foods' market performance for some time.
But with the negatives still outweighing the positives at Premier Foods, one has to question why the stock held single-digit gains throughout the day on Tuesday, more than the benchmark 'Footsie' small cap index on which it is listed. Was it more to do with broader market optimism UK Prime Minister Boris Johnson will win a majority in December's General Election, or because some investors are starting to get an inkling of what will come out of the strategic review?
Speculation has been rife of late as to whether Premier Foods will dispose of brands, some of which are generally regarded as out of tune with consumer trends and reflect a portfolio which stretches right across the grocery store with no real niche as such. However, the company had already whetted appetites by putting its Ambrosia custard brand on sale in November last year, only to pull it three months later amid low valuations.
Or will it choose to put the whole business on the market? – one of the options thought to have been pushed for by two of Premier Foods largest shareholders, Oasis Asset Management and Paulson & Co. – the other being a piecemeal sell-off of brands such as Batchelors soups and Angel Delight desserts. 
The crux behind that decision, is, according to Shaun Browne, a M&A adviser who jointly leads UK corporate finance at investment bank Houlihan Lokey, whether those same shareholders "believe the sum of the parts is worth more than the whole".
"More and more of the big food companies these days are moving away from the old conglomerate model into a very specialist model, where each food company says we are the experts in particular categories, such as produce or confectionery or pet food," Browne tells just-food. "I would absolutely expect Premier to divest assets as the activist shareholders believe the individual parts are worth more than the whole.
"You look at Premier Foods and you ask yourself what do they focus on? They have cakes, grocery, soups, a little bit of everything. There aren't many food businesses that have such a broad array of activities and lack of focus."
So, with the experience of Ambrosia behind it, do a host of executive appointments announced in conjunction with the first-half results – combined with a recently installed new finance chief and chairman – suggest Premier Foods will soldier on as it is, using product innovation among its existing brands to create value-added enhancements? It recently tapped into the fast-moving trend of meat-free with the launch of a plant-based line, Plantastic.
Premier Foods on Tuesday revealed it had created new positions for a chief marketing officer, a chief customer officer and an operations director. All were internal appointments with valuable experience at Premier Foods. 
Meanwhile, two managing director roles have been eliminated. That of the UK division formerly filled by the new CEO, and the head of the international unit, which returned to growth in the second quarter and a business area Whitehouse said remains "highly strategic".
Yilmaz Erceyes becomes CMO (formerly marketing director for the UK), while Richard Martin will take on the CCO role from group commercial general manager. Paul Thompson becomes group operations director, having previously held the same position for the UK business.
Clive Black, a consumer goods analyst and head of research at Shore Capital, writes in a research note: "More broadly, new management seems to be bringing more energy, focus and pace to the group, which for the new team is welcome, albeit it needs to be sustained. Innovation is seemingly evident, including now the vaunt of plant-based products, whilst the important strategic review is nearing completion. Much, frankly, hinges upon that for the future profile of this moribund stock."
Should Premier Foods opt for the asset-disposal route, which would likely involve the sale of factories and job losses, it would reduce overheads and at the same time generate cash that could be reinvested or used to pay down debt. But then what would it be left with to keep the company a going concern?
If it decides to sell the business as it is, then potential suitors would surely be dissuaded by the pension fund liabilities and what will remain a hefty debt pile, despite the latter falling by GBP38.8m in the half to 28 September to GBP470.7m. And combined with a pension deficit of GBP481m, you'd be looking at an acquisition price of almost GBP1bn just to cover those costs.
An approach by US spice maker McCormick & Co. to buy the company in 2016 for 65p a share (versus 37p today) would have valued the business at GBP1.5bn including debt. 
Black tells just-food that if Premier Foods decides to soldier on, then it would have to grow the business organically in order to pay down debt. That would be highly problematic and difficult to achieve given the size of its liabilities.
"Premier Foods has to reduce leverage as they've got too much debt," he says. "They have no choice. On balance it's a challenge."
The review "probably will involve key disposals", with Mr Kipling looked at for some time as a possible divestment target, he adds, whereas if an outright sale was on the cards it "would have happened before now".
"I don't think there's a rabbit to pull out the hat," Black concludes.
Still, progress has been made on deleveraging, with Whitehouse saying the company is on target to meet a net debt-to-EBITDA goal of three times by the end of the year, from 3.2 times last year.
Jonathan Buxton, a partner at UK-based M&A advisory firm Cavendish Corporate Finance, says Premier Foods may be left with few options.
"Some of that [asset disposals] is a necessity if you have high levels of debt," he tells just-food. "Your sales aren't coming through in quite the way you expected, then you could well be in a position where you are almost reluctantly having to say that is a bit less core so we will sell it on."
In terms of leverage, he adds. "I think it's the flip side to you building a giant group by using your relatively cheap debt to buy a load of companies, you integrate some of them, and then you can end up in a slightly over-leveraged position as a result of that and need to sell off another part."
Whitehouse threw another element into the equation on Tuesday, when he said there are "options of cash deployment in the short and medium term", which on face value could have been interpreted as an acquisition opportunity or even a sales tactic directed at would-be buyers.
But on a follow-up call with analysts, he clarified his intentions when questioned during the Q&A: "We are getting ourselves into a position now where we have got options. We've clearly got a model that works really well, so investing back in the model and accelerating brand growth is clearly one of the options. Actually paying down some of the first bond is an option for us but ultimately, as we get down to below three times net debt-to-EBITDA, we no longer feel prohibited from paying a dividend."
And Whitehouse said the mainstay UK operations delivered a ninth consecutive quarter of growth "driven by the brand-growth strategy we've got in place".
In innovation, Premier Foods seems to be trying to embrace the trends in health, snacking and premiumisation, perhaps in an effort to breath new life into some of its tired brands and make them a more attractive proposition as singular units or for Premier Foods as a whole should it opt to put the business on the market.
It is launching Ambrosia Light with 30% less sugar and 30% less fat, and taking Sharwood's into snacking rice pots, along with bringing Cup Noodles from Japan's Nissin Foods – Premier Foods' largest shareholder – to the UK. A 'signature' range of premium Mr Kipling cakes is also being rolled out.
Whitehouse says the new plant-based Plantastic range, which includes flapjacks, cakes and grain pots, was developed with one of the UK's big four supermarkets in regards to the initial launch but is due to roll out nationwide with all other retailers.
Premier Foods reported a 2.4% revenue increase in the first half to GBP366.7m, led by a 4.3% gain in the branded segment, although trading profit was essentially flat at GBP51m.
EBITDA edged up 1.9% to GBP61m, while adjusted profit before tax climbed 5% to GBP31.7m. Profit after tax was GBP12.3m.
"The road to recovery continues to be trod," writes Martin Deboo, an equity analyst at Jefferies. "New CEO Whitehouse is streamlining his team and growth is both broad-based and strong in the right places."   
A new three-pronged focus, a fresh management team and underlying objectives may also suggest Premier Foods might just surprise markets by keeping the status quo, albeit it could still let one or two brands go.
Whitehouse revealed a strategy to pursue "sustainable and profitable revenue growth; cost control and efficiency (including investment in factories); and cash generation".
Meanwhile, the new but interim finance chief Duncan Leggett said the company is "taking a fresh look at the pensions set up".
Nevertheless, Browne still expects some brands to go in any shake-up.
"You've now got two activist shareholders who are heavily influencing the board and they have been very vociferous to say that they believe the sum of the parts is worth more than the whole. I have absolutely no doubt that they will look at, in the way they looked at Ambrosia, selling Kipling, Batchelors, probably anything.
"Oasis and Paulson & Co. believe that if you were to sell each individual factory in Premier Foods you would end up with a greater valuation than the current enterprise value of the business, because the shares are undervalued."