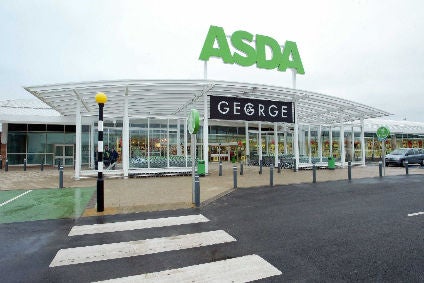 August saw the announcement of an eighth consecutive quarter of declining sales at Asda, the UK arm of Wal-Mart. Across the Atlantic, Canada's Couche-Tard continued its deal-making. In Europe, France's Casino outlined plans to launch the Leader Price banner in Italy. And in Asia, Japan's AEON indicated it plans to enter Myanmar and India's Future Group set out an expansion programme for its Nilgiris supermarket chain.
Precious little summer cheer at Asda
August included some stark figures from Asda, the under-pressure arm of Wal-Mart Stores', the world's largest retailer.
Asda, the UK's number two grocer, saw its comparable sales, excluding fuel, drop 7.5% in the three months to the end of June, the company's worst quarterly performance.
In July, Sean Clarke, the former head of Wal-Mart's business in China, took the helm at Asda, replacing (the unrelated) Andy Clarke, who had worked for the retailer for 20 years, becoming its chief executive in 2010. The results cover the last quarter before Sean Clarke took the reins but underlined the rut in which Asda resides; it was the eighth straight quarter of declining like-for-like sales for the retailer.
"In the UK, fierce competition and food deflation continue to challenge the market, significantly impacting traffic and comp sales trends," Wal-Mart CFO Brett Biggs said when the numbers were announced.
However, not all industry watchers were convinced about that analysis. "While deflation in food continues to remain an issue for Asda, it has affected its rivals no less, and a more positive performance from some of its competitors suggests this is beginning to become a weaker argument to explain poor trading," Verdict Retail analyst Greg Bromley wrote. "The other crucial factor impacting Asda's recent trading has been its inability to ward off the threat of the discounters. With low prices Asda's USP, it has in many ways been hit hardest of its Big Four rivals. However, the threat of the discounters is now nothing new, and the scale of Aldi and Lidl in the UK, both in terms of stores and market share, makes them established players rather than the market disruptors they were just a few years ago. While rivals Tesco and Morrisons also continue to be hit by the discounters, their efforts to offset this threat appear to be proving relatively more fruitful."
Biggs outlined what Wal-Mart and Asda would do to try to improve its performance. "Our strategy remains focused on improving retail basics; simplifying and strengthening the offer through improved availability and assortment discipline, reducing costs through our cost analytics programme and driving sales through strategic price investments where we remain committed to the previously-announced five-year GBP1.5bn price investment."
Looking at Wal-Mart's group numbers for the second quarter, the retailer reported a 1.6% rise in comparable sales in the US. Neil Saunders, CEO of retail analysts Conlumino, said the result represented "good momentum on the prior quarter". He added: "The grocery business, which at total market level remains highly pressured and competitive with a good dose of deflation, was a winner for Walmart over the period with trade strengthening since the first quarter. Both sales and traffic remain positive for the grocery business. This is an impressive outcome given the continued rise of cheaper food players like Aldi and, the admittedly more range-constricted, dollar stores."
Internationally, nine of Wal-Mart's 11 divisions reported rising comparable sales, with China joining the UK in the negative column, although sales there were down only 0.5%.
Couche-Tard adds to c-store muscle through M&A
The Canada-based convenience store retailer announced its latest acquisition in August, with a move for US peer CST Brands.
The deal, announced on 22 August, valued CST Brands at US$4.4bn. CST Brands, which is based in Texas, has over 2,000 stores throughout the south-western parts of the US. Couche-Tard also pointed to CST Brands' presence in the state of New York and in eastern Canada.
"With this transaction, we would strategically strengthen our positioning in both the "sun belt" and the east coast of North America," Couche-Tard president and CEO Brian Hannasch said. The deal is expected to close in early 2017.
Speaking to analysts at the end of August when Couche-Tard announced its first-quarter results, Hannasch also pointed to the acquisition strengthening the business in the Atlantic and Quebec provinces in Canada. Couche-Tard agreed to sell a clutch of CST Brands' assets, including some stores, in Canada to satisfy anti-trust concerns.
CST Brands had been undergoing a strategic review and concluded the process by finding a buyer and analysts covering that business welcomed the agreements. "We believe this represents a solid deal for CST shareholders," Wells Fargo analyst Bonnie Herzog wrote.
In the last 12 months, Couche-Tard has been on something of an acquisition spree, with the CST deal the fourth notable transaction the company has announced – alongside the purchases of Irish convenience and fuel retailer Topaz, Shell's retail business in Denmark and a clutch of Esso stores in Canada. At the end of August, Couche-Tard also announced a deal to buy 53 sites in the US state of Louisiana. Some investors may have slight concerns about Couche-Tard's ability to digest all these new assets but the retailer sought to soothe any anxiety on the results call.
I think we've got a good track record for integrating over the last ten to 15 years," CFO Claude Tessier said. "One that we spend a lot of time internally talking about and planning as these opportunities became available. In a controlled environment, these deals wouldn't be that close together, but with that said we take the opportunities when we think they are good values for our shareholders and we think we can handle them prudently. The different geographies are very important to us, it allows different management teams and different shared service networks to work on these to integrate them."
Casino hopes (Leader) Price is right in Italy
After a year of discussions, August saw Casino, the French retailer, announce plans to take its Leader Price chain in Italy.
Casino is to work with Italian retailer CRAI and the companies plan to open the first Leader Price stores in the country in the first half of next year.
Italy will become the fourth market for the Leader Price chains. Outside France, there are Leader Price outlets in Belgium and Poland.
"This project marks the continuation of the international development strategy for the Leader Price concept in growth markets for discounters, based on the expertise of an independent local player," Casino said.
Industry analysts at the UK-based IGD said conditions in the Italian grocery market are encouraging the development of discount chains.
"Economic conditions remain challenging, maintaining a period of difficulty for suppliers and retailers looking to drive volume and value growth. These conditions, exacerbated by high unemployment levels, are likely to persist in the short term," it said.
"Leader Price's private-label focus should help it in Italy, as retailers look to improve price perceptions and create points of difference from their rivals. Stores stock approximately 3,500 SKUs and cover 90% of food needs. Leader Price used to be unique in being a 100% own-brand discount banner, but some brands have now been introduced."
Aeon marches into Myanmar
There was notable news in a closely-watched developing market last month. Aeon, one of Japan's largest retailers, is set to become the first overseas retailer to open stores in Myanmar since the south-east Asian economy started to liberalise five years ago.
Aeon has set up a venture with Creation (Myanmar) Group of Cos, a local business that runs 14 supermarkets under the Orange banner in the north of the country. Myanmar will become Aeon's fourth market outside of Japan – it has stores in China, Malaysia and Vietnam.
The company is looking to expand its business in Asia and sees potential in Myanmar. "Followed by the economic liberalisation after the transition to the civilian government, the modernisation of the retail industry has proceeded, while the middle-class population has been on the increase in Myanmar. With the population of 53 million people, the real economic growth rate in the country is 8.3%, which is dramatic growth," Aeon said.
The venture in Myanmar, Aeon Orange Co. Ltd., will own the 14 supermarkets and will start work on opening its first store in the country by the end of 2016. "Aeon believes that cooperation with CMGC is indispensable, as it has the retail business infrastructure in the country and is also familiar with the customer needs which differ from region to region."
It is likely it wil take months, if not years, before Aeon could enjoy a profitable business in a market has rapidly-developing as Myanmar but its venture will be closely watched, not just by other retailers, but also by food manufacturers analysis how the country's economy is developing.
Future Group sets out stall for Nilgiris chain
In India, Future Group, one of the country's largest retailers, reportedly outlined its ambitions for its Nilgiris supermarket chain.
Future Group, which acquired Nilgiris in 2014, runs around 160 of the outlets. Speaking to the Press Trust of India last month, Future Group CEO Kishore Biyani gave an indication of the retailer's plans for the chain.
"We have a target to have at least 1,000 shops in southern India gradually in next three years," Biyani said. Future Group plans to open up the chain to franchise partners, he added.
Reflecting on the plans, analysts at the IGD said: "The expansion, follows the growing trend in Asia of retailers growing their networks via small neighbourhood supermarkets, in favour of mass hypermarket expansion."
Later in August, it was reported in India Future Group was in early talks to merge with local rival Aditya Birla Retail to buy its More supermarket business. "While the discussions are still exploratory, the Future Group is preparing to conduct a due diligence exercise for a possible merger or acquisition," an unnamed source told The Economic Times newspaper.
It is unclear what parts of the More business are the subject of any talks. Aditya Birla runs supermarkets and hypermarkets under the More banner.