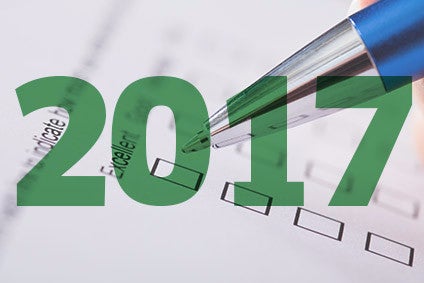 In November and December, we ran our annual Confidence Survey to see how our international food industry readership saw 2017 unfolding. Here we present the results of the section of the survey that looked at international investment, emerging markets, M&A, innovation and competition.
A solid 45% of respondents said their companies would up their spending on growing outside their domestic markets in 2017.
However, that compared to the 52% of those surveyed for last year's Confidence Survey who said their businesses would increase their investment in this area.
The 2017 survey saw 29% reveal their companies would maintain the level of investment put in to international expansion at 2016's levels, versus 17% a year earlier.
Could the results be a reflection of the greater uncertainty in the business community caused by the UK's vote for Brexit and Donald Trump's victory in the US Presidential election? Quite possibly.
Europe led the way again, with just under half including the region in their roster of international markets for investment in 2017.
When comparing the results of the 2017 and 2016 surveys, the most notable change is the proportion of those that chose South America. A year ago, 9% selected the region; the 2017 survey saw that jump to over a fifth.
At face value, it is unsurprising that, despite the recent (relative) easing in China's economic growth, the country led the poll on which emerging markets would offer our readers the greatest opportunities for growth in 2017.
However, while this year's survey had China top and India second, the 2016 survey had the two emerging market powerhouses the other way around. 
Our poll was held as India was adapting to the shock decision to pull from circulation INR500 and INR1,000 banknotes. Could India's demonetisation move have dampened our readers' outlook on the prospects for that market in 2017? Or has there been a rebound in confidence in China?
Confidence in Vietnam appears to have soared year-on-year, with the south-east Asian market the third-most selected emerging market in our 2017 survey, up from eighth a year ago.
A smaller proportion of respondents selected Egypt, little surprise with the country in 2016 suffering from inflation that reached a seven-year high, hitting consumer spending.
Brazil, Russia and Turkey were all chosen by a smaller chunk of those surveyed. November saw Brazil cut its growth forecast for 2017. Russia has indicated some optimism about its economic prospects in 2017 but the country's economic performance has been muted in recent years. And the recent political problems in Turkey are no doubt weighing on investment decisions among multinationals.
Taking the two questions on M&A together, on the feedback on whether respondents saw greater opportunities for M&A, the answers betrayed a slight downgrade in expectations.
Twelve per cent expected there to be fewer chances for deal-making, compared to 8% in last year's survey.
Some 35% of respondents expected there to be more opportunities for transactions, compared to 37% of those surveyed for the 2016 poll. 
Just over half (53%) expected there to be no difference, versus 55% a year ago.
And there was a drop in the proportion of respondents that said their businesses would be more willing to use M&A to grow in 2017, with 28% revealing their companies would be more ready to do deals, compared to 34% in the 2016 poll.
Again, perhaps these results are an indication of a greater feeling of uncertainty among executives.
Turning to inorganic growth and the three questions in our survey that looked at innovation.
There was an expectation of at least a holding steady of spending on research and development and innovation.
Over half (57%) said their businesses would maintain their investment at 2016 levels, with 40% saying their companies would up their spending.
Significantly, just 3% of respondents said their companies would reduce their spending in this areas, versus 10% in 2016.
Where respondents were asked to specify the trends that would drive their innovation, health – unsurprisingly given how consumer demand is evolving in a swathe of markets – again topped the poll.
However, price, free-from and sustainability were all chosen by a notably greater proportion of respondents. 
Some 43% selected price as a – or one of – the factors to drive its company's innovation in 2017, compared to 29% a year ago. 
The number that nominated free-from as a trend rose from 24% in the 2016 survey to 40%.
Sustainability was also selected by 40% of respondents in this year's survey, compared to 29% a year ago.
The results speak to the strategy of catering for bifurcated markets, with price an important factor for consumers – perhaps again with an eye on what could be growing consumer uncertainty in some western markets in the wake of Brexit and the Trump victory – but also a need to tap into trends that could enable companies to develop products that can demand a higher price.
Respondents believe the competition from upstart rivals will grow in 2017.
Some 61% said competition from fledgling business will rise, compared to 57% in the 2016 survey. Last year, nine per cent believed there would be less competition; that dropped to 4% this year.
Consumer demand is evolving rapidly in a number of ways. Senior executives at major packaged food companies in the US have queued up in recent quarters to point to the "unprecedented" change being seen in the sector there, from the rise of natural and organic products, to the promiscuity of where consumers shop.
Similar trends are being seen in Europe and, even in emerging markets, consumers are, some have argued, showing a greater interest in areas like sustainability.
Often it is smaller businesses that are more able to respond to the evolving consumer landscape more quickly.