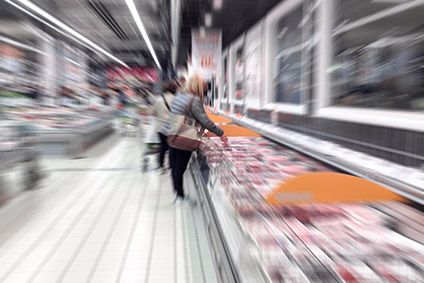 The food industry is going through a period of change not seen for generations – and we asked a series of questions about how you plan to continue trying to navigate this state of flux next year. The results are in and, in a series of articles, we weigh up how you feel about the year ahead. First up are your thoughts on areas including sales, profits and consumer confidence. Ben Cooper reports.
Do you expect your revenue to grow in 2018?
Given the uncertainty created by the Trump presidency and by Brexit showed no sign of abating as 2017 came to a close, it is no surprise to find the revenue growth outlook in the just-food 2018 Confidence Survey is less positive than in the surveys for 2017 and 2016.
Some 32.1% of respondents anticipate revenue growth of up to 5% in 2018 – but that is lower than the 2017 survey when 38.8% of respondents forecast growth in that range.
Finding the strongest consensus on this range forecast is not surprising as it is consistent with market trends. According to Allied Market Research data, the global packaged food sector is growing at a compound annual growth rate of around 4.5%.
Some 17.9% forecast a rise of 6-10%, while 19.6% anticipate revenues will increase by more than 10%, both figures roughly on a par with those recorded a year ago. The percentage of respondents forecasting a decline in sales for the coming year has risen marginally in this year's survey to 7.1%, from 5% for 2017.
Do you expect costs to increase or decrease in 2018?
In June, data from the UN's Food and Agriculture Organization's Food Price Index showed global food commodity prices were up 7% on a year earlier, led by wheat and meat prices – and the just-food Confidence Survey reveals continued upward pressure on costs is anticipated in 2018.
The proportion of respondents in our survey forecasting increasing costs in 2018 has risen to 75% from 69.6% in 2017 and 69.1% for 2016.
Going into 2018, only 5.4% of respondents predict costs will decrease, with 19.6% expecting costs to remain flat in the coming year.
That data point also suggests heightened concern over prices in comparison with the 2017 survey when 8.9% of respondents forecast a reduction in costs and 21.5% predicted no change.
Do you expect to grow profits in 2018?
At just over 55%, the proportion of respondents forecasting profit growth for the coming year is below the 60% of respondents forecasting profit growth in the 2017 survey. Both the 2017 and 2018 figures are also well below the 71.3% forecasting profit growth in 2016.
The proportion forecasting profit growth of up to 5% fell to 25.9% from 33.8% for 2017.
Nevertheless, the percentage of respondents predicting profit growth of 6-10% increased from 10% to 16.7%, while the proportion forecasting profit growth in excess of 10% fell to just under 13%, versus 16.3% a year ago.
How do you view the outlook for consumer confidence in your key markets next year?
The proportion of respondents forecasting a deterioration in consumer confidence in key markets is up sharply in this year's survey in comparison with the surveys for both 2017 and 2016.
That said, 49.3% of respondents predict an improvement in consumer confidence in 2018, while 21.9% forecast worsening confidence and 28.8% no change.
In the surveys for both 2017 and 2016, only around 13% of respondents anticipated worsening consumer confidence for the approaching year.
While the level of those surveyed forecasting an improvement is up from 47.3% in the survey ahead of 2017, the forecasts for 2018 represent a more polarised view on consumer confidence, with the percentage of respondents predicting no change shrinking from 39.6% last year.
Sharply contrasting outlooks could be a reflection of the variations between markets though there is a fairly consistent global trend with regard to consumer confidence.
The Thomson Reuters/Ipsos Primary Consumer Sentiment Index (PCSI) measures consumer confidence across the world by monitoring 24 countries. Not only did the PCSI hit an all-time high in September but only three of the 24 countries experienced a drop their own scores.
However, one of these was the UK where consumer confidence has been hit by Brexit concerns, inflation and sustained low wages growth.
Toby Clark, director of research for the EMEA markets at Mintel, told just-food in December low consumer confidence in the UK is likely to impact on the food industry in the coming year.
Do you anticipate a more challenging pricing environment in 2018?
Respondents to the just-food Confidence Survey a year ago forecast a challenging pricing environment in 2017 – and so it proved as the extended period of food deflation seen in numerous markets came to an end.
This year's survey suggests 2018 will offer no respite from the tough pricing conditions.
Some 75% of respondents anticipating a more challenging pricing environment in 2018, 19.6% forecasting no change from 2017, and only 5.4% predicting less challenging conditions.
Although a very similar pattern to the 2017 survey, this is in fact a more cautious outlook than seen in the 2017 survey, when 74.4% forecast more challenging conditions, only 3.9% predicted a less challenging environment and 21.79% anticipated no change.
How will you seek to change your prices in 2018?
A question asked in this year's survey and in the poll ahead of 2017. The just-food 2018 Confidence Survey points towards accelerating food inflation in the coming year, although it also reflects something of a mixed picture.
On the other hand, the proportion of respondents aiming to maintain 2017 prices is virtually unchanged from last year's survey at 30.9%.
Among those who said they would look to increase prices, the percentage of respondents anticipating raising prices by up to 9% is also on a par with the 2017 survey at 60.01%, versus 58.98% last year. That said, how that figure breaks down has changed.
Going into 2017, 28.2% anticipated raising prices by 4-9% but this year that proportion has risen to 36.4%. Furthermore, the percentage of respondents expecting to increase prices by more than 10% has almost doubled to 9.1%.
A comparison with the 2016 survey is also instructive, reflecting the change from a deflationary to inflationary pricing environment. In late-2015, a combined 50% of respondents to just-food's 2016 Confidence Survey aimed to keep prices stable (46.3%) or reduce them (3.7%) in 2016.
The following year, this fell to 35.9% (30.8%/5.1%), and going into 2018 it stands at 30.9% (30.9%/0%).
Will you be increasing your focus on improving efficiency in 2018?
Improving efficiency and driving down costs have been ongoing trends in the packaged food sector for a number of years and the just-food Confidence Survey suggests they will continue to be in 2018.
These results correspond closely to last year's survey when 79.8% said they would be focusing more on improving efficiency, 1.3% said they would reduce their focus and just under 19% said there would be no change.
Interestingly, that means the proportion of respondents saying they expect to increase their focus on improving efficiency has actually fallen for three successive surveys, having been at 83.6% for 2016.
Will your efficiency gains come more from internal efforts, external factors or both?
Historically, food companies may have looked almost exclusively at internal factors to drive efficiency rather than externally, but the importance being attached to external factors has been growing, a trend clearly reflected in successive just-food Confidence Surveys.
While the group forecasting efficiency gains will come from both internal and external factors has only has risen marginally in the 2018 survey, to 67.9%, other changes from the two previous surveys underline the continuing trend.
Not only has the proportion anticipating efficiency gains will come from internally-focused efforts fallen yet again, to 26.8%, but the percentage expecting efficiency gains in the coming year to come more from external factors has risen to 5.4%, from 1.3% for 2017 and 1.8% for 2016.
Given the close relationship between driving cost efficiency and improving resource efficiency, it is not surprising to see the same trend reflected in food companies' sustainability strategies with food companies looking to reduce environmental impacts across the entire value chain, involving and working with numerous external entities.