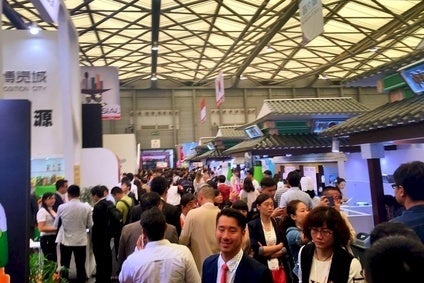 China's massive population base – of roughly 1.4bn consumers – rising urbanisation and an expanding middle class make it one of the most prized markets for international food manufacturers. But the competition to get noticed in this massive market is intense. Nowhere was this more evident than at this year's SIAL China trade show.
Staged last week from 6-8 May in Shanghai, SIAL China welcomed more than 2,700 exhibitors from around 90 countries. This year's event, a key date in the Asian food sector's diary, saw a 20% increase in attendance on 2014's levels attracting more than 55,000 visitors. It represented a chance for food manufacturer's from around the globe to make contact with regional trade buyers and unlock the potential of increasing export to China and other Asian markets.
In order to stand out at the show, international companies delivered products reflecting the interests of Chinese consumers.
Demand for products with a health and wellness message is gaining steam in China. As well as growing popularity of functional products (many of which incorporate traditional Chinese remedies such bird's nest or Fu-Ling as ingredients), a broader drive towards foods perceived as healthier – and safer – has resulted in growing demand in areas such as organic products.
As AT Kearney partner Torsten Stocker tells just-food: "Organic, although in its infancy is picking up momentum, driven in part by food safety and in part by general health / wellness concerns. In general, trends like this can quickly spread in China, as many consumers are ready to embrace what is good for them, and, at least in developed urban areas, affordability no longer creates barriers."
Pointing to trends such as high protein, paleo, vegan and casual dining, Stocker says Internet access has resulted in the globalisation of consumer trends in the food space. "You can find aspects of almost any global food trend in China as well, given the mix of online access and, at least in international cities, underlying base of demand from expats and overseas-educated Chinese."
Chinese eating patterns are also shifting towards an increased uptake of convenience foods and westernised snacks, particularly among younger generations of city dwellers. Traditional snacks, such as roasted sunflower seeds and dried sweet potatoes, are being challenged by western products like chocolates and potato chips. This westernisation of snacking habits, in conjunction with growing awareness of health issues, presents snack makers offering better-for-you alternatives an opportunity.
Elsewhere, China is witnessing massive demand growth in dairy products. According to official figures, in 2014 China imported 50.7% more dairy products than in 2013. And there is plenty of space to continue to grow the market with per capita consumption standing at just one-quarter of the global average.
The nutritious nature of dairy products mean they too feed into increasing demand for healthy foods from Chinese consumers. However, safety scares – including the 2008 melamine scandal – have tainted the sector. This presents international dairy companies able to leverage their food safety credentials with a unique opportunity to chip away at the massive market share controlled by domestic giants such as Yili and Mengniu. Imported dairy products can justify a significant price premium – as long as they also deliver on quality and authenticity.
Here is just-food's pick of some of the most interesting products on show in Shanghai.
Chong Ha Koreasme, cheese and meat snacks
Korean snack group Chong Ha Koreasme showcased its range of processed snack products in the Korean pavilion at this year's SIAL China. Snacking is a growth trend in China and popularity is rising among the younger generation of consumers. Chongha Koreasme manufactures a range of dried fish and jerky style products which offer a high protein better-for-you snacking option. These include baked bream chips with a blended fish flavour, FishMan fish snacks made with 80% fish meat and a cheese meat slice, a combination of jerky and cheese.
---
Vaasan Group, Finn Crisp
Vaasan Group's Finnish crispbread brand Finn Crisp was on display alongside four other Finnish companies who attended SIAL China in conjunction with Food from Finland. Food from Finland marketing manager Kati Kilpinen told just-food Finnish companies hope to leverage the reputation of Finnish food for being "pure and delicious". Vaasan has been making crispbread since 1904 and its heritage story – as well as its healthy snacking credentials – should play well with Chinese consumers. Finn Crisp products are high in wholegrains and low in fat and the company offers a range of products from thins to bite-sized flavoured snacks.
---
Pure Chocolate, truffles
Latvian chocolate maker Pure Chocolate expects to start exporting its products to China following a positive reception in Shanghai, where it displayed its chocolate truffles decorated with "natural fruits" and with "natural fillings". Sales director Peteris Zimants told just-food: "They loved our dark chocolate truffles, but also products from real fruits consumers are accepting." Through its packaging and quality focus Pure Chocolate is targeting the gifting sector in China. This is an important sales opportunity and Pure Chocolate hopes to capitalise on the jump in demand around wedding gifts, Chinese New Year and Valentines, Zimants said.
---
DMK Group, Oldenburger dairy products
DMK Group, the German dairy co-operative, relaunched its Oldenburger export brand at SIAL China in a bid to build excitement around a brand that DMK said is already "well established" in the market. "The brand image has changed visually but the well-known high quality of Oldenburger dairy products of course remains the same," explained DMK director of international sales, Martin Ehrhardt. "This quality is emphasised more than ever by the new design." Of note, DMK hopes to cater to the growing popularity of milk in China by offering an on-the-go product to the market. DMK is launching a 200ml pack with a "tall slim design" that comes with a straw making it the "ideal" on-the-go product. "This format is easy to handle and very popular with Chinese consumers," DMK said.
---
Glanbia, UHT milk
Glanbia has expanded in China through the sale of UHT milk under the Avonmore brand. Speaking to just-food ahead of SIAL China, Robert Jordan, head of beverages and innovation within's Glanbia consumer foods arm, said the company's primary aim was to increase its distribution beyond the strongholds of Shanghai and Hong Kong. Shanghai accounts for 60% of total volumes, Jordan revealed, but the company sees an opportunity to expand in other tier-one cities and via online channels – which now account for 50% of imported UTH sales in China. The company imports 100% of its UHT milk on sale in the market from Europe and Glanbia maintains this approach provides it with a competitive advantage in a country that has seen numerous safety scares. This quality promise makes Avonmore a niche brand in China targeting wealthy consumers. "We do charge a price premium – Avonmore is sold at twice the price of standard UHT milk in China," Jordan said.
---
Somerdale International, English cheeses
Specialist UK cheese exporter Somerdale International has rapidly grown its presence in Australasia since it opened a sales office in the region two years ago. While its major export market remains the US – where it supplies the likes of Whole Foods Market – the company maintains demographic drivers mean China represents a significant export opportunity and the company has benefited from a growing presence in the country. Somerdale hopes to tap into emerging consumer trends in China, including the massive jump in wine consumption. A younger generation of Chinese consumers are turning from traditional rice wine to grape-based varieties, offering product pairing opportunities for cheese makers. Somerdale is also focused on delivering a quality British cheese offering and its strong messaging about heritage and authenticity of its products strike a popular note.
---
Allanasons, meat products
FMeat products are a hot topic in the Chinese food sector. According to the event's organisers, the meat category was already a "major driver" of SIAL China's success. The exhibition doubled the amount of space dedicated to meat exporters in 2015. A stand out exhibitor in the meat hall at this year's SIAL was Allanasons, India's largest processed food exporter. The company benefits from a close trading relationship between India and China and carries an array of meat products, including frozen halal buffalo meat, frozen lamb meat and chilled vacuum packed cuts such as neck, topside knuckle and tenderloin.
---
The Right Food Group, Ozganics
The Right Food Group manufactures a variety of Ozganics sauces, dressings and spreads that are certified organic, gluten free, egg free and dairy free. The group's factory in New South Wales is also certified halal and kosher. The Right Food Group makes 26 different products under the Ozganics brand as well as producing private label items for Australia's leading supermarkets. While its range – which includes pasta sauces and marmalades – remains niche in the Chinese market, a focus on quality along side its free-from and organic message fit neatly with some of the major trends shaping Chinese consumer demand.