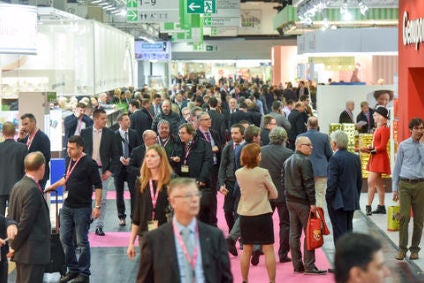 When Ism, the world's largest confectionery and snack trade fair, closed its doors for 2016 last week around 38,500 visitors had been through its halls. A total of 1,601 chocolate, sweets, biscuit and snack makers from 65 countries exhibited at the show, a 5% increase on 2015.
As you would expect, an array of innovative new products and marketing concepts were on display. These reflected some of the key trends in a diverse sector that can nevertheless rely heavily on the appeal of nostalgic and familiar product concepts. This year's show uncovered some interesting niche areas where food makers believe they will be able to carve out growth.
Licensing deals and marketing tie-ups were once again spotlighted as an important way industry players can stand out in a crowded sector. Trends that have already picked up steam – such as the combination of sweet and savoury flavours ("swavery") and premiumisation – showed little sign of abating. Looking to the future, personalisation and healthier or functional items were among the most noteworthy developments as manufacturers attempted to appeal to tomorrow's consumers. Categories that remain on the up, with product launches and innovation driving excitement and engagement, include popcorn and jerky. However, as these areas continue to gain in popularity, they are also becoming more competitive categories. What did exhibitors do this year to stand out?
Here is just-food's pick of ten of the most innovative or on trend products from this year's ISM.
Kolsvartab, sweet & salty licorice
Swedish confectioner Kolsvartab takes our understanding of an up-and-coming trend – the combination of sweet and salty flavours – to a new level by combining traditional Nordic recipes with new taste profiles. The company's offering includes smoked fish, smoked, as well as sweet and sea salt licorice varieties. In keeping with the move from "clean" to "clear" labelling, the company's hallmark packaging is deliberately minimalist, letting the product speak for itself.
---
Look-O-Look, mini candy sushi
For wacky presentation, you need look no further than Look-O-Look International's mini candy sushi. The "sushi" box consists of sweet and sour candies, including a mix of marshmallows, foam and jelly gum. The sushi box is a fun and attention-grabbing gifting option. Look-O-Look candy targets children and its portfolio includes items such as dummies and candy whistles. The confectioner is part of Perfetti Van Melle and its gifting items – while distinctive – do not necessarily provide mainstream appeal. As well as making products under its own brand, Look-O-Look also develops private label items.
---
Chocolaterie de Provence, dark chocolate and pomegranate
French chocolate maker Chocolaterie de Provence showcased a range of fruity chocolates at ISM this year. The combination of chocolate and fruit is hardly a new concept. But the French group's bolder use of fruits – stretching way beyond the addition of raisins – and its focus on quality help its range stand out. Items included dark chocolate and pomegranate as well as more commonplace combinations such as chocolate paired with citrus flavours.
---
PCO Group, fruity popcorn
The use of fruit flavours in the snack sector is a growing trend – and one upon which European popcorn and nacho maker PCO Group hopes to capitalise. The company showcased its fruity popcorn at this year's show, including its "forest fruit" variety which is available in ready-to-eat bags or cups. The product joined more familiar flavours such as choco popcorn and toffee popcorn. Popcorn has long been a popular snack in the US. In recent years, ready-to-eat popcorn has witnessed a surge in popularity outside its largest market but, to expand, popcorn makers are increasingly having to turn out more innovative variations.
---
Tommy Tucker, Star Wars popcorn
Another way to make your popcorn – or any product – stand out is through an attention grabbing licensing deal. That is just what UK snack maker Tommy Tucker brought to ISM with its Star Wars-themed popcorn. The company, which manufactures snacks under its own brand as well as for foodservice and private label, unveiled a new licensing deal to coincide with Star Wars the Force Awakens hitting UK cinemas. Indeed, the group reported a 33% increase in demand for its popcorn at UK cinemas in the wake of the film's release. The line joins Tommy Tucker's other licensed products, including the Frozen, Minions, Cars and Pepper Pig franchises.
---
The Meat Makers, premium jerky
Jerky is another hot trend that started in the US and is now expanding in Europe. Lithuania-based The Meat Makers offer a range of premium jerky products that stand out from the crowd thanks to both their premium quality and innovative flavour combinations. Products on display at ISM included beef jerky wine and cherries, where beef is marinated in a wine and cherry marinate for "optimal flavour" before being dried, and ginger and honey, which combines beef with fresh ginger, wine, honey and "classical spices".
---
Boncha Boncha, edible selfies
We hear a lot about the role that personalisation will play in future confectionery NPD. The general consensus appears to be it will be big. There is less clarity on exactly how personalisation can be harnessed by confectioners – especially given the costs associated with offering a truly personal product in an industry where volumes are central to profitability. This year's ISM saw a very interesting take on this dilemma: Boncha Boncha's edible selfies. Pictures are printed with edible food colours on candies made from the low-calorie natural sugar substitute, Isomalt. The Taiwanese company, which won an innovation award at this year's ISM, is seeking global partners with whom it will share its production and supply expertise.
---
F. Hunziker + Co, fresh breath drops
The use of mints to mask bad breath is not a new idea. Swiss functional foods group F. Hunziker + Co. has developed a fresh breath / anti-halitosis candy, which it claims tackles the problem in a different way to other products. "Most products on the market simply mask oral malodor. In contrast, our drops focus on the enzymes responsible for bad breath which are generated by bacteria in mouth," the company explained. Backed by clinical studies, and supported by the long association between mints and aural health, the product could well gain traction among consumers who increasingly expect foods to offer functional benefits.
---
No Added Sugar, Chia seeds
It would be remiss to look at innovative new snacking products without including at least one 'super food'. And that is what No Added Sugar brings to the table under the Asira brand with its offering of ready-to-eat chia seeds. The company stresses the products health credentials. "Chia seeds have a protein content of 20%, plus healthy polyunsaturated omega-3 and omega-6 fatty acids. In addition there are a high proportion of minerals such as potassium, calcium and antioxidants." However, while consumers are demonstrating an interest in healthier and natural snack items – and ancient grains in particular – the challenge for food makers is to present them in a tasty and accessible format. Food makers need to find innovative ways of delivering the best of both worlds – healthy, yet indulgent, snacking options.
---
Helwa Wafelbakkerij, high-protein chocolate
Healthy and indulgent is exactly what Dutch group Helwa Wafelbakkerij hopes it is delivering through its high-protein chocolate products. Protein is a mega trend in the food sector and consumers are looking for ways to increase their protein intake, often without making significant changes to their diets. Helwa's protein-enriched chocolate goes some way to answering this demand. It is made from Belgian chocolate, is free from sugar, artificial colours and flavours and contains no hydrogenated fats. In addition, it has 10.5% added fibre and contains 20% protein.