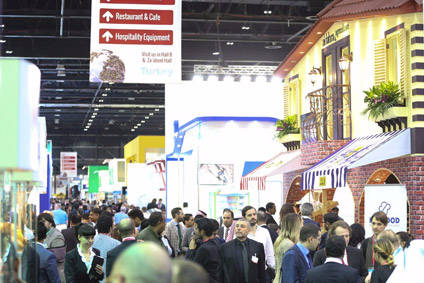 Gulfood, the Middle East's largest annual food and hospitality trade show, has opened its doors this week in Dubai This year's event is expected to welcome around 85,000 visitors from 170 countries to seek business and ideas from 5,000 international exhibitors.
Among this year's highlights are, for the first time, the Russian national pavilion, with the Russian food industry no doubt looking to create new food export and import opportunities. Russian meat processor Miratorg is one of the country's food companies hoping to raise awareness of its activities by exhibiting at the show.
With the global halal market expected to reach US$10trn by 2030 according to the Economist Intelligence Unit and Gulfood will also host the third Halal World Food show, which claims to be the world's biggest annual halal food sourcing trade event.
The show, meanwhile, will once again see a number of new exhibitors showcasing products in a bid to break into the region. Some of the themes in this year's new product portfolio include natural and free-from products, with Austria-based vegan wholegrain bread maker Backaldrin International The Kornspitz Co. and Australian confectioner Morlife are two of the companies hoping to win contracts with their products.
We present some of the most notable products on show at Gulfood this week.
Backaldrin International The Kornspitz Co.'s chia bread
Last year, the baker's Vegipan vegan wholegrain bread won the Gulfood 2015 Award and this year the Austrian firm is hoping to repeat success with a chia bread. With consumers on the hunt for low-fat, high-protein options to keep them fuelled for longer, the high protein content of Chia is becoming increasingly attractive. The chia fruit is high in omega-3 fatty acids, in particular alpha-linolenic acid. A spokesperson for Backaldrin told just-food: "Omega-3 fatty acids are anti-inflammatory and have a positive effect on the blood's fatty acid profile. Thus they have a hypotensive action, lowering the blood pressure. Bread with an additional value in terms of nutrition is also getting more popular in Middle East countries."
---
Get Fruity Bars
With a growing interest in healthier snacking options globally, what could possibly be better than fruit – in a bar? UK-based Get Fruity Bars have secured listings in the UK with Waitrose, and in December started its first airline contract with with their first airline, the Huingary-based Wizz Air. The bars are gluten-free, vegan and contain wholegrain oats – attributes in which there is growing consumer interest. They are available in three flavours: Scrumptious Strawberry, Juicy Apricot Orange and Ginger and Moist Mixed Berry. Get Fruity Bars already has had a presence in Dubai via Lulu hypermarkets and in Kuwait at Dean & Deluca stores. "Knowing that the Middle East snack market has had tremendous growth over recent years and is only moving forward, we felt that Gulfood show was a great platform to build meaningful and lasting business relationships with the overseas market," founder Davina Whiteoak says.
---
Mackle Snacks, Moylicious gluten-free snacks
Gluten-free is enjoying its boom period in the region. According to Euromonitor, by 2018, the gluten-free products sector in the Middle East and Africa will be worth US$18.1m, up from just $2m in 2008. Northern Ireland-based Mackle Snacks, which does business as a co-packer and for retailers, is hoping to take a bite out of the market with the launch of branded gluten-free range – Moylicious. The range, which Mackle Snacks insists is "not just for coeliac customers but also people with no intolerances that enjoy healthier and tastier products", features five items: two gluten-free granolas and three snack lines – onion rings, cheese puffs and spicy tomato sticks. Nuala Curran, business development manager, Mackle Snacks says the firm's gluten-free line is a response to the rising demand of gluten-free products globally. The launch of granola products in particular came from the lack of gluten-free granola brands on the market and even fewer manufacturers of gluten-free granola she adds.
---
Morlife, No Added Sugar Dark Chocolate Covered Goji Berries
Berries have been touted for their antioxidant properties, none more so than goji berries. Australian wellness food maker, Morlife, has moved one-step further and pulled the berry into the confectionery segment. The snack contains no-added sugar at a time when consumers are becoming more aware of sugar consumption and its links to obesity and diabetes. The No Added Sugar Dark Chocolate Covered Goji Berries are also free of artificial colours, flavours and preservatives. Morlife is hoping to attract Middle Eastern consumers as the need to decrease sugar intake across the region increases. According to the International Diabetes Federation, about 9.7% of the population of the Middle East and Africa is living with diabetes – and this is expected to double across the region in the next 20 years. "This product offers a new look for confectionery and indeed initiates a new approach to what confectionery means, less sugar and more importantly, higher nutritional value. Its the perfect guilt free snack," a company spokesperson tells just-food.
---
Free'ist – sugar-free range
In a similar vein, another Northern Ireland-based sugar-free foods maker, Free'ist, is hoping to counter the trend by showcasing its range of sugar-free products at Gulfood. "In the UAE there are more than 300,000 people that have diabetes but do not know they have it," a spokesperson for Free'ist says. At this year's Gulfood the firm will be exhibiting sugar-free chocolate, biscuits and breakfast biscuits, popcorn, marshmallows and chocolate spread.
---
Miratorg, Low 'n' Slow Beef
Russia is having a pavilion at Gulfood for the first time. Among the exhibitors will be meat processor Miratorg Agribusiness Holding. The company is involved in beef production, poultry and pig farming, as well as frozen vegetables. One of the items Miratorg is exhibiting at Gulfood is the Low 'n' Slow Beef range, a collection of processed and packaged beef products such as beef patties and ribs. "We continue to extend beef product portfolio developing new SKUs tailored for different market segments," a spokesperson for Miratorg says. One issue that does concern Middle Eastern vendors and consumers of course is halal meat. Miratorg says it is confident it has the ability to succeed in the market that has "huge potential" as it provides hormone and stimulant-free beef, which is grain fed and meets halal standards.
---
Koala Karma, Mavella functional powders
Australian drinks maker Koala Karma has launched a range of functional powders for children, which are being sold under the Mavella brand name. Mavella powders can be used in cooking and baking are free from artificial colours, flavours, sweeteners or preservatives and are vegetarian, dairy free, non-GMO and soy-free. "We started working on these products as we are mums and we live in a world saturated with highly processed foods which often are stripped of good nutrition and high in sugars. We wanted to not only encourage better and healthier eating habits in our children but to add a little extra nutrition along the way. This is when we decided to create our own range of products specifically for kids," a spokesperson for Mavella says.
---
Meat the Alternative
The prospects for meat-free products look solid as consumers seek out sustainable non-meat protein sources, with research suggesting meat demand will soon outstrip global supply. UK-based Meat the Alternative, which is exhibiting at Gulfood for the first time, is hoping to cater to that demand with its GM-free, vegetarian meat alternatives range. The line of products includes beef style mince, chicken style pieces, beef style meatballs and chargrill style burgers. Meat the Alternative does business with retailers and foodservice operators in the UK and Europe and is exploring new markets. "There is a growing interest and market for plant-based foods [and] increasing consumer meat reduction for various reasons to include health, ethical, religious, environmental and animal welfare concerns," the firm says.
---
The Good Carb Company, Lizi's GoGo Granola
Consumers in the region are increasingly looking for a wider array of snacking options and as signs grow of obesity-related health issues, a market is developing for healthier lines. Welsh firm The Good Carb Company, the owner of the Lizi's brand, is hoping to capitalise with the launch of Lizi's GoGo Granola – a 20g shot pack of granola containing no more than 100 calories. "[This is] a perfect keep-you-going healthy snack for all to enjoy anytime, anywhere, the firm says. GoGo Granola is available in three variants: original, treacle and pecan and Belgian chocolate.
---
Crust & Crumb – protein pizza
Protein as an ingredient is enjoying a rise to fame as consumers look for food sources that keep them fuelled for longer and less likely to binge on sugary or high-fat products. Companies are responding to this trend either by adding extra protein to existing lines or highlighting protein content. Crust & Crumb, a Northern-Ireland based maker of gluten-free pizza and pizza bases, will be showcasing its protein pizza line at this year's Gulfood. The firm claims protein pizza is a first in the UAE. "We've noted demand from consumers in regard to health and wellness products," a spokesperson for the company tells just-food. All its pizzas are stone baked and use "authentic" Italian recipes.