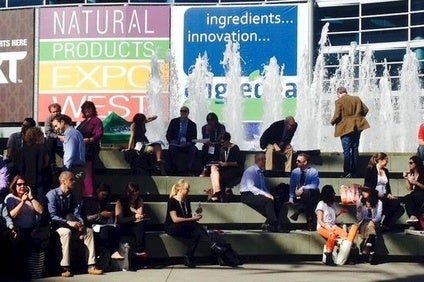 The Natural Products Expo West has become a key date in the US food industry calendar – and its significance has grown amid changes in consumer demand in the country. Increasing consumer interest in health has led to packaged and highly processed foods falling out of favour and demand for simpler products – be they natural, organic and free from artificial additives – growing.
The natural and organic categories are buoyant, while consumer interest in health has also propelled sales in areas such as gluten-free and dairy-free. At the same time, mainstream categories are stagnant. Manufacturers focusing on natural, organic and simple foods – be they the size of Hain Celestial or smaller companies like snack bar maker Kind – are in rude health.
Traditional packaged food makers are reacting, through M&A (Mondelez International's for Enjoy Life Foods is a notable example) or through product renovation, with Nestle and Hershey just in the last few weeks announcing moves to make their products more simple.
Against this backdrop, interest in Natural Products Expo West has arguably never been so high. The event, as US investment analyst Jonathan Feeney wrote today, has "surely gone mainstream". He pointed to the growing number of exhibitors and a 15% rise in attendees.
The event also had the most first-time exhibitors in its history."The macro trend and shift to healthier lifestyles created explosive growth this year," show director Adam Andersen said.
In ever-more competitive categories, innovation is vital and here is just-food's pick of the top ten on-trend products showcased at this year's event.
Sprout Foods goes acid-preservative free

Parents are becoming more aware of what they feed their kids, particularly with obesity and other health-related issues becoming a concern in today's world. This is seeing a shift towards organic foods. In 2011, according to Statista, organic baby food pulled in US$514.6m worth of sales. By 2017 it is forecast to grow to $783.9m. Organic baby-food maker Sprout Foods claims it has tweaked its manufacturing process so it is the first baby food to exclude the use of acid preservatives such as citric acid, ascorbic acid or lemon juice concentrate that can cause acid reflux and rashes in babies. The change applies across Sprout's 45 product strong portfolio.

D's Naturals No Cow Bars

This trend towards clean ingredients was a clear theme through the show. Athlos Research's Jonathan Feeney said there were lots of examples of packaging revamps, both that responded to mainstream company strategy but also consumer demands for clean design, transparency, and simple ingredients. D's Naturals new No Cow Bars are a line of high-protein bars with no added sugar or artificial ingredients to "deliver clean nutrition on-the-go". The three variants are vegan, non-GMO, and free of gluten, dairy, lactose and soy. "In my personal quest for healthful and wholesome nutrition, I discovered that the majority of 'healthy' protein bars were essentially candy bars in disguise, and loaded with sugar and artificial ingredients," said founder Daniel Katz. "I've always had an entrepreneurial spirit, launching my first company when I was only 12 years old, and felt compelled to channel my passions into creating better options made with truly clean ingredients that people can genuinely feel good about eating."

Ocean's Halo Seaweed Snacks

With the word "healthy" becoming ever important, people are looking for better-for-you snacks to replace the usual potato chips and chocolate. Seaweed has been linked to a variety of health benefits, including preventing osteoporosis, improving insulin resistance, and helping control cholesterol and managing weight. Ocean's Halo has launched Seaweed Snacks in Sea Salt, Texas BBQ and Sriracha. The products are all USDA-certified organic, non-GMO, vegan and gluten-free and they are a source of vitamin B12 and Iodine.

New Zealand Jerky

Protein is no longer the super-food of just the athlete world. People are shifting away from hard dieting and are looking at sustainable approaches to weight management. Protein is one of those approaches since it leaves you feeling fuller for longer. According to Packaged Facts' April-May 2014 survey, 63% of Americans now "make a point of consuming plenty of protein". New Zealand Jerky is introducing its product line to the US. What's more is that it is a Non-GMO Project Verified beef jerky. "Growing up in New Zealand, where the use of GMOs is banned, we took for granted that our meats were free of GMOs," said CEO and co-founder, Steve McKee. "We know consumers in the US are becoming increasingly concerned about what goes into their food, and wanted to offer a clean option for one of America's favourite snacks".

Enjoy Life Foods Free-From Baking Mixes

The prevalence of food allergies continues to increase according to the Centers for Disease Control and Prevention (CDC) with four to six percent of children and young adults having food allergies; an overall increase of nearly 20 percent between 1997 and 2007. As a result the free-from category in the US is enjoying phenomenal growth. Enjoy Life has launched a new range of free-from baking mixes which includes Pancake/Waffle Mix; Pizza Crust Mix; Brownie Mix; Muffin Mix; All-Purpose Flour. They are all gluten free, free-from the top eight food allergens, non-GMO, Kosher, and Halal.

Gardein Crabless Cakes and Porkless Bites

According to new research from UK based thinktank Chatham House, the livestock sector is responsible for nearly 15% of global emissions, similar to that produced by powering all the cars, trucks, planes, trains and ships in the world and there is a real push from campaign groups to get people to switch to non-animal proteins. Garden Protein, the plant-based protein company recently acquired by Pinnacle Foods has launched two new products under the Gardein brand; mini crispy crabless cakes with 9g of protein included in a three cake serving; and sweet & sour porkless bites with 11g of protein per serving.

Lifeway Protein Kefir

US cultured dairy products group Lifeway Foods has been growing apace for a number of years as consumer awareness of kefir and probiotic products rises. With this new product which has 20g of protein per serving, it is looking to tap into consumer interest in the US in protein. The "market-first" targets those looking to aid muscle recovery after exercise.?

B&G Foods' Rickland Orchards CLVR bars

As consumers are more pressed for time, snacking is becoming a big part of life. "It seems like everyone wants to be a snack company these days, following on an acceleration in snacking behaviour among consumers," Feeney says. "More than half of Americans now snack at least twice daily according to Technomic, and nearly 60% of Americans snack three or more times a day, up from 20% in the '90s, according to the latest government data."

B&G Foods, under its Rickland Orchards brand, has launched CLVR bars in a bid to snackers "a clever and real" option – meaning a focus on smart eating and real ingredients such as fruits and nuts. The goal is to provide a gluten-free, dairy-free snack bar that is flavorfully certified vegan with low sodium and made with real coconut sugar. "It's time to get clever and start eating better at snack time," Michael Sands, B&G's executive vice president of snacks, says. "CLVR bars are perfect for people on the go who want to upgrade their granola bars to a more nutritious choice."

Heart Brand Foods, Heartbar Oatmeal Squares

The trend toward heart-healthy meals and snacking continues to grow. With 83m Americans already afflicted with cardiovascular disease, the market for heart-healthy products is shifting from general heart health maintenance to higher concerns over risk-factor reduction says Heart Brand Foods citing data from FMI. Heart Brand Foods has just launched Heartbar oatmeal squares. The new formula includes non-GMO plant sterols from Protanica, an ingredient proven to reduce cholesterol.

Amy's Kitchen, Organic Candy Bite

"Category extensions appeared to be a big part of the show. The companies that seem to be accelerating their category additions include Amy's Kitchen," Feeney says. The privately-owned US company debuted Amy's Organic Candy Bite at the show. The product is available in two variants – Crispy and Chewy. Both are gluten free, made with organic ingredients and without GMOs and high fructose corn syrup. "Not only did one of their competitors express an affinity for their products, but the non-stop crowd around their booth proves that they have a large and growing following among consumers as well," Feeney adds.