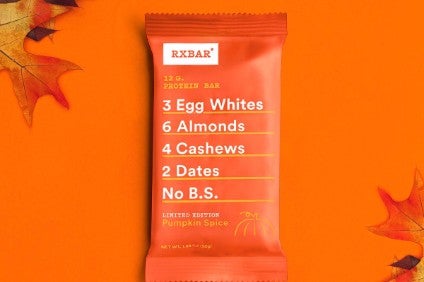 After four straight years of falling annual sales, Kellogg yesterday (2 August) reported top-line growth for the first half of 2018, prompting a tone of satisfaction – albeit with acknowledgement there is still plenty to do – from the US company. Dean Best looks at the numbers and weighs up the cereal-and-snacks giant's performance and outlook.
M&A gives Kellogg's sales a boost
There was no doubting the challenge facing former Anheuser-Busch InBev and Coca-Cola executive Steve Cahillane when he took the helm at Kellogg last autumn.
The Special K, Eggo and Pringles owner had seen its annual net sales slide three years in a row (with 2017 to make it four), in the main due to changing breakfast habits in its key developed markets – and, most enduringly, in its own backyard.
Over the first six months of this year, Kellogg has managed to get its top line growing again, with net sales up 5.3% at US$6.42bn, the US group announced yesterday.
However, Kellogg's sales have been helped by the acquisition of US protein-bar supplier RXBar last autumn and the increase of its interest in a venture in Africa in May this year.
Stripping out the impact of M&A and of exchange rates, Kellogg recorded organic growth of 0.1%. In the second quarter, the company's second-quarter net sales dipped 0.4% on an organic basis.
"Kellogg's second-quarter results were fairly solid all-round relative to expectations," Sanford Bernstein analyst Alexia Howard wrote in a note to clients yesterday. "However, the year-on-year numbers still leave something to be desired: organic sales fell by 0.4% despite the strong double-digit increase in marketing."
Nevertheless, the top-line numbers prompted Kellogg to lift its forecast for annual net sales. When measured on an organic basis, Kellogg has forecast its annual net sales will be between flat on 2017 and down 1%. The company's earlier prediction for this metric was for a decline of 1-2%.
Kellogg "pleased" with 2018 so far
"We're pleased with how our 2018 is going," Cahillane told analysts on a conference call to discuss the results. "Our top-line performance is clearly improving. If you exclude the mechanical impact of our DSD exit, we delivered a fourth consecutive quarter of organic net sales growth. And our in-market performance is improving as well.
"We delivered on our financial expectations for Q2 and the first half, even as we significantly boosted brand building investment and managed through cost inflation and other challenges. More importantly, our progress towards returning to long-term sustainable growth continued."
Fareed Khan, Kellogg's CFO, sought to underline how, if the impact of the company's move away from DSD, or delivering products directly stores, on its US snacks business, it had reported a 2% rise in sales on an organic basis in the first and second quarters. "This gives us four consecutive quarters of underlying organic growth on this basis. It's an indication that our strategy is gaining traction."
In a note to clients, Pablo Zuanic, an analyst at US investment and trading firm Susquehanna International Group, pointed out how, quarter-on-quarter, the trend in sales, when measured on an organic basis, had "worsened" in each of Kellogg's four North American units – US snacks, US morning foods, US speciality (selling to channels including foodservice) and North America other (where businesses like frozen foods and new asset RXBar are housed).
Cahillane was positive about the performance of each unit – sales from the latter two grew – during the quarter, even on US morning foods, where sales again fell but, he said, "decreased at a similar pace as Q1, continuing its moderation this year from last year's decline".
On US morning foods, Cahillane added: "But behind these numbers is real progress. Our share of the cereal category stabilised with our 'core six' cereal brands collectively resuming share growth in the quarter. The cereal category has cut its declines in half from last year, but history shows that it needs more and better health and wellness innovation and communication to get back into growth."
Margin commentary reveals single-serve push
In February, Cahillane presented at the Consumer Analyst Group of New York conference his strategy to get Kellogg's sales growing again, a strategy he dubbed Deploy for Growth.
That said, some in the audience wanted, understandably, to hear Cahillane's views on Kellogg's margin profile, even after the gains the company had managed to make in recent years as its sales came under pressure.
Kellogg's margins were described by one analyst as "substantially away from where the peer group is".
Cahillane made no bones about what he saw as Kellogg's number-one priority. "We believe the most important thing we need to do is return the company to top-line growth – that's our sustainable future, getting there," he said.
Nevertheless, Kellogg's management went to great lengths yesterday on the call on the company's second-quarter results to explain why the company's gross margins had come under pressure.
Khan pointed to a number of factors. He cited Kellogg's decision to quit direct-store delivery for its US snacks, which he said meant the company had to "reset" the gross margins for that part of the business and was the biggest factor. The Kellogg finance chief flagged the consolidation of west African distributor Multipro into Kellogg's numbers after the Us giant further invested in the business this spring.
And, interestingly, Khan also pointed to the growth Kellogg was seeing in "single-serve formats". One might expect these kinds of products to offer higher margins but Khan said Kellogg had been using co-packers for the products and would look to build its own capacity in the months ahead.
"We've utilised co-packers for many of them in order to get to the market as quickly as possible. This is a smart way to go. And now that demand has been established, our supply chain can catch up to our investing capacity, which will improve margins going forward," Khan said. "Our supply chain has got to catch up to that. We are under-indexed on those on-the-go formats and so it's a great broader opportunity. It just came much faster than we were expecting, frankly."
Kellogg eyeing competition – and new markets – for RXBar
Kellogg is among the major food manufacturers to have developed in-house, venture-capital arms to invest in up-and-coming "challenger" (as the industry parlance goes) brands. Its Eighteen94 unit has backed businesses including US smoothie maker Bright Greens and US mushroom ingredients firm MycoTechnology.
However, last autumn, Kellogg placed a bigger bet on a challenger brand, snapping up Chicago Bar Company, the company behind RXBar protein bars, for US$600m.
Announcing the deal, Kellogg said RXBar, a line of 'clean-label' protein bars with a base of egg whites, fruit and nuts, was the "fastest-growing nutrition bar brand" in the US.
Kellogg estimated RXBar's sales would hit approximately US$120m in 2017 and said the multiple it paid, based on projected EBITDA for this year, was in the range of 12 to 14 times.
Eight months on, Kellogg said yesterday RXBar saw "strong, double-digit growth" in the second quarter, with consumption rising "sharply" as the company moves to expand its distribution.
Nevertheless, Kellogg faced a question on whether it was worried about the competition could face from what is a very fluid and rapidly-evolving bar category in the US.
"Whenever you have something that is as special as RXBar, as successful as RXBar, you're going to get a lot of me-toos," Cahillane said. "And we are seeing that happen. We're not seeing any that are gaining traction right now, but we are far, far from complacent."
Cahillane said Kellogg would turn to innovation to help further grow sales and insisted the brand enjoyed "great loyalty with consumers".
There are plans, he added, to take the brand north of the border into Canada and across the Atlantic to Europe "in the back half of this year and early next year".