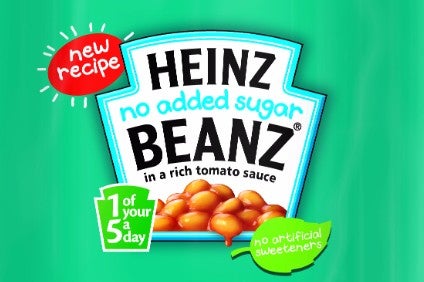 Kraft Heinz's first-quarter results issued this week unsurprisingly reflected the artificial demand from Covid-19, a facet that's unlikely to be sustained beyond the current crisis. Simon Harvey looks at the key takeaways as markets seek evidence the company's "paradigm shift" is working.
Kraft Heinz, like many packaged food majors, noted this week how the coronavirus outbreak has inflated demand for its products in the retail channel, but unlike many of its peers has bucked the trend of pulling financial guidance amid all the uncertainties.
Covid-19 has been an unexpected fillip to the Heinz ketchup and baked beans owner, as before the onset of the crisis, Kraft Heinz had expected sales to decline in organic terms in its first quarter through March. On Thursday (30 April), it delivered on new assumptions revealed in April, as organic growth came in at a very respectable, if not impressive, 6.2% given the circumstances.
Despite a downturn in its foodservice operations as restaurants have closed on government orders, the company saw a six to seven percentage-point boost to retail as more consumers cooked at home, with the inevitable pantry-hoarding a significant contributor.
And the Philadelphia cheese maker also gave an inkling of what it expects in the second quarter, although it took the sensible option of not looking further afield to the year-end. But providing any sort of guidance in the current environment comes with risks, especially if you don't deliver, and when seen in the context of other big food manufacturers preferring not to do so given the uncertainties around near-term consumer behaviour.
However, while the short-term outlook for Kraft Heinz looks quite rosy based on its second-quarter predictions, investors will be looking beyond Covid-19 for solid indications that the business is on a firmer footing under chief executive Miguel Patricio, who will celebrate his first anniversary in the hot seat in July.
Patricio has embarked on a new strategy to turnaround Kraft Heinz, which has been struggling financially of late, and was not helped by massive write-downs last year. The Nasdaq-listed business has also been criticised for a lack of innovation – which the new CEO has pledged to address – and to bring new momentum behind what many consider to be a host of legacy brands.
But those same legacy brands have been Kraft Heinz's saviour during the current crisis, and it even launched a direct-to-consumer platform for baked beans and soups in April.
"Our brands represent comfort"
Fielding questions on a post-first-quarter earnings call with analysts yesterday (30 April), Patricio said: "In terms of uncertainty, consumers turn to brands that they trust – they want to experiment less and they want to experiment less with new brands, and that's what we're seeing right now.
"Our brands represent comfort for people. And I think that the consumers are coming back to big brands. As a result, our leading iconic brands are growing household penetration in almost every market, especially the developed markets like the US, Canada and the UK. So I think it's critical that we continue investing behind our brands to reassert the advantage that we have in taste, in performance, and in value.
"And I think also that for our customers, reliability and availability are extremely important in this environment. And this is where agility can, with scale, really set you apart."
With organic growth of 6.2% under its belt, Kraft Heinz said it expects the same metric to produce a low-to-mid single-digit increase in sales in the second quarter, along with mid single-digits in adjusted EBITDA.
Interestingly, if the company delivers on those goals, they would represent a slight slowing in organic growth but a turnaround in EBITDA, which fell 1.1% in the first quarter. That said, however, EBITDA was negatively impacted by currencies and divestitures, outside of which, Covid-19 had a positive nine to ten percentage-point benefit, Kraft Heinz said.
"We've done our best to quantify the impact from the recent spike in demand, although we acknowledge, this does not come with our typical level of precision," Patricio said.
"Our turnaround progress for 2020 is on track, even as we adapt to this unprecedented call to action, making us cautiously optimistic for the rest of the year. We are in a highly dynamic, unprecedented environment, and what we think today may be significantly different from tomorrow."
Kraft Heinz said its outlook is based on assumptions that the pattern in retail will continue, aided by retailers rebuilding stock levels, although foodservice will remain in the doldrums. But there was a warning on not looking too far ahead.
"Highly unpredictable environment"
Carlos Abrams-Rivera, the recently-installed head of the company's US operations, added: "I would caution you in expecting similar top-line growth in the second half of the year. This is because at some point soon, it is reasonable to expect initial pantry-loading to run-off as consumers adjust to a new normal. Foodservice weakness is likely to continue beyond this initial crisis period."
And finance chief Paulo Basilio echoed those comments but with a bit more weight.
"While a stronger Q2 should mean greater upside for the full year, at this point, it remains a highly unpredictable environment," Basilio told analysts. "And it's therefore, difficult to become significantly more optimistic about the second half.
"On the one hand, there will be no pause in our initiatives to focus our investment in strengthened brand support behind our flagship brands and capital efficiencies. And we will continue to refine our merchandising calendars against available capacity to execute."
For the second half of the year, Basilio said three factors will weigh on EBITDA: The exit from the McCafé coffee business in North America, currency translations, particularly strength in the dollar, and employee compensation. Together, they will present a headwind of seven percentage points.
He added: "While we are comfortable calling for the Q1 upside and a good portion of potential Q2 outperformance to stick for the remainder of the year, we feel that there are too many unknowns at this time to confidently expect significant upside beyond that.
"For the second half, for us now, it's too early to give any type of level of precision given the level of volatility that we're still seeing in the market."
Patricio said all plants are operating at "peak capacity", and the business was helped during the first quarter by anticipating some of the expected changes from the initial Covid-19 outbreak in China, such as building inventories of raw materials.
But he noted the difficulty in predicting whether the current behavioural dynamics will continue, at the same time as outlining four areas where the CEO has some form of certainty.
Patricio said it's "critical for our brands to reassert their advantages in taste, performance, value and reliability", and hence will step up investments behind brands.
A "paradigm shift"
In foodservice, which represents about 15% of sales within each business segment, Patricio expects a 30-70% decline across its geographies depending on channel mix.
"Third, and perhaps the most important, the scenario planning we do regarding both at-home consumption trends and the likelihood for a global recession will be key to our near-term growth and profitability, as well as building more strategic, collaborative and long-term relationships with our customers," the CEO said.
"We do not believe Q2 consumption patterns will be a reliable first indicator of what the new normal is. Variables like at-home versus away-from-home, and recession versus growth, will likely become clearer as the second half of the year unfolds. And obviously, all of this will play out differently by country in each one of the segments."
Coronavirus has also bought time for Kraft Heinz in terms of innovation to spark new life into legacy brands and to create new ones which are more in tune with consumer trends.
Head of US operations Abrams-Rivera, painted an example of product areas that might be rife for innovation beyond the current crisis.
He said that while the overall business performed "slightly better-than-anticipated" in the first two months of the fiscal year, Kraft Heinz lost market share in natural cheese, cold cuts and frozen meals, but then demand bounced back in March as staples once again came back in favour because of Covid-19.
Consumption in cheese and meat, and almost every related category, accelerated, while foodservice sales fell more than 20% versus last year," Abrams-Rivera said.
CFO Basilio continued: "During this crisis period, we have seen our brands gain market share in most categories in most countries, and we expect solid retail sales momentum to continue. However, foodservice sales are at risk in the near term."
He said pantry-loading was more noticeable in developed countries "where disposable incomes allowed for greater stock up, specifically Western Europe, Australia and New Zealand".
On product innovation, Patricio said most of the pipeline has been postponed because it would have been ill-timed in the current environment, while the number of SKUs have been reduced to increase productivity.
In September, Kraft Heinz will present the "key findings and the paradigm shift we are employing and the new operating model we are putting into place", he added.
And Basilio reiterated the task ahead, made uncertain by all the upheaval from the coronavirus pandemic, but with a clear vision of what Kraft Heinz hopes to achieve.
"Like most companies today, it seems we have more scenarios than certainties as we look at the remainder of the year. At the same time, there are a number of things we can forecast and therefore, set a base that we can update as the year progresses," Basilio said.
"We still believe 2020 will be an important year of progress in the multi-year turnaround we envision. Recall that we set three priorities: establish a strong base of sales and earnings; to rebuild underlying business momentum; and continue to reduce debt while maintaining our current dividend.
"All these priorities are on-track even as we adapt to the new challenges."