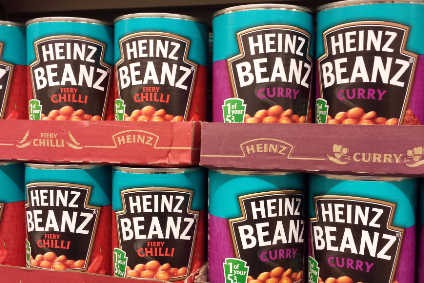 Kraft Heinz this week booked first-quarter sales and earnings that were down year-on-year and which missed analyst expectations. The company echoed the downbeat comments of some of its peers about the US and reported issues in Canada. However, Kraft Heinz made some more positive noises about the second quarter, while, in the wake of its failed move for Unilever, it appeared to give some hints about its M&A strategy.
Kraft Heinz adds voice to gloomy chorus on Q1 in US
The third-largest food company operating in the US, behind only Nestle and PepsiCo, this week became the latest major name in the industry to point to challenging trading conditions in the country during the first three months of 2017.
Kraft Heinz, which had seen its US net sales rise 1.7% in the fourth quarter of 2016, reported a 3.5% fall for the opening quarter of this year, with volume/mix down 4.2 points.
The ketchup maker said its declining US volumes had been due to "a combination of consumption weakness across categories, primarily driven by calendar shifts, as well as select distribution losses in the club channel", with its cheese, meats, nuts and foodservice businesses most affected.
Speaking to analysts to discuss Kraft Heinz's first-quarter results, CEO Bernardo Hees said part of the issue was the timing of Easter this year but added: "There is no doubt that the US consumption was softer than expected."
Hees joined a number of his peers in detailing what appears to be tough trading conditions in the US.
Earlier in the week, Mondelez International chairman and CEO Irene Rosenfeld had described the "environment" in the US as "quite challenging" as she discussed a set of first-quarter results including lower revenue and volumes in North America.
Yesterday, Kellogg chairman and CEO John Bryant added to the mix after the cereal and snacks group reported lower domestic sales. "Like virtually every packaged food company, we experienced a suddenly lower consumption trend across all categories in the US," Bryant said.
A couple of weeks ago, Nestle CFO Francois-Xavier Roger, discussing the company's first-quarter sales, spoke of "an environment of soft consumer demand" in North America, where the company had had "a challenging start of the year with lower organic growth".
Recently-installed CEO Mark Schneider added: "There's a general observation here and that is pretty weak consumer demand and that's not a particular issue here for Nestle. I think that's all throughout. That typical transmission belt we've seen in the past between good economic performance as measured by GDP and then consumer spending, that doesn't seem to be working one for one this time."
Kraft Heinz's specific US issues – and prospect of Q2 improvement
As with each of its peers, there were some factors specific to Kraft Heinz that affected its first-quarter performance in the country.
In Kraft Heinz's case, the company lost some distribution for certain products, including cottage cheese and sour cream, particularly in the club channel.
George Zoghbi, the COO of Kraft Heinz's US commercial business, was sanguine about the losses. "This is part of normal course of doing business. After a range review, you win some, you lose some. So for us, it's not a major one-off event," he told analysts. "In general, our view is we will not sacrifice the long term for short-term gain. We are driven by consumer insight translated into data that helps satisfy consumer needs and/or retailers and the categories are better off. And that is the approach that we take as we have our discussions with our trade partners."
Zoghbi insisted he "feels good" about Kraft Heinz seeing "sequential improvement" in its US net sales on an organic basis in the current – second – quarter and the year as a whole, although, for the second quarter, he did not reveal whether the metric would return into positive territory. "We've already seen more favourable consumption trends in both March and April," Zoghbi said. "And, beginning in Q2, you are going to start to see us better leverage Kraft Heinz scale at retail. This will come in the form of increased in-store activity with several scale events in Q2."
Oh, Canada
Canada is a market that, on its own, accounted for just short of 9% of Kraft Heinz's sales in 2016. Given the size of that chunk, the country also had a notable impact on Kraft Heinz's sales slide in the first quarter of this year.
Kraft Heinz saw its net sales in Canada decline 12.2% in the opening three months of 2017 and even that was inflated by exchange rates, with sales on an organic basis down almost 15%. The company said the primary factor was the "later implementation of go-to-market agreements with key retailers.
Hees told analysts: "This was largely due to our choice to not sign into significant price or reenter requests that have come about in the Canadian retail market. As a result, we lost frequency and depth of promotional activity during the quarter."
The profitability of Kraft Heinz's Canadian business declined at a faster rate than its sales did but the company's management said the unit would get back on-track as it moved through the year. "We expect and have already been seeing our restoration of normal go-to-market activity in Canada," CFO Paulo Basilio said. "We are confident that the new go-to-market agreements we've reached in Canada will lead to a resumption of run-rate trends in growth and profit margins for the balance of the year."
Credit Suisse analyst Robert Moskow asked for more detail on the talks Kraft Heinz had with its Canadian customers and asked if the company was satisfied with the outcome. Hees said: "Yes, we are satisfied with the agreements. The fact that took us a little longer to achieve those agreements will affect especially the inventory and activities we had in January and February [and] that's reflected in the results we are all seeing, right. Given what you're seeing now in April and May, we're already seeing the level of events and inventory coming back to normal and the planning looking at the second half is much stronger. So we truly believe you're going to see sequentially better results as we move in the country.
More positive in Europe, though some notes of caution
Kraft Heinz's sales in Europe were down year-on-year, although, on an organic basis, the performance of its business in the region was better than in the US and Canada, with a decline – but one of only 0.2%.
The company saw some volume growth in Europe, helped by its condiments and sauces business in the UK, although it reported "ongoing consumption weakness in Italy and the Netherlands".
Hees said the "investments" Kraft Heinz has made was "driving the solid organic growth trend we're now seeing in Europe". He added: "In short, our strategy of prioritizing fewer, bigger, and bolder bets is paying off."
Kraft Heinz is seeing its sales results in Europe improve. The 0.2% first-quarter decline on an organic basis followed a 1.5% decrease in the last three months of 2016 and a 2.6% drop over the year as a whole.
The company's commentary on Wednesday featured the UK. Basilio said Kraft Heinz's prices in Europe had come under some pressure due to promotions in the UK and Italy. However, he revealed Kraft Heinz had seen "top-line growth" in the UK during the quarter. "Importantly, the ongoing stable consumption growth in the UK gives us the confidence that the business is on the right path, and that our investments with retailers in the second half of last year are now paying off," he said.
Nevertheless, Basilio had some caution about Kraft Heinz's European business in the second quarter of the year, not least on the issue of currency, a significant factor in the region after the UK's vote to leave the EU. "While we expect further improvement to our performance in the marketplace and across geographies, we expect Q2 organic top line and EBITDA to be held back by two factors: one, is shipments phasing versus the prior year where some July shipments were pulled into June last year; the second is the likelihood of unfavourable product costs as we will continue to face transactional foreign exchange headwinds within our supply chain in the near-term," he said.
What is Kraft Heinz's M&A policy post-Unilever?
The major news event, not just in Kraft Heinz's first quarter but for the industry as a whole, was Unilever's dismissal of the company's interest in buying the consumer goods giant.
Two years after the merger of Kraft Foods Group and HJ Heinz, it is clear Kraft Heinz's owners, Brazil-based private-equity firm 3G Capital and Warren Buffett's Berkshire Hathaway are ready to consider another deal. And, given Kraft Heinz's underlying sales fell in the first quarter, there has been much chatter this week the company and its new owners needs another acquisition to kick-start growth.
"Innovation, renovation, and various initiatives notwithstanding, and even factoring for technicals that may have distorted 1Q17 – Easter timing, Canadian negotiations – we find the core Kraft Heinz operating story unexciting," Pablo Zuanic, an analyst at US investment and trading firm Susquehanna International Group, said. "We maintain our view that Kraft Heinz will need to pursue a deal for future growth."
On the results call, Zuanic asked Kraft Heinz if its M&A strategy had changed from the merger of Kraft Foods Group and HJ Heinz two years ago when the analyst claimed management had "said you were building a global food and beverage powerhouse". Zuanic added: "Now that apparently was going to include soap and shampoos. So do you want to update us in terms of what your vision is? I mean, should we assume that someday you could own a tobacco company, a restaurant, or something else?"
Basilio's answer gave some indication Kraft Heinz would consider consumer goods companies outside food and drinks. He said Kraft Heinz's "M&A framework" looked at "brands with a strong market share, brands that can travel, [with a] similar go-to-market, similar operation" and added: "I think at the end of the day these two segments of consumer product goods are very similar and that's the reason you see many companies operating brands for consumers [that are] sometimes food, sometimes personal care, sometimes healthcare."
In his note to clients after the call, Zuanic wrote: "There was an implicit recognition that they would have kept the home and personal care operations of Unilever if the bid had succeeded. So now, we should include in the list of potential targets also companies like Colgate, Clorox, and/or Reckitt. But we continue to think PepsiCo makes the most sense in the form of a combined bid with Anheuser-Busch InBev."
Another M&A element to consider when thinking about Kraft Heinz is transactions going the other way. The 3G/Buffett acquisitions of HJ Heinz and Kraft Foods Group has created the world's number five food and drinks group and not every business is firing. Moreover, the old HJ Heinz had been fielding questions about the future of some of its businesses before the 2015 deal.
Asked on the call about disposals, Basilio gave a short answer: "We feel comfortable with the brands and the capital that we operate. We think we have scale and we operate well there. Again, as soon as if we decide to divest any categories or any brand in any specific geography, we will communicate this properly to the market."