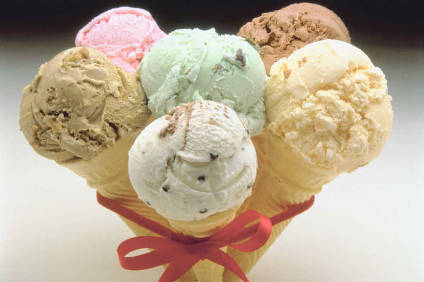 Prolonged economic recession, increasing competition and sector-specific challenges such as seasonality confront ice cream makers in Russia. Navigating these waters can be tough. But the segment has been showing increasing dynamism and the Russian ice cream market continues to present an important growth opportunity. Andrew Burnyeat, Keith Nuthall and Eugene Vorotnikov report.
Not so long ago, Russia was viewed as a darling of the BRIC markets with strong underlying growth drivers set to propel FMCG consumption in the country. Today, the economic picture is less rosy. The sharp fall in oil prices has caused a prolonged recession, while the depreciation of the ruble has forced prices up, prompting the collapse of domestic demand for goods and services.
According to the OECD, growth is expected to turn positive in 2017, with falling inflation and rising real incomes likely to boost consumption. Nevertheless, any recovery will be slow and fragile given the lack of structural reform in the country and uncertainty over oil prices.
Given this context, that the Russian ice cream market remains in positive territory can be viewed as a testament to its resilience.
According to data from the Russian Union of Ice Cream Producers, the market since 1991 has grown 2.5 times in value terms. And it is still growing. The union says ice cream consumption in Russia grew in 2015 by 1.5% to 380,000 tonnes. Estimated total market annual turnover for 2016 is US$1.5bn.
This is corroborated by figures from market researcher Nielsen, which suggest the Russian ice cream market grew in 2015 by more than 6% in volume and by 23% in value compared to 2014. This was the second consecutive year of growth, Nielsen noted.
A spokesperson for the Russian Union of Ice Cream Producers suggested the expansion can in part be attributed to improved consumer perceptions of the category. During the Soviet era, ice cream was considered a low-quality by-product of refrigeration plants, making it harder for legitimate manufacturers to establish a reputation for quality. However, since 1991, attitudes to the product among Russian consumers has shifted significantly – they now expect and appreciate quality products.
The spokesperson told just-food the union believes the sector will continue to grow in the coming years.
Market research firm Euromonitor has projected a compound annual growth rate of 6% between 2015 and 2020 for Russia's ice cream market. "In addition, premium ice cream and frozen dessert brands still have room for growth as these are the least saturated categories. By the end of 2020, ice cream and frozen desserts sales are set to reach RUB168bn ($2.57bn)," said a note from Euromonitor.
Russian ice cream sales have not only been increasing, they have become more diverse, with consumers being offered more choice from Russia-based and international food corporations.
The market is highly competitive and some pundits suggest competition could step up as leading players work to extend their presence. For example, the development of Froneri – the new joint venture between Nestle and R&R Ice Cream – could have a significant impact on the dynamics of the sector.
Elena Yakunina, head of public relations for Nestle Russia, said that the transfer of the company's ice cream business to Froneri will create more competition. She told just-food: "The establishment of the new joint venture creates great opportunities for future growth within this fast-growing category."
Yakunina refused to divulge what new products the joint venture might make, but stressed Russian consumers "will be able to buy beloved ice cream of high quality". This would seem to suggest that Froneri will continue to make brands that Nestle already manufactures in Russia: 48 Kopeks, Bon Pari, Extreme, Maxibon and Nesquik.
A UK Froneri source who declined to be named said the joint venture's production capacity will make a "significant difference" to the balance of the Russian ice cream market.
The Russian Union of Ice Cream Producers predicts Froneri would promote flagship R&R's ice cream brands, such as Cadbury and Oreo which are produced under licence from Mondelez International, looking to significantly expand its portfolio over the next few years.
The jury appears out on how Russian consumers will react if Froneri does decide to introduce new brands that have proven popular on the global stage.
Sergey Shimkarev, deputy director of leading ice cream producer Grand-Gulliver, predicted the establishment of Froneri would be important, given R&R's presence in Russia is currently insignificant. Many local consumers are unaware of its brands but cooperation with Nestle will be beneficial to their expansion, enabling the UK-based business to use its partner's existing Russian distribution network.
But another competitor suggested Froneri will have to tread warily if it wants to boost market share with new brands.
According to Ivan Salehov, deputy director of Chelny-Holod, one of Russia's largest ice cream producers, the country's ice cream consumers are "very conservative". Froneri will have to make significant efforts to secure recognition and additional market share, Salehov suggested. Also, Russian ice cream consumers generally prefer Russian ice cream brands, he warned.
Whether or not Froneri decides to launch additional brands in the market, the company will be looking at how to increase pressure on its competitors, including market leaders Unilever, Iceberry and Russky Kholod. Together with Nestle, these companies command a combined 35% share of the market. Unilever-owned Inmarko, which was acquired by the Ben & Jerry's and Magnum maker in 2008, accounted for 19% of the market in 2015.
The focus of these large ice cream brands is on the medium-priced segment, which accounts for almost 50% of the ice cream sold in the country. This is a rapidly growing part of the market – with sales up 10% during 2015 according to Nielsen. However, economic conditions mean that the economy segment, which accounts for just a little over 30% of sales, grew at a faster pace of 13% in the same period. Meanwhile, premium ice cream sales were actually down year-on-year, decreasing by 4%.
This dynamic has contributed to the growing share of ice cream sales commanded by private-label products. In 2015, the value of sales of such products grew by 13%, compared to 2014, the Russian Union of Ice Cream Producers says. Private-label sales now account for 10% of the Russian ice cream market. It is expected such growth will continue this year, the union says, with sales encouraged mainly due to their cheaper and more stable prices, compared to name brand rivals.
The growth of the economy segment and private label seems likely to be placing pressure on processor margins. Even in better economic times, the sector suffers from low profitability, an analyst at Moscow-based Discovery Research Group tells just-food.
In particular, the analyst notes, ice cream makers have to grapple with a significant seasonal fluctuation in sales due to Russia's cold winters and hot summers and a traditionally weak presence in general retail. Indeed, the vast majority of ice cream sales – 70% – are impulse purchases. As such, Russian consumers have proven themselves disinclined to make regular ice cream purchases, the researcher observed.
These tough conditions have contributed to increased consolidation in the market. The researcher told just-food there are about 150 ice cream manufacturers in Russia, lower than the roughly 200 ice cream makers in business before 2014. He attributed the reduction to bankruptcies and acquisitions by larger producers.
The Russian ice cream sector is a tough place to operate in at the moment. Nevertheless, it affords growth opportunities that outpace those of more developed markets and as the Russian economy strengthens, so too does the outlook for consumer spending in discretionary impulse categories such as ice cream. This growth will be supported by rising competition and the associated activity that supports category health.
With additional reporting from Katy Askew.