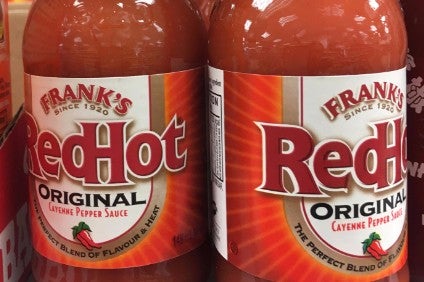 McCormick & Co. this week emerged as the buyer of Reckitt Benckiser's food assets, which include French's mustard and Frank's RedHot sauce. The brands look a good fit with McCormick's own basket of sauces and spices but the US group has paid what appears to be a rich multiple for the assets and its shares cooled on Wednesday when the deal was announced. Can McCormick extract value? Dean Best reports.
Three months after Reckitt Benckiser effectively put a for-sale sign over its food arm, McCormick this week announced it had agreed on a deal to buy a business that includes brands like French's mustard and Frank's RedHot sauce from the UK-based consumer goods giant.
But, with its US$4.2bn offer, has McCormick paid too much?
In the immediate aftermath of Reckitt Benckiser announcing a "strategic review" of what deemed "non-core" assets, McCormick, home to brands from Schwartz herbs to Stubb's barbecue sauce, was touted as a potential suitor for a division that turned over GBP411m (US$532.9m) in sales (growth at constant exchange rates of 5%), contributed EBIT of GBP118m and generated an EBIT margin of 28.7% in 2016.
McCormick, which a day after Reckitt Benckiser revealed the review told investors "condiments and sauces" were "core" to its business, was predictably mum about whether it would be interested in buying the business. Between then and this week, other companies were suggested as potentially interested parties and, as recently as this weekend, The Sunday Times claimed Unilever and Hormel Foods were the front-runners to acquire the assets.
Unilever yesterday refused to be drawn on whether it had been in the running but had pulled out as the price tag on French's et al rose, with CEO Paul Polman telling just-food "we comment when we buy things," before adding: "As a general rule, anything in our industry we look at. You have to do that and see if it makes sense or not. Our food business is a very well-performing food business and very disciplined and we will always have that same discipline at looking at other margin-enhancing acquisitions if they make sense."
On Wednesday, discussing McCormick's move with analysts, Lawrence Kurzius, the US-based herbs, spices and condiments maker's chief executive, insisted the "process" to acquire the Reckitt Benckiser division was "quite competitive", adding: "There was a market discovery process that established a market price for this asset."
The price at which McCormick clinched a deal is almost eight times the sales and around 27 times the EBIT the Reckitt Benckiser's food assets generated in 2016. Spicy-looking multiples. Shares in McCormick cooled on Wednesday when the deal was announced, ending the day down more than 5%.
However, Kurzius sought to soothe any indigestion among investors, by pointing to the 5% growth in sales (at constant-currency) seen by the unit last year and to the 28% margins the business enjoys. McCormick, Kurzius said, had long coveted the assets, was ready to pay up for the business and said the company could grow them further. Meanwhile, McCormick CFO Mike Smith pointed to the synergies it could enjoy in areas like logistics, packaging and ingredients.
"Whenever we've looked at big ideas over the last decade, the opportunity to acquire RB Foods was at or very near the top of the list," Kurzius told analysts on Wednesday. "The asset is incredibly strategic to us. We really wanted it and we were willing to step up to stretch for it a little bit. When you consider the growth characteristics of the business and the margin structure of it, we saw a great opportunity to create shareholder value in including it in the McCormick portfolio."
Strategically, brands like French's and Frank's RedHot appear a good fit with McCormick's own range of condiments and its wider stable of herbs and spices. The unit's 5% growth looks solid, especially when considering the sales of brands like French's and Frank's RedHot are, at the moment, predominantly generated from North America, despite a presence in more than two dozen markets. There should be scope for McCormick to build their international presence and to feed them into the part of its business that supplies the foodservice arena.
Kurzius touted international and foodservice as two areas of opportunity for the brands under their new owners.
"Today the brands are sold in about 30 countries outside of North America but this has been a food asset trapped inside a non-food company. They haven't had access to the international network and resources of their parent. We have tremendous infrastructure outside the Americas and we believe can drive these brands through that infrastructure, which includes a sales organisation, a route-to-market and substantial manufacturing assets in both Europe and Asia, where we're already a leader in the condiments market in a lot of countries," Kurzius said.
"It's not just a retail opportunity. A lot of our strength in international is in our industrial segment, which includes branded foodservice products. We see strong potential for these brands in branded foodservice, particularly throughout Asia. A great deal of our foodservice strength is in selling western-style condiments to upscale restaurants, international restaurant customers, who want the American brand for tabletops as a quality mark in their markets."
That said, Kurzius revealed much of the growth from the Reckitt Bencksier unit has come from one brand – Frank's RedHot – so McCormick is not buying a basket of goods in broad growth. Moreover, there will be some in the investment community who have baulked at the price McCormick is to pay, especially when reports were suggested Reckitt Benckiser would look for around $3bn. Talking about annual synergies of $50m a year is not the same as capturing the savings and, even if they are accrued, the operating profit multiple still sizzles.
However, even for those investors uncertain about McCormick's move, here's something they should consider. It looks a better deal than the one that got awa: the one for Premier Foods, the UK business this summer pressure from some investors for rebuffing its US suitor and for its subsequent performance – and which this week again posted numbers that were below the expectations of some in the market.