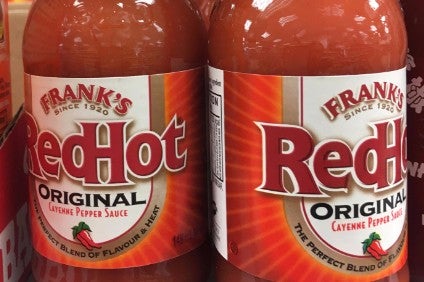 Andy Coyne gauges weighs up McCormick & Co.'s 2017 results and the outlook for the US spices and sauces group.
McCormick sees growth from base and from M&A
The US-based, flavour-focused business appears to have added spice to its performance through key acquisitions.
In the year to 30 November, McCormick's sales were up by 9.5% at US$4.83bn. The company said three recent acquisitions – those of Australia-based Gourmet Garden, Italian flavours business Enrico Giotti and last year's purchase of Reckitt Benckiser's food division – contributed six percentage points of the growth
Nevertheless, McCormick saw growth, too, from its base business, with expanded distribution, new products and pricing making up the remainder of its top-line growth.
For the fourth quarter, McCormick's sales were up 21% on the equivalent period 12 months before, with M&A contributing 15 points and currency a further point.
Profits were up both over the quarter and a year as a whole.
"Our broad global flavour portfolio continues to drive growth and differentiate McCormick. In 2017, we delivered another year of record financial results with strong core business performance and the incremental impact of acquisitions," McCormick chairman, president and CEO Lawrence Kurzius said.
Enrico Giotti seems to have bedded in well
In November 2016, McCormick bought Italian flavourings business Enrico Giotti for around $127m.
Kurzius said at the time: "With this acquisition, we add greater scale to our already substantial industrial segment business in the Europe, Middle East and Africa region."
In the post-results call with analysts last week, Kurzius said talked up the influence Giotti has had on McCormick's business-to-business industrial division.
"The integration of our Giotti acquisition went extremely well and is now completed. We're delighted with not only the Giotti sales and profit performance but the overall impact it has had on our industrial segments.
"Giotti has expanded our flavour capabilities in the EMEA region and further broadened our portfolio with complementary products, natural flavours, aromatic herbal extracts, and concentrated juices. It has also provided us with opportunities with new customers and strengthened strategic partnerships with our global customers. This acquisition has exceeded our expectations thus far."
The Giotti deal, Kurzius asserted, will be one of the factors to help McCormick's industrial arm in its ongoing work to shift its portfolio "to more technically insulated and value-added categories".
Early days for the Reckitt range but McCormick optimistic
Ahead of the results, some on Wall Street, looking at recent sales data, had expressed concern about the early performance of the brands McCormick acquired from Reckitt Benckiser.
When McCormick announced the $4.2bn deal in July brands like French's mustard and Frank's RedHot sauce looked a good fit but its shares eased, with some analysts initially pointing to the rich multiple being paid for the assets and their growth rate (which some sniffed at).
On the post-results call on Thursday, Deutsche Bank analyst Rob Dickerson queried the recent growth performance of the Reckitt brands and asked about how much investment McCormick planned to make to boost sales.
Kurzius said the brands had still be subject to a "transition service agreement" under which Reckitt was still providing "certain services", which is soon to end.
He added: "The underlying business shows good base business growth. We're pretty pleased with the off-take trends. We've had some supply chain hiccups along the way. We're still operating under a transition services agreement with the seller. I would say that we would have put a different priority on some of the customer service needs as the owner of the brands then they would as being no longer the owner. And so I would expect to see that improve.
"Our plan for RB sales growth – and in fact absolute sales dollars for fiscal 2018 – exactly matches our acquisition model. We still are expecting strong growth under our full ownership. We are still expecting the same level of accretion that we talked about when we did the deal and if anything our early experience with the brands has been more positive than that we expected.
"We are seeing I'd say more opportunities than we initially assessed in the foodservice side of the business. We are experiencing some tremendous growth in the Canadian market and we're off to a really good start in the conversion of the whole international business to our very robust international infrastructure. If anything, while our internal plans are tied to the original model, we are more optimistic about the growth potential of the brands than we were in the beginning."
McCormick confident on US core
Another point of concern for some analysts ahead of the results was McCormick's core spices and seasonings business in the US.
McCormick's management faced questions over the performance of its brands versus private label, as well as over a facet of its relationship with Walmart.
On how McCormick's brands have fared in a category in the US where private label is growing, the company's management stood by the performance of its products – and pointed to its additional status as a supplier of private label.
"McCormick brands were up 4% in the herbs and spice category in the US in the fourth quarter. Private label certainly was up by more than that but I don't know if you all have noticed that all other brands were down almost 4%," Kurzius said.
"As private label grows, and we as the largest player in the category grow, those smaller players are the ones that are really suffering and who are actually losing volume. Both McCormick and private label are growing. Private-label growth numbers are bigger than ours and so we have lost some share but it was a bit distorted by what's happening at one particular non-grocery customer."
That non-grocery customer is Walmart. Part of McCormick's dealings with Walmart has included the 5th Season spice brand, which is classified under the manufacturer's brands but has been a "control brand" owned by McCormick and sold exclusively to the retail giant at a price similar to or below the level of private label. In recent months, Walmart has switched 5th Season out for its own private label – albeit with McCormick still the manufacturer of that product.
Kurzius admitted: "Our holiday season has been impacted by a large retailer's decision to convert a control label to private label along with related promotional and merchandising actions.
"If you look at the grocery portion of the market, we actually gained share in herbs and spices in the fourth quarter but, when you look at the multi-channel data, we lost about 90 basis points and that's because of that conversion with that customer.
"The conversion in itself really is not financially meaningful to us. The margin structures of the business is comparable. We're a substantial provider of private label herbs and spices to the industry. That's a profitable business for us and so this was neutral in that aspect.
"The customer did make the decision to have a very strong promotion and merchandising programmes for that private label product through the holiday season. That was a detriment to both the category profitability for that customer and to the extent that there was trade down from the McCormick brand that would have been a negative for us confined to that customer."
He added: "Overall we continue to see good growth in our spice and seasoning brands in the US market and know that we have more room to grow."
E-commerce is seen as friend, not an enemy
In 2018, McCormick said it will continue to drive growth globally through e-commerce including pure play, brick-and-mortar customers, and direct to consumer.
"We will be making further investments to drive content, expanding resources to support acceleration and developing programmes and items tailored to this channel, Kurzius said.
"I'm also pleased to share that just a few days ago; we launched our direct to consumer e-commerce platform in China."
Asked about the potential threat of Amazon focusing heavily on its 365 brands since the Whole Foods Market acquisition, Kurzius at first spoke broadly about the growth of McCormick's global e-commerce business (67%, though likely from a small base, relatively speaking) and then indicated the company was sanguine about the prospect of competition on from the e-commerce giant itself.
"[Growth] was very strong in the US. We have one of our largest customer teams dedicated to the customer that you named and our business with them is pretty strong and robust," he said.
"We don't see an undue impact on private label in that customer. And I think if you did a survey of the front pages of the spice section and went line-by-line through it, you'd find that we're we're very well represented actually.
"This is an area that we've over-invested in for several years now [and] we continue to over-invest in it. We expect very strong growth in e-commerce as a channel certainly through 2018 and we believe that this is founded on our belief that consumers ultimately will shop for food where they shop for everything else which means it's going to be a very strong e-commerce component."
McCormick, meanwhile, said the former Reckitt brands, Frank's and French's, are "somewhat under-represented" in e-commerce terms and it will be trying to grow their online presence.
Confidence is high for 2018
For the 2018 fiscal year, McCormick expects to increase sales year-on-year by 12% to 14%, which includes a one percentage point favourable currency impact.
McCormick said it expects to drive sales growth with the incremental impact of acquisitions completed in 2017, new products, brand marketing and expanded distribution.
It should be noted, with product development in mind, that 9% of 2017 sales were based on products launched in the last three years. McCormick, meanwhile, plans to expand its organic and non-GMO offering.
Sales growth is also expected to include boosts from pricing actions in 2017 and 2018.
Operating income in 2018 is expected to grow 32% to 34% from $702m of operating income in 2017. Integration expenses from the RB Foods acquisition of approximately $23m are currently projected to impact operating income for 2018.
Special charges of approximately $18m are projected for 2018, relating to previously announced organisational changes. Excluding the impact of transaction and integration expenses as well as special charges in 2018 and 2017, the expected growth in adjusted operating income is 23% to 25% from adjusted operating income of $786m in 2017.
"2017 was a milestone year for McCormick," said Kurzius. "We are proud of our performance and our continued growth trajectory heading into 2018. With new ideas, innovation and purpose, we are proactively adapting to changes in the industry."